Top News
Cerner validates rumors that have been swirling for weeks when it announces it will acquire the assets of Siemens Health Services for $1.3 billion in cash. Cerner Chairman and CEO Neal Patterson told HIStalk that "the broad driver is the post-Meaningful Use era" and the large R&D budgets of both companies. The combined organizations will have 20,000 employees, 18,000 client facilities, and $4.5 billion in annual revenue. Two Cerner executives will join the Siemens leadership team. Only the client experience and administrative functions will be combined in the short term. Cerner expects the transaction to close in Q1 2015.
---
Acquisitions, Funding, Business, and Stock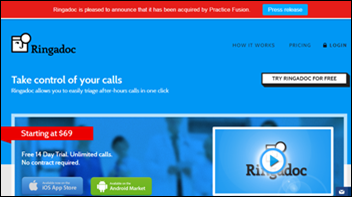 Practice Fusion acquires Ringadoc in a timely move into the telemedicine market. Ringadoc provides after-hours answering services to 1,000 physicians, some of which are already Practice Fusion clients, and has been testing a service that allows patients to consult their doctors over the phone for $40. The acquisition formally solidifies the already close relationship the two companies have had for some time. Practice Fusion CEO Ryan Howard is an investor in Ringadoc, which was previously based in Practice Fusion's San Francisco offices.

Telehealth and medical billing services company GoTelecare introduces a franchising business that will enable physicians and healthcare facilities to provide video consultation services using its online platform. As I mentioned in my musings on the future of telemedicine earlier this week, the industry is likely to see a flood of related technologies (and new business models) pop up in the next several months as reimbursement is optimized and state licensing issues become less of a barrier for physicians.

Core Sound Imaging Inc. joins athenahealth's More Disruption Please program, through which it will offer athenahealth customers its Studycast cloud PACS software.
MModal exits Chapter 11 bankruptcy following financial restructuring and debt reduction of 55 percent. It too joins the athenahealth More Disruption Please program, offering Fluency Direct and Fluency Flex mobile solutions via the MDP marketplace.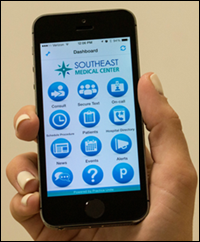 Futura Mobility expands its healthcare division through a partnership with Practice Unite. The two-year collaborative arrangement will enable Futura to integrate Practice Unite's HIPAA-compliant messaging app with its IT services. Physicians can use the app to send 256-bit encrypted text messages, search for specialists, facilitate outpatient procedure requests, conduct physician surveys, and send emergency alerts.
---
Government and Politics
CMS temporarily suspends use of its Open Payments system that shows payments made to doctors by drug and medical device companies. CMS found that a batch of payment records from an unnamed company had assigned payments to the wrong doctor by including an incorrect state medical license number. The temporary shut down likely fueled the fire of over 100 medical professional groups that collectively sent a letter to CMS asking it delay launch of the system, which is expected to go live September 30. The letter-writers note that, "There are widespread concerns that the implementation of this new system for data collection — without minimally a six-month period to upload the data, process registrations, generate aggregated individualized reports, and manage the dispute communications and updates — will not be ready and will likely lead to the release of inaccurate, misleading, and false information."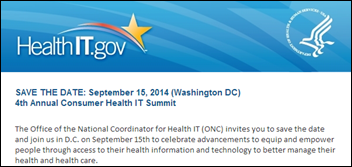 ONC announces it will hold its 4th Annual Consumer Health IT Summit in Washington, D.C. on September 15. The event will feature an update on the Blue Button Initiative, "bright spots" that demonstrate what digital health data and technology can do, discussions about ways to engage underserved populations and to improve patient participation in clinical trials, and dialogue about frontier areas such as personalized medicine and patient-generated health data and how they can help to improve health.
In other ONC news, it announces chairs and co-chairs for the recently realigned HIT Policy Committee Workgroups.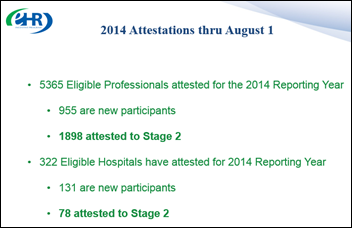 The HIT Policy Committee provides an update at its recent meeting on the timing of its 10-year interoperability roadmap, outlining three-, six-, and 10-year milestones. A draft of the roadmap is expected to be published in October. A second version including feedback from ONC's health IT policy and standards committees will likely be available for public comment by January 2015, while the first formal version of the roadmap will be released in March 2015. The committee also covered the latest numbers for Meaningful Use: As of August 1, close to 1,900 physicians and other eligible professionals have attested to Stage 2.  Nearly 90 percent of physicians and other EPs have registered to participate in the EHR incentive payment program; 75 percent of those have received at least one incentive payment. The physician participation numbers look good on paper, but it seems like Stage 2 requirements are giving providers a run for their money (likely already spent on EHR implementations, upgrades or replacements).
---
Announcements and Implementations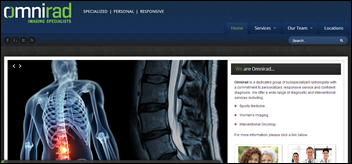 Radiology practice Omnirad (MI) announces a billing partnership with radiology billing and practice management service provider Zotec Partners.
Premier Medical PC (AL) selects revenue cycle management services from McKesson Business Performance Services. The group, which provides emergency services to a nearby hospital and urgent care center, will move from internal billing to McKesson's coding, billing, claims submission, A/R management, business intelligence reporting, regulatory compliance, physician documentation education, PQRS compliance, and managed care negotiations assistance services.
California Integrated Data Exchange, funded by $80 million from Blue Shield of California and Anthem Blue Cross, announces plans to develop the Cal Index statewide HIE. Cal Index says it will go live in late 2014 with 9 million records online. Initial funding covers the first three years of operating expenses, after which the HIE plans to sell subscriptions.
---
Research and Innovation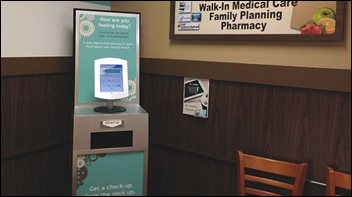 Screening for Mental Health Inc. and the Philadelphia Department of Behavioral Health and Intellectual disAbility Services unveil their behavioral health screening kiosk at a QCare retail health clinic. The kiosk was the winning entry in a contest that challenged contestants to create a way to make mental healthcare education or access available at retail clinics. The assessment tool — thought to be the first in a retail-clinic setting in the U.S. — offers people quick, free, and anonymous behavioral health screenings ("a check up from the neck up") via mounted tablets in the clinic's waiting area. The idea is a good one, but if the picture above is any indication, I fear that anyone who wonders if they suffer from mental health issues will be turned off from using the kiosk by the lack of privacy around it.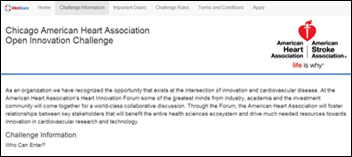 The American Heart Association launches an Open Innovation Challenge on Medstartr for Midwestern startups with ideas about how to help people prevent or manage cardiovascular disease or stroke. The 10 best ideas move on to a crowdfunding competition, and the top three then pitch to judges and investors in Chicago. The winner gets a $20,000 grant and whatever crowdfunding money they raise. Applications are due September 12.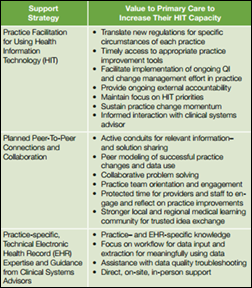 A study of 51 primary care practices within the Colorado Beacon Consortium finds that they value support and resources that assist them with using healthcare IT, including:
Translating rules and regulations into individual practice settings.
Facilitating peer-to-peer connections.
Providing processes and tools for practice improvement.
Maintaining accountability and momentum.
Providing local EHR technical expertise.
Benefits of support included improved quality measures, operational improvements, increased provider and staff engagement, and deeper understanding of EHR data.
---
People

The Michigan Academy of Family Physicians elects Pierre Morris, MD vice president. Morris is director of the Wayne State University Family Medicine Residency Program.

Nonprofit community health organization Sun Health promotes Jennifer Drago to executive vice president of population health.
Stephen Kahane, MD (athenahealth) and Rick Jelinek (Advent International) join the RedBrick Health Board of Directors.
---
Other


Forbes highlights the physician entrepreneur phenomenon, citing Aledade founder Farzad Mostashari, MD, and Iora Health founder Rushika Fernandopulle, MD as two of a growing number of physicians that have moved from clinical practice to startup business, often with a stop-off in government or nonprofit work in between. Fernandopulle explains his transition as one prompted by frustration: "I decided that the best way to make change happen quickly was to simply strike out myself and just do it – being an entrepreneur allows you to break what others think are the rules (they aren't) and take change into your own hands."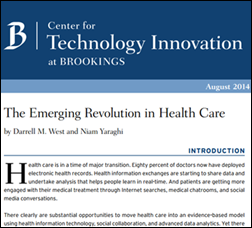 A new paper from the Center for Innovation Technology at Brookings outlines six recommendations to help healthcare progress in the areas of interoperability, privacy, and security:
Use big data tools.
Increase interoperability and tracking patients across healthcare systems.
Increase patient education (and improve user experience).
Implement a diverse set of patient records with online patient access.
Ensure privacy.
Recognize the reality of third-party consultations.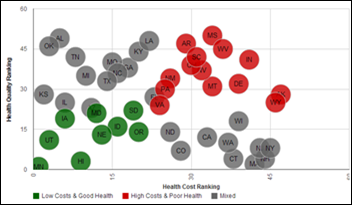 Minnesota ranks first when it comes to healthcare ROI, according to a study that reviewed each state's death rates, health rankings, and insurance premiums. Utah, Kansas, Hawaii, and Iowa round out the top five, while Mississippi, Louisiana, Arkansas, West Virginia, and Indiana achieve the ominous distinction of being at the bottom.
The Population Health Alliance seeks nominations from within its membership for its Board of Directors. Final approval of nominations will be given at the PHA Forum 2014 in December.
---
Sponsor Updates
Greenway extends special pricing for Engage14 in Dallas, September 4-7.
Greenway suggests how to select the clinical quality measures for a primary care practice.
Allscripts announces speaker information and the agenda for ACE 2014 in Chicago, August 12-15.
---
Contacts
Mr. H, Lorre, Jennifer, Dr. Jayne, Dr. Gregg, Lt. Dan, Dr. Travis
More news: HIStalk, HIStalk Connect
Get HIStalk Practice updates.
Contact us online.