Chris Patterson is IT administrator at Florida Heart & Vascular Associates, a medical group with two locations in the Tampa Bay area that offers a full range of heart and vascular services. The group, which typically sees 100 patients, employs five physicians, one physician's assistant, two nurse practitioners and 20 ancillary staff including Patterson, who oversees management of the group's IT infrastructure and future technology needs.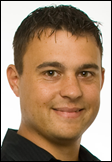 What healthcare IT is used at Florida Heart?
It has been a long and difficult process to find the right EHR for our practice. We initially tried GE Centricity and Allscripts before finally finding a winning product in Aprima PRM. We found an invaluable partner in Doctors Administrative Solutions, Aprima's value-added reseller for this area of Florida. They guided us through the implementation process with classes and on-site assistance, making sure we were comfortable at each stage. They didn't rush us through the implementation process and provided us with the necessary goals to accomplish our Meaningful Use requirements.
Where is the practice with Meaningful Use?
This year we will attest for one quarter of Stage 2. DAS helped us implement Aprima in 2012, and we have been very satisfied with the overall product and reporting. But software will only get you so far, and no matter how easy the charting is, the time and effort of researching MU requirements and the attestation process itself is a rather daunting task for any physician's office. DAS provides us with a dedicated account representative who knows how our practice works, and walked us through our previous two years of attestation. They offer classes on the new features that need to be implemented with the new regulations, and one on-one-counseling to make sure that we stay on track with all the measures. We are happy to tell you that we have both met and exceeded the requirements set forth by CMS, and are well on our way to a successful attestation for 2014.
What sort of healthcare IT implementation challenges have you encountered in the last year?
As with most medical practices, our main focus right now is the transition to an EHR. Keeping up with the latest regulations from CMS, and HIPPA, have become a large burden on all of our management and physicians. Due to these added responsibilities, we have focused on ways to make our office more efficient and remove some of the burdens from these individuals. We found that payroll was one area of our business where we could really cut into the time spent. We have long been partners with Lathem for our time and attendance software, and we asked what they could do to make us more efficient. They helped us see that our biggest slowdown in the payroll process was the back and forth between employees and managers about overtime, paid time off, and the amount of hours they worked. We wanted to find a way to allow our employees to take more ownership of their time and attendance, without allowing them to make changes themselves. We also wanted to remove the possibility of "buddy punching" by our employees. They had two solutions for us. They moved our existing payroll to the cloud through their new Payclock online software, and they helped us to implement a facial-recognition time clock.
Is the group working on any other healthcare IT implementations? If so, what timelines have been established?
As we look at the timetables for MU requirements and see the necessary changes that we need to make, it gets difficult to establish timelines and adoption periods for technology outside of the "Meaningful Use" scope. For now, we are focusing on virtualizing our existing IT infrastructure, saving us money on servers and maintenance. We are looking towards transitioning more services to the cloud, such as our exchange server, and providing our patients with better access to their medical records and more communication with our office through the use of patient portals, kiosks, and e-mail.
We are currently trying to expand the use of home monitoring devices such as at-home Coumadin management and remote pacemaker checks. We feel that these services provide a more convenient way for our patients to manage these longer-term problems, while freeing our office staff to focus on other tasks.
What implementation advice can you share with other practices?
I think that the best advice to give any provider now is to find companies that you can rely upon to help with all the current and coming transitions. They become an invaluable resource. The trends are changing so fast that it is beyond the means of one or two individuals to keep up. If you look at other industries such as stocks and the security sector, you can see where healthcare is heading. It will not be long before machine learning and prediction will be able to assist doctors inside of the EHR, instead of merely giving them a different means with which to chart their findings. Simplifying as many tasks within the office as possible will afford the staff more time to customize and implement these changes.
---
Contacts
Mr. H, Lorre, Jennifer, Dr. Jayne, Dr. Gregg, Lt. Dan, Dr. Travis
More news: HIStalk, HIStalk Connect.
Get HIStalk Practice  updates.
Contact us online.