Roy Schoenberg, MD is co-founder and CEO of American Well.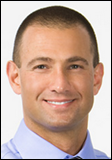 Tell me about yourself and the company.
I'm a physician by trade. I actually trained in internal medicine, both at Hebrew University in Israel where I was born, and then later on at Harvard. I reached a point in my residency where I kind of turned to the dark side and started doing entrepreneurial stuff, specifically in healthcare technology. To keep a long story short, my brother, who's also a physician, and I have founded a couple of companies. American Well is actually our third in this area.
The first company, IMDsoft, developed systems for intensive care units and operating rooms. It was essentially a system that deals with all of the devices that are being used, and the readings and the algorithms of interpreting alerts and alarms in those kind of areas. That company eventually got acquired by TPG, a healthcare venture firm from San Francisco.
We then started CareKey, which developed systems and health portals primarily for large health insurance companies so that they could communicate with their patient populations. We were very fortunate that this was roughly at the time HIPAA became a big deal, to the point that a lot of the health plans in the U.S. embraced our product. That company was acquired by Trizetto in 2007.
We started American Well in 2008. Our experience up to that point helped us to understand that the real deliverable of healthcare – getting in front of a healthcare professional – was missing. Value is really tightly connected with, 'How does that serve me? What can I get?' If you go on Expedia, you can buy an airline ticket. You go on Amazon, you can pretty much buy everything under the sun. And in healthcare, at the time of American Well's launch, the only thing the consumer could do for themselves was read about things. American Well was founded with the understanding that we were getting close – mind you, this was 2008 – to the point that we could actually deliver healthcare into the hands of patients. We saw the potential to give them the ability to get in front of a physician on their own terms, through devices already available to them. This was the marching order that started American Well.
We made a decision early on in the life of American Well to deliver our technologies to the healthcare organizations that consumers typically use to get healthcare, whether these are your BlueCross BlueShield plans, hospitals, physician practices, and in some cases, even your employer. Today, we serve the majority of the ecosystem. We serve the largest health insurance companies in the country, both United and Anthem WellPoint. We serve over a dozen or more BlueCross BlueShield plans. We cover over 600 different employers. We work with the largest health systems in the country. We serve close to 20 million people through these avenues.
Last but not least is AmWell, our direct-to-consumer offering. This is almost an experiment for us. It's much, much smaller, of course, than what we do with the large health insurance companies that have 60 million patients. That's available directly under our brand in the app store. This enables you to immediately get in front of a physician irrespective of who your health insurer is. That's operating in 47 states. There's just over 1.5 million people using it, so it's a good thing all around.
American Well has had a significant presence at the American Telemedicine Association's annual conference for a number of years. How have you seen interest in that event evolve?
Oh, there's no comparison. If you look at what happened even four or five years ago, the ATA exhibit hall was occupied by people that really believed. Maybe that's the best way to describe it. People that were very passionate about it. There were terrific people communicating amongst themselves, trying to push the field forward. This has completely changed, literally within a couple of years, to the point that now it feels more like a giant trade show, because there's finally a real market. We now have tremendous diversity, with different angles, devices, and technologies. This has become a really big part of healthcare IT, and it is incredibly palpable.
How do your takeaways and experience at ATA differ from HIMSS?
That's a really good question. I don't want to take away from HIMSS. Clearly, HIMSS is a very powerful, important part of the evolution of our market. I think HIMSS, however, is very focused and appropriately so, around the EHR and its peripherals. Maybe that's the best way to describe it. HIMSS really doesn't address the patient. Telehealth, and to some degree telemedicine, is really all about stretching the healthcare system into the hands of patients. As such, HIMSS really doesn't have that focus, nor the expertise, to understand how to interact with consumers. I think the ATA steps into that in a pretty big way. I think that's the distinction.
I'd also add that we will have to see convergence between the two, there's no question. More and more hospital systems are buying into telehealth because they understand, for a variety of different reasons, that they need to communicate with patients. I think we will have to see broader collaboration between the healthcare that happens in the patient's domain, which is right where ATA is, and healthcare that happens within the clinical setting, which is the domain of HIMSS.
Why did you decide to launch the AW8 physician-centric suite of telehealth solutions at this particular point in time?
I think it really ties to that convergence point that we talked about. We understand the popularity of using telehealth for urgent care, because it is convenient. The issue with urgent care, however, is that as popular as it is, and as headline-friendly as it is, it really only caters to a very small fraction of healthcare. The reality is that 90 percent of American dollars spent on healthcare really don't go towards treating urgent care-type maladies. They go towards treating chronically ill patients. Telehealth has the opportunity to be a valuable channel to deliver care to those patients.
If you think about it, most of the burden of living with cancer is endured by patients not in the hospital, but at home. Giving physicians the ability to actually extend themselves into the homes of their patients makes a huge difference. With the arrival of the Affordable Care Act and changing payment models, providers are now financially accountable for how well their patients are doing. We can't tell Mrs. Jones, an elderly diabetic, 'Here's a prescription, come back in two months.' We have to be able to be available to interact with Mrs. Jones regularly on her terms, at home. If there's a way for the physician to care for Mrs. Jones at home, she is going to do better.
That is why we are seeing an avalanche of hospital systems, large group practices, and national delivery assistance that historically were only interested in doing urgent care now say very clearly that we need to put telehealth in the pocket of every physician. This needs to be part of the ammunition that every physician has to care for their patients. Since we've had the privilege of working with these types of organizations for a good number of years, we've been able to get a jumpstart on making that happen with AW8. I'm not saying that it's perfect. I'm saying that this definitely represents an enormous milestone for telehealth. It's really the transition from the first generation to the second generation, and it's a really big deal.
Why did the company decide to get into biometrics with its Apple Health app integration? How do you think that type of technology will shape future iterations of telemedicine?
It's not enough to put two talking heads together over video. It's naive to think that if they can talk to each other, it's going to be okay. You actually have to do a lot of other heavy lifting in order to make those encounters well informed. They have to tie into previous visits and help inform future visits. The physician needs to really understand what Mrs. Jones is going through. There is a huge tidal wave of devices that are now being brought into the home to help patients track a lot of the key parameters that indicate where their disease is. 
We took it upon ourselves to say we need to let the physicians see what those devices say. We've worked historically with Microsoft Health Vault, and with a company called Numera that then became Imetrik, and so on. All of these solutions were okay, but were somewhat difficult to operate. We came together with the health group at Apple a little over a year ago and started a deep collaboration with them that ended up with some of the capabilities that are now built into AW8. The bottom line is that the data collected by those biometric devices actually flows directly through the Apple Health app and shows up without any intervention in front of the remote physician. If you're caring for your diabetic patient, you will be able to see the blood sugar readings of that patient as they come from the glucometer at home.
The beauty of doing this with Apple is that it is naturally extensible. Instead of creating drivers that work with any one device, Apple Health opens up the door for a variety of home biometrics to deliver their data to a remote physician. As we see newer devices coming out that follow a variety of other parameters in the body, that data will be handed off digitally to the remote physician. We strongly believe the integration with AW8 capabilities truly allows the physician to meaningfully monitor their patients at home.
Along the lines of changing payment models, how do you foresee the government handling reimbursement for telemedicine services, particularly for Medicare patients?
Medicare has historically required a pre-existing doctor/patient relationship, or has only covered telemedicine in rural areas. This often requires a patient to drive to a medical facility to see a doctor over video. To me, that defeats the purpose of telehealth – providing better access and convenience for consumers at home, work, or wherever they might be at the time of need. I believe that this will change in 2015. Right now, there are over 100 different pieces of legislation being considered by Congress related to telehealth. Additionally, CMS has pulled together a task force to establish a fee schedule to incorporate telehealth and recently announced coverage for ACOs. These positive steps forward indicate even greater movement by the end of the year.
Do you have any final thoughts?
I'll say this: The arrival of telehealth capabilities into physician pockets has far deeper implications than what most people see at the first glance. Yes, we are putting telehealth in physician pockets so that they can envelop their own patients. One of the lesser-known capabilities is that when the physician carries this in their pocket, they can essentially be available to the entire ecosystem. There is an overlaying switchboard above the different clients that we serve that allows them to begin to proliferate their services from one to another. What does that mean? You're going to begin to see services that you recognize, like Cleveland Clinic, begin to proliferate through the telehealth ecosystem, such that they become available not only in Ohio, but to the rest of America. That implies dramatic democratization of healthcare services throughout the country. I think that's going to impact a variety of things, including legislation in Washington. Stay tuned to very, very big transformation of healthcare.
---
Contacts
Jennifer,  Mr. H, Lorre, Dr. Jayne, Dr. Gregg, Lt. Dan
More news: HIStalk, HIStalk Connect.
Get HIStalk Practice  updates.
Contact us online.
Become a sponsor.