Top News
The latest figures from Rock Health paint a not-so-rosy picture for digital health IPOs. The $142.6 million raised so far this year is a far cry from the $2 billion raised last year; granted, only two companies – NantHealth and Tabula Rasa HealthCare – have gone through the process thus far, while six made the leap in 2015. It's also the least amount raised in public markets since 2012. Analysts are betting that San Francisco-based IRhythm, which has developed software that monitors and aggregates heartbeat data, will bump up this year's figure when it IPOs in the coming weeks.
---
HIStalk Practice Announcements and Requests
If you're a HIStalk Practice, HIStalk, or HIStalk Connect sponsor exhibiting at MGMA, complete this form and I'll include your company in our downloadable exhibitors guide. I won't be attending this year, and so would happily consider running reader reviews of the conference. Email me if you're interested in contributing.
---
Webinars
October 13 (Thursday) 2:00 ET. "Glycemic Control During Therapeutic Hypothermia." Sponsored by Monarch Medical Technologies. Presenter: Tracey Melhuish, RN, MSN, clinical practice specialist, Holy Cross Hospital (FL). Using therapeutic hypothermia (TH) as a method of care can present risks of hyperglycemia, hypoglycemia, and blood glucose variability. Maintaining safe glucose levels during the cooling and rewarming phases of TH reduces the risks of adverse events. Tracey Melhuish, author of "Linking Hypothermia and Hyperglycemia," will share best practices for optimal glucose control during TH and the success Holy Cross Hospital sees while using a computerized glucose management software.


October 25 (Tuesday) 1:30 ET. "Data Privacy/Insider Threat Mitigation: What Hospitals Can Learn From Other Industries." Sponsored by HIStalk. Presenters: Robert Kuller, chief commercial officer, Haystack Informatics; Mitchell Parker, CISSP, executive director of information security and compliance, Indiana University Health. Cybersecurity insurers believe that hospitals are too focused on perimeter threats, ransomware, and the threat of OCR audits instead of insider threats, which are far more common but less likely to earn media attention. Attendees will learn how behavior analytics is being used to profile insiders and detect unusual behaviors proactively and to place privacy/insider risk within the risk management matrix.
November 9 (Wednesday) 1:00 ET. "How to Create Healthcare Apps That Get Used and Maybe Even Loved." Sponsored by MedData. Presenter: Jeff Harper, founder and CEO, Duet Health. Patients, clinicians, and hospital employees are also consumers who manage many aspects of their non-medical lives on their mobile devices. Don't crush their high technology expectations with poorly designed, seldom used apps that tarnish your carefully protected image. Your app represents your brand and carries high expectations on both sides. This webinar will describe how to build a mobile healthcare app that puts the user first, meets their needs (which are often different from their wants), creates "stickiness," and delivers the expected benefits to everyone involved.
Contact Lorre for webinar services. View previous webinars on our HIStalk webinars YouTube channel.
---
Announcements and Implementations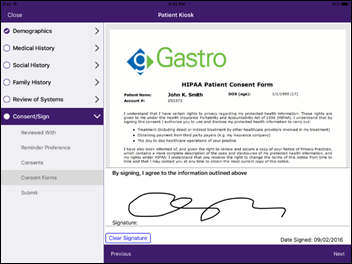 Modernizing Medicine's GMed subsidiary develops iPad-friendly patient check-in technology compatible with its EHR and PM software for gastroenterologists.
---
People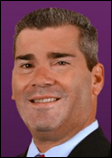 John Camperlengo (Quartet Health) joins Zelis Healthcare as general counsel and chief compliance officer.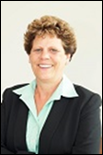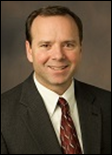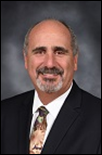 The Chartis Group adds Mary Jo Morrison (Allina Health), Mark Pasquale (Missouri Health Connection), and Robert Schwartz, MD (University of Pittsburgh Medical Center) as principals of its IT practice.
---
Telemedicine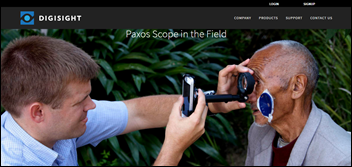 DigiSight Technologies adds secure app-based imaging and messaging to its smartphone-based Paxos Scope technology for eye exams and care coordination.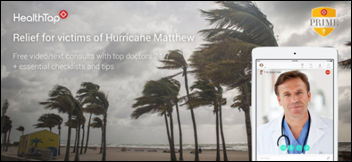 HealthTap joins several other telemedicine vendors in offering free services to those affected by Hurricane Matthew in the US and Caribbean. It has also added storm-specific resources, checklists, and tips to its library of health advice.
Amerigroup will roll out telemedicine benefits from LiveHealth Online to its Medicare Advantage plan members in New Jersey beginning January 1.
---
Other
This doesn't have anything to do with healthcare IT, but it was too warm and fuzzy not to share.
---
Contacts
Jenn,  Mr. H, Lorre, Dr. Jayne, Dr. Gregg
More news: HIStalk, HIStalk Connect.
Get HIStalk Practice updates.
Contact us online.
Become a sponsor.