Top News
Axial Healthcare raises a $16.5 million Series B investment led by venture-growth equity fund Oak HC/FT. The Nashville-based company, which raised $8 million last year, will use the new financing to further develop its cloud-based decision-support software for pain management. Oak HC/FT Venture Partner Nancy Brown will join Axial's Board of Directors.
---
HIStalk Practice Announcements and Requests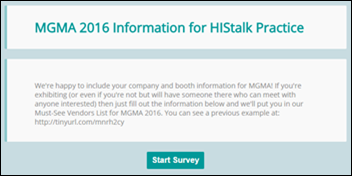 If you're a HIStalk Practice, HIStalk, or HIStalk Connect sponsor exhibiting at MGMA, complete this form and I'll include your company in our downloadable exhibitors guide. I won't be attending this year, and so would happily consider running reader reviews of the conference. Email me if you're interested in contributing.
---
Webinars
October 13 (Thursday) 2:00 ET. "Glycemic Control During Therapeutic Hypothermia." Sponsored by Monarch Medical Technologies. Presenter: Tracey Melhuish, RN, MSN, clinical practice specialist, Holy Cross Hospital (FL). Using therapeutic hypothermia (TH) as a method of care can present risks of hyperglycemia, hypoglycemia, and blood glucose variability. Maintaining safe glucose levels during the cooling and rewarming phases of TH reduces the risks of adverse events. Tracey Melhuish, author of "Linking Hypothermia and Hyperglycemia," will share best practices for optimal glucose control during TH and the success Holy Cross Hospital sees while using a computerized glucose management software.


October 25 (Tuesday) 1:30 ET. "Data Privacy/Insider Threat Mitigation: What Hospitals Can Learn From Other Industries." Sponsored by HIStalk. Presenters: Robert Kuller, chief commercial officer, Haystack Informatics; Mitchell Parker, CISSP, executive director of information security and compliance, Indiana University Health. Cybersecurity insurers believe that hospitals are too focused on perimeter threats, ransomware, and the threat of OCR audits instead of insider threats, which are far more common but less likely to earn media attention. Attendees will learn how behavior analytics is being used to profile insiders and detect unusual behaviors proactively and to place privacy/insider risk within the risk management matrix.
November 8 (Tuesday) 1:00 ET. "A CMIO's Perspective on the Successful 25 Hospital Rollout of Electronic Physician Documentation." Sponsored by Crossings Healthcare. Presenter: Ori Lotan, MD, CMIO, Universal Health Services. UHS rolled out Cerner Millennium's electronic physician documentation to its 6,000 active medical staff members — 95 percent of them independent practitioners who also work in competitor facilities — across 25 acute care hospitals. UHS's clinical informatics team used Cerner's MPage development toolkit to improve the usability, efficiency, communications capability, and quality metric performance of Dynamic Documentation, embedding clinical decision support and also using Nuance's cloud-based speech recognition product for the narrative bookends of physician notes. This CMIO-led webinar will describe how UHS achieved 70 percent voluntary physician adoption within one month of go-live, saved $3 million in annual transcription expense, and raised EHR satisfaction to 75 percent. It will include a short demonstration of the software that UHS developed to optimize the physician experience.
November 9 (Wednesday) 1:00 ET. "How to Create Healthcare Apps That Get Used and Maybe Even Loved." Sponsored by MedData. Presenter: Jeff Harper, founder and CEO, Duet Health. Patients, clinicians, and hospital employees are also consumers who manage many aspects of their non-medical lives on their mobile devices. Don't crush their high technology expectations with poorly designed, seldom used apps that tarnish your carefully protected image. Your app represents your brand and carries high expectations on both sides. This webinar will describe how to build a mobile healthcare app that puts the user first, meets their needs (which are often different from their wants), creates "stickiness," and delivers the expected benefits to everyone involved.
Contact Lorre for webinar services. View previous webinars on our HIStalk webinars YouTube channel.
---
Announcements and Implementations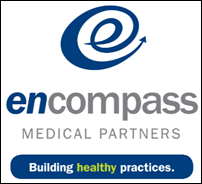 Encompass Medical Partners adds HIPAA-compliant IT maintenance and security services to its line of RCM, HR, and clinical offerings for physician practices.

ChartWise Medical Systems adds new real-time reporting and management dashboards to its computer-assisted CDI software.
---
People
The Tolan Group promotes Kaye Johnson to associate partner. She will lead the executive search firm's new telehealth/digital health practice.
---
Acquisitions, Funding, Business, and Stock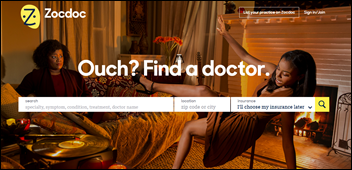 Wolff Olins North America President Tim Allen, who led Zocdoc's rebrand last year, believes traditional healthcare companies suffer from a love of "familiar visual cues like shields and crosses" (and blues and greens) when it comes to branding. "At the root of design," he explains, "is the process of solving problems with creativity. There's no way to take on the new health care challenges of affordability, access, obesity, wellness, or preventive care without design. Functionally, you're designing for people so that they can achieve goals. Emotionally, you're hopefully creating a sense of wonder and delight." While Mr. H sometimes gives short shrift to the logic behind company rebrandings, I do believe that there is a sort of science to it. It puts me in mind of Dodge Communications President Brad Dodge's blistering reviews of exhibitor booths at HIMSS several years ago …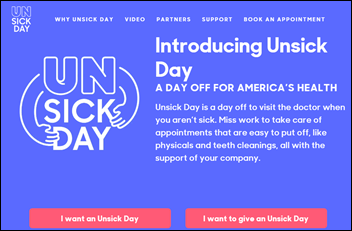 And speaking of Zocdoc … the appointment-scheduling app vendor has joined forces with Oscar, Foursquare, Virgin Hotels, and several other companies to encourage employers to offer paid "Unsick" days off so that employees can schedule annual wellness checkups. The campaign coincides with a Zocdoc survey that found 60 percent of workers feel uncomfortable taking time off for such preventive care visits, and 50 percent feel missing work for such reasons will harm their chances of a promotion.CEO Oliver Kharraz, MD was surprised to learn that a third of his employees weren't using all of the preventive services covered by the company's health plan. "It was really shocking to me to see that, because we're a health-care company," he said. "There needs to be explicit permission for employees to go there."
---
Telemedicine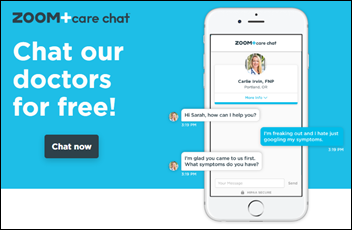 Zoom+ launches a chat-based telemedicine app to complement its health insurance offerings and chain of primary care clinics in Portland and Seattle. The company, which has been the subject of several protests due to its refusal to accept Medicaid and Medicare, has announced it will withdraw its plans from the federal insurance marketplace next year. It was one of the smallest carriers in the Portland market, signing up just 839 members last year and losing $3.8 million in the process.
---
Other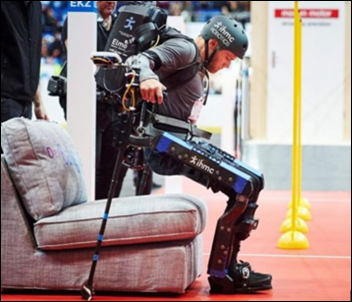 The inaugural Cybathlon comes to Switzerland, bringing together competitors, technologists, and developers to highlight the ways in which futuristic assistive technologies help disabled people overcome the more practical challenges of daily life. Medals were awarded in six races – brain-computer interface race, functional electrical stimulation bike race, powered arm prosthesis race, powered exoskeleton race, powered leg prosthesis race, and powered wheelchair race, with Iceland and Switzerland taking home the most honors.
---
Sponsor Updates
Aprima will exhibit at the Texas Association of Community Health Centers meeting October 17-18 in Dallas.
MedScape includes E-MDs as a leading vendor for usability and customer satisfaction in its latest EHR report.
EClinicalWorks will exhibit at the AOAO Annual Meeting October 13-15 in Washington, DC.
Nordic is recognized in "Best Places to Work in Healthcare" for the third straight year.
Blog Posts
---
Contacts
Jenn,  Mr. H, Lorre, Dr. Jayne, Dr. Gregg
More news: HIStalk, HIStalk Connect.
Get HIStalk Practice updates.
Contact us online.
Become a sponsor.