Top News
Humana doles out nearly $94 million to 4,465 provider organizations that participate in the payer's Provider Quality Rewards Program, a program Humana has run since 2012. Sixty-three percent of Humana's Medicare Advantage members receive care from PCPs involved in the company's valued-based payment programs, which incentivize physicians for improved outcomes related to breast and colorectal cancer screenings, and diabetes treatment management, among others.
---
HIStalk Practice Announcements and Requests
Don't miss the latest batch of practice-oriented interviews:



ACO CVCHIP Board Chair Lerla Joseph, MD shares insight into the challenges practices face when it comes to reporting for value-based payment programs.
Coordinated Care Oklahoma Chief Administrative Officer Brian Yeam, MD outlines the increasingly important role secure messaging and advanced directives play in health information exchange.
Northwest Physicians Network CEO Rick MacCornack sheds light on the role physician networks play in connecting disparate EHRs and the value of working with startups.
---
Webinars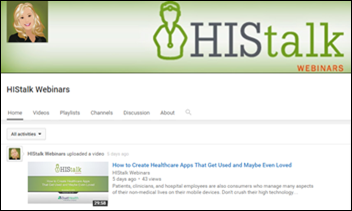 None scheduled in the coming weeks. Contact Lorre for webinar services. View previous webinars on our HIStalk webinars YouTube channel.
---
Acquisitions, Funding, Business, and Stock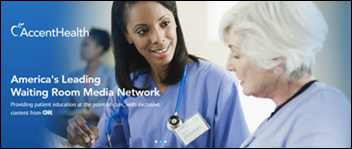 Point-of-care patient education company Context Media acquires competitor AccentHealth for an undisclosed sum. AccentHealth's content is produced by Harvard Medical School and CNN's Medical Unit, and hosted by Sanjay Gupta, MD.
---
People

FQHC operator Family HealthCare Network (CA) promotes Paramvir Sidhu, MD to deputy chief clinical officer.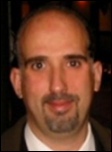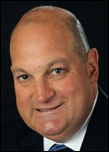 Avi Fichman (Center for Public Integrity) and Jeff Goldman (Valence Health) join the Primary Care Coalition as COO, and vice President for population health, respectively.
---
Announcements and Implementations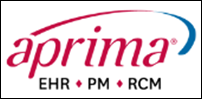 Aprima offers a cloud-based faxing solution for its EHR.

Chesapeake Regional Information System for our Patients selects real-time patient matching technology from Verato to better match and link patient identities across HIE members in Maryland and Washington, DC.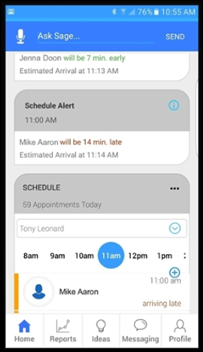 Sikka Software adds schedule alerts and estimated patient arrival times to its Practice Mobilizer app for optometrists, dentists, and veterinarians.
---
Telemedicine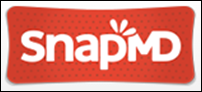 SnapMD adds new features to its Virtual Care Management app including the ability to enter, view, and manage appointments; view and manage billing details; and access health insurance information. The Los Angeles based company closed its latest round of funding in June, and has raised $7.5 million since launching in 2013.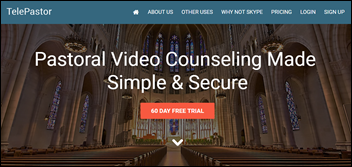 Nuance-affiliated My Client Notes leans on teletherapy technology from E-Psychiatry to launch a telecounseling service for church teams and ministries.  
---
Government and Politics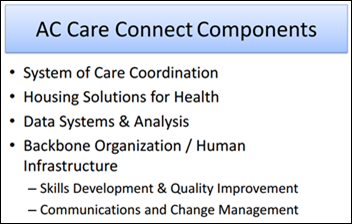 The Alameda County Health Care Services Agency receives a $140 million grant from the California Dept. of Health Care Services that it will use to partially fund Alameda County Care Connect. The $280 million program, which aims to improve health outcomes for the homeless and mentally ill, will focus $15 million on creating a countywide data-sharing and care coordination system. "We're going to develop a universal consent for sharing information," says HCSA Medical Director Kathleen Clanon, "so that patient information can be shared with different agencies so … they don't have to start from scratch."
AMA members adopt a number of policies and resolutions at the association's interim meeting in Orlando this week, including those that promote the safe and effective use of digital health apps with an eye towards security and protecting physicians from liability. The association also stressed the need for interoperability between state prescription drug monitoring programs and EHRs so that physicians can learn when their patients receive controlled substances from other prescribers.
---
Research and Innovation

A study finds that patients with chronic conditions are more apt to take their medication on a regular basis when they are part of a patient-centered medical home. In analyzing Aetna claims data on 300,000 patients between 2011 and 2013, researchers found that PCMH patients were adherent 64 percent of the time versus 59 percent of patients in non-PCMH practices. PCMH medication adherence rates were slightly higher for patients with diabetes, high cholesterol, and high blood pressure.
---
Sponsor Updates
Intelligent Medical Objects exhibits at the AMIA 2016 Annual Symposium in Chicago.
Blog Posts
---
Contacts
More news: HIStalk, HIStalk Connect.
Get HIStalk Practice updates.
Contact us online.
Become a sponsor.