Richard Morel, MD is co-medical director of Westmed Medical Group, a large multispecialty practice that employs 350 physicians across 14 locations in New York and Connecticut. Westmed, which uses GE Centricity and has attested for Meaningful Use annually since its inception, is working with Bridge Portal to develop a new patient portal that will directly communicate with its EHR. The group hopes to gain a better patient interface and add mobility functions, including a branded app.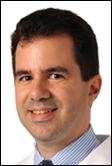 Why did Westmed decide the time was right to implement new mobile-friendly portal technology?
Most people access technology through their phones; even though GE's portal is not compatible with handheld devices, we noted that the majority of our patients were still using their phones to access the website and portal. Our goal is to provide a better patient experience. The new portal will launch in March.
How is the medical group helping its practices prepare for MACRA?
Westmed is well positioned to succeed under MACRA. We have been involved in quality metric reporting for years and have some of the highest quality scores in the nation (for example, we were number three nationally for the MSSP diabetes composite score for 2015, and were one of 18 practices to receive the 2015 Million Hearts award from the CDC for hypertension control). We have also been focused on cost by trying to provide the right care at the right time and in the right place.
I understand that Westmed has an ACO. What kind is it, and how has it utilized health IT to achieve savings?
We are a track 1 MSSP and have multiple other ACO-like contracts with commercial insurers. We have used IT to automate the closure of many gaps in care. A few examples: Four weeks prior to a scheduled appointment, we automatically scan for patients who are overdue for mammograms or diabetic eye exams. We then reach out to them by text, email, or phone (based on their preference) and offer to schedule the test one hour before or after their upcoming appointment. We also have customized the EHR to automatically scan for all gaps in care including flu shots, pneumonia shots, diabetic measures, and cancer screenings. The orders can automatically be entered and then reviewed by the provider when they enter the room.
Aside from MACRA, what other projects and programs is Westmed looking at?
We had wanted to apply for the CPC+ program, but unfortunately our region was not included.
The holidays are coming! What is on your health IT wish list?
For our app development to go well and be completed on time.
---
Contacts
More news: HIStalk, HIStalk Connect.
Get HIStalk Practice updates.
Contact us online.
Become a sponsor.