Top News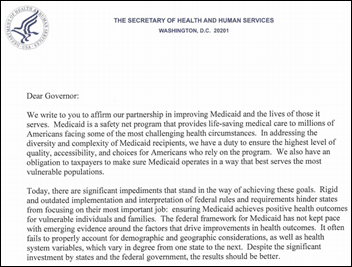 HHS Secretary Tom Price, MD and CMS Administrator Seema Verma embark on their first joint endeavor, penning a letter to the nation's governors emphasizing their commitment to working with states on improving Medicaid program and the lives of its beneficiaries. Key areas they have targeted for collaboration include improving federal and state program management, increasing employment and community engagement, aligning Medicaid and private insurance policies for non-disabled adults, providing reasonable timelines for home and community-based services transformation, and providing states with more tools to address the opioid epidemic – the only one of which would seem to overtly involve the use of health IT.
---
Webinars


March 29 (Wednesday) 1:00 ET. "Improving patient outcomes with smartphones: UW Medicine Valley Medical Center's story." Sponsored by Voalte. Presenters: James Jones, MBA, MSN, VP of patient care services and nursing operations, UW Medicine Valley Medical Center; Wayne Manuel, MBA, SVP of strategic services, UW Medicine Valley Medical Center. UW Medicine Valley Medical Center dramatically improved patient outcomes after moving to a smartphone-based platform for clinical communication and alarm and alert notification. Before-and-after analysis shows a reduction in hospital-acquired pressure ulcers and skin integrity events, fall and slip events, and medication errors. By limiting overhead paging, the medical center also created a calmer, quieter environment and improved engagement among nursing and hospitalists. Hospital executives will describe their experience and vision for the future in addressing quality, cost, and the patient-caregiver experience.
Previous webinars are on our YouTube channel. Contact Lorre for information on webinar services.
---
Announcements and Implementations
Scribe Healthcare Technologies adds Azalea Health's PM software to its dictation and billing solutions.
---
Acquisitions, Funding, Business, and Stock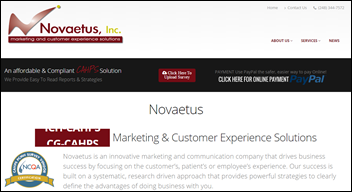 Springtown, TX-based SurveyVitals acquires CMS-certified CAHPS survey administrator Novaetus for an undisclosed sum. The acquired Novi, MI-based company's CAHPS certifications include PQRS, outpatient and ambulatory surgery, and PCMH, among others. Novaetus founder and President Lori Moshier will join SurveyVitals as CAHPS program director.
---
Telemedicine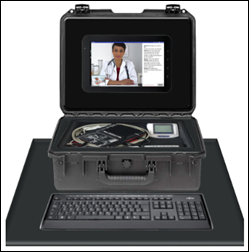 Charleston, SC-based Zeriscope develops a mobile telemedicine exam kit that includes live video and cloud-based data-streaming capabilities. Co-founder Robert Adams, MD helped to develop the Reach Medical University of South Carolina's Telestroke Network in 2008, which has since grown to over 20 sites across the state.
---
Government and Politics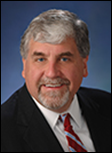 President Trump nominates Eric Hargan, a shareholder in Greenberg Traurig's Health & FDA Business Dept., to serve as HHS deputy secretary. Hargan, who served on the president's transition team, worked at HHS in various positions between 2003 and 2007.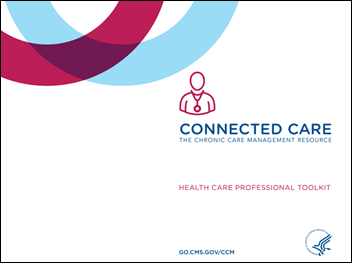 CMS and HRSA launch the Connected Care educational initiative to help providers better understand and implement chronic care management services for Medicare patients, particularly minorities and/or those living in rural areas.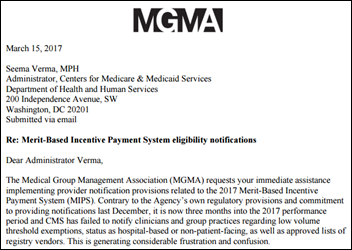 MGMA demands that CMS release 2017 MIPS eligibility information, especially notifications about the low-volume threshold exemption – of which nearly a third of eligible clinicians will likely take advantage – and a final list of approved qualified registries and qualified clinical data registries. "Transitioning to MIPS is a challenge involving upgrades to electronic health record software, reengineering clinical workflows to meet data capture and reporting requirements, contracting with data registries, and training clinical and administrative staff," writes MGMA Government Affairs SVP Anders Gilberg. "Without basic information about eligibility, physicians and medical groups are significantly disadvantaged from positioning themselves for success in the program." 
---
People

Allied Physicians Group (NY) promotes Kerry Fierstein, MD to CEO.
---
Research and Innovation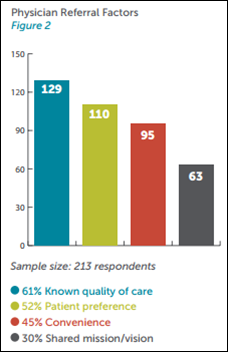 An analysis of data from 500 independent physicians shows that 58 percent don't have a preferred hospital partner – a stat that points to the need for community providers of all types to realize that patients are no longer loyal to a particular hospital. Surveyed physicians cited quality of care, patient preference, and convenience as top referring factors. Just under 40 percent are more likely to refer to a hospital that provides authorizations to its community physicians. Nearly the same amount will refer to a different hospital if that facility offers self-scheduling tools.
---
Sponsor Updates
Blog Posts
---
Contacts
More news: HIStalk, HIStalk Connect.
Get HIStalk Practice updates.
Contact us online.
Become a sponsor.