Top News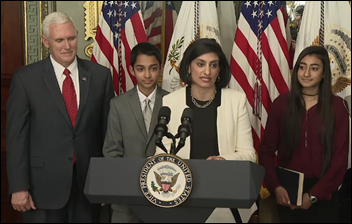 Seema Verma is sworn in as CMS administrator after a full Senate vote Monday night confirmed her along party lines. Her appointment comes at a fairly tumultuous time for healthcare. She takes over a $1 trillion agency tasked with overseeing health plans for 130 million people – the majority of which are in a state of semi-panic thanks to the Trump Administration's decision to repeal and replace. Her boss, HHS Secretary Tom Price, MD will address the GOP's much-opposed healthcare bill during  a CNN-hosted town hall tomorrow night.
---
HIStalk Practice Musings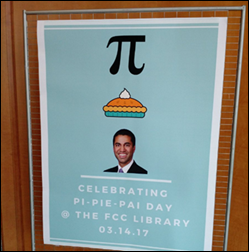 Today marks the 28th anniversary of Pi Day – a commemoration of the ratio of the circumference of a circle to its diameter. (It literally pained me to type that sentence. There's a reason I went into journalism – primarily to avoid math.) The tradition, which was started by physicist Larry Shaw and his fellow San Francisco Exploratorium staffers, has without a doubt expanded into the popular zeitgeist. Even folks at the FCC – including Chairman Ajit Pai – seem to be having fun with it.
Fun facts: March 14 is also Albert Einstein's birthday. Microsoft is offering Pi Day discounts of 31.4 percent on several laptops.
---
Webinars
None scheduled soon. Previous webinars are on our YouTube channel. Contact Lorre for information on webinar services.
---
Announcements and Implementations

The Fort Lauderdale, FL-based MediXall Group announces general availability of its new PWeR EHR and PM platform.
Coastal Imaging (NJ) selects RCM software and services from Healthcare Administrative Partners.

Compulink develops an all-in-one EHR, RCM, and PM software solution for pain medicine providers.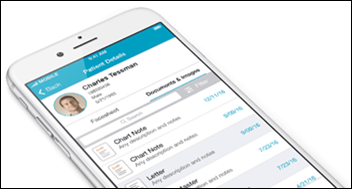 Entrada makes several improvements to its mobile EHR engagement app, including giving users the ability to view EHR data in real time, and quicker overall access to clinical content.
---
Acquisitions, Funding, Business, and Stock

Primary care management services company Primaria Health launches a Medicare ACO in Central Indiana. A joint venture between VillageMD and Indianapolis-based health system Community Health Network, Primaria's network includes 375 independent physicians who care for 130,000 patients across 38 counties in the region.
---
Research and Innovation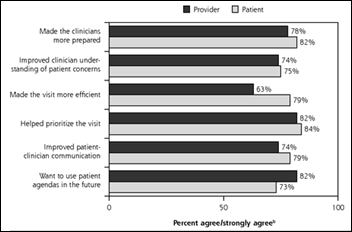 A small Open Notes-like pilot study finds that patients and providers benefit when patients are given the ability to type their appointment goals into their EHR beforehand. Conducted at the Harborview Medical Center's (WA) adult medicine safety-net clinic, study participants felt that the exercise improved communication between patients and providers, resulting in a more collaborative and efficient visit. (This sample patient agenda and follow-up commentary from the patient and provider is pretty compelling.) Speaking my with "patient" hat on, I'd enjoy the ability to add my goals for upcoming appointments via my practice's patient portal, and have that agenda automatically transfer to a universal EHR/PHR managed by me and caregivers of my choosing.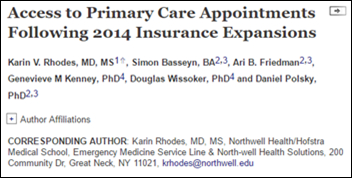 This is a bit dated, but in light of the current legislative environment I suppose it's worth mentioning that researchers have found no evidence that ACA-induced insurance expansion resulted in a strain on primary care practices. Overall appointment rates from 2012 to 2014 were stable, with wait times of six to seven days for new patient appointments remaining largely unchanged. The authors cite healthcare IT, including EHRs and secure messaging, among their reasons as to why access remained level despite millions of newly insured consumers.
---
Other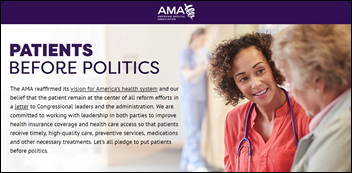 AMA, a vocal detractor of the AHCA, launches a new advocacy website to equip patients and providers with tools to voice their dissent with the proposed bill. The association's formal objectives include:
Ensure that covered individuals do not become uninsured.
Maintain existing reforms such as coverage for pre-existing conditions and parental coverage for young adults.
Ensure that low- and moderate-income patients have access to affordable, adequate coverage.
Ensure funding for Medicaid and other safety-net programs.
Stabilize the individual health insurance market.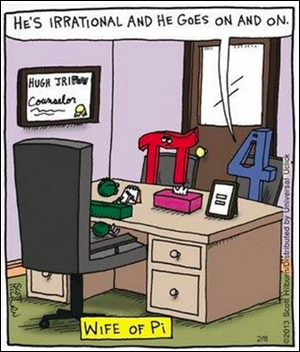 Pi Day humor gets me every time.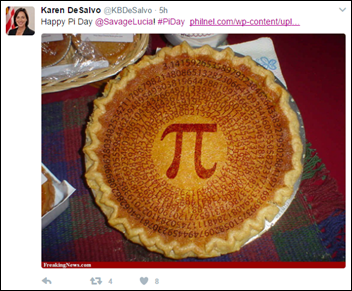 Anyone else find it funny that Pi Day is celebrated during National Nutrition Month?
---
Contacts
More news: HIStalk, HIStalk Connect.
Get HIStalk Practice updates.
Contact us online.
Become a sponsor.