The compliance deadline for ICD-10 is pushed to October 1, 2013. Stakeholders generally agreed that an October 1, 2011 deadline was inadequate time to prepare for the transition.
I love this quote from the administrator of a 12-doctor orthopedic group in Michigan: "One doc I know compares getting an EMR to going from outdoor to indoor plumbing," he said. "It makes a huge difference eventually, but there's a mess for a while." This comment appears in a Crain's Detroit Business article that highlights how practice administrators are struggling to manage practice finances without compromising patient care. Guarding costs and leveraging computer technology are key strategies at the moment.
If you're a dermatologist in the DC area, you are probably too busy to be reading this. The upcoming DC festivities create a three-fold increase in the Botox and microdermabrasion business.
Allscripts Professional earns CCHIT Ambulatory 08 certification.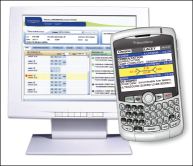 Physicians in Tomball, TX are receiving real-time patient updates via mobile devices. Tomball Regional Medical Center is providing its physicians with the Clinical Xpert Navigator solution to notify them of critical patient information. It's the former MercuryMD MData solution that is now offered by Thomas Reuters.
Blue Cross Blue Shield of Michigan lays off 1,000 employees and wants average rate increases of 55% for individual plans, claiming it's on track to lose $1 billion in the next three years.
Over 200 physicians at University Health Associates clinics (WV) switch to electronic medical records over the weekend, along with West Virginia University's hospital sites. The health system has spent $90 million on the complete Epic EHR project.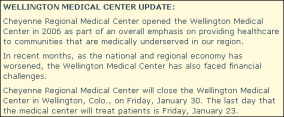 In what appears to be a growing national trend, a rural, hospital-owned Colorado clinic prepares to close its doors. Doctors in remote areas find that lower patient volumes and lower reimbursement rates are not adequate to cover their rising insurance premiums and to pay off big student loans. Will the new administration offer these rural clinics additional funding to help them stay in business?
We're hearing a few more specifics about what Congress is considering for the HIT component of an economic stimulus bill. House leaders want to set a December 31, 2009 deadline for a set of initial HIT standards and are promising up to $65,000 per physician in provider incentives. Hospitals that become fully wired would also be eligible for incentive payments. Penalties for those not adopting HIT would come into effect starting in 2016. The Congressional Budget Office believes such incentives would increase HIT adoption to 90% for physicians and 70% for hospitals over the next 10 years. One of the biggest potential road blocks continues to be how to address privacy concerns.
Here is a report that Congress and Obama might have missed. The results of a recent study by Kaiser Family Foundation and the Harvard School of Public Health indicate that most Americans don't consider HIT spending a priority. Seventy-seven percent of the 1,628 surveyed recommended that HIT spending decrease or stay the same.
The Heart Group (PA) picks SRS for its EMR solution. The 37-provider group says they passed on the hospital's EMR offering because they did not think SRS was intuitive enough. Goes to show you that free (or almost free) is not necessarily cheap enough.
South Jersey Healthcare (NJ) chooses Sage's Intergy EHR solution for its affiliated physicians. The health system will subsidize the cost of the EHR, as well as interfaces to the hospital's IS/HIE.
In Nigeria, identical twins Pam and Gyang Dareng give up their careers as medical doctors to take up professional golf. Seems like there should be some funny punch line in there somewhere.