From Al Stewart: "Re: Allscripts. Didn't athenahealth's CEO Bush do this exact interview weeks ago? Tullman and crew must be getting a little slow on the PR front, I guess. Big surprise, he wants Congress to foot the bill upfront for EHRs. Typical big box HCIT CEO speak. Of course, maybe then Allscripts will finally make their numbers …" Link. Allscripts CEO Glen Tullman suggests that federal stimulus money first be used to help buy EMRs, then give doctors (and presumably hospitals) financial incentives to use them. Each of us could argue those points (like the commenters at the bottom of the WSJ article), but I suppose the one argument that's already lost is whether the government should be pushing commercial products in any fashion, no matter how beneficial their use might be. I'm sadly out of fashion as a free marketer. Actually, Jonathan Bush's platform is the opposite: don't spend taxpayer money buying products already available that doctors are passing on for one reason or another (cost, productivity, etc.) but rather spend the money giving them performance goals and let them pick the tools. Both CEOs, naturally, advocate a position that would benefit their respective companies, which is what they're paid to do.
From Parker Lewis: "Re: government buying EMRs. I hope to God they don't offer to buy them, or else a bunch of second-tier businesses will stick around when otherwise the market would take them out."

From Bignurse: "Re: 77% of consumers not supporting increased healthcare IT spending. The healthcare community needs to launch a public relations campaign to inform consumers about why healthcare IT is needed and how it benefits them, i.e. PHR, patient safety, better informed physician decision-making, and hopefully, reduced waiting times. Consider the successes of past public campaigns on seatbelts and Medicare Part D, for example." I like the idea, but I'm not sure even providers agree on that (and certainly have inconsistent outcomes in trying to achieve them).
From Doris DeMarco: "Re: Baylor revenue cycle management. It's being done by MED3OOO."


Medical Records Institutes announces the finalists for the 2009 TEPR Awards. The PHR finalists are CapMed, Doctations, and myHealtheVet. In the Hot Products category, finalists are Doctations, iChart, TapChart, and three products by Private Access.  Winners will be announced at the TEPR+ Conference next week in Palm Springs. Are we the only ones who have barely heard of most of these products? The competition is free to all the exhibitors (67 are listed on TEPR's Website, including an assortment of magazine publishers, the Social Security Administration, etc.) If you are not exhibiting, you can still participate in the TEPR Awards for a "fee." As nice as it sounds to be in Palm Springs right now, we'll take a pass.
The so-called HITECH Act (warning: PDF), the Health Information Technology for Economic and Clinical Health Act (man, that's one contrived acronym) from the House Ways and Means Committee, is one angle at HIT stimulus. It claims that EMR adoption would reach 90% of doctors and 70% of hospitals within the next 10 years. It's interesting that, despite urging that the stimulus money be used on projects that are ready to go quickly, that HITECH wouldn't provide any immediate incentives to doctors, and in fact would require them to buy EMRs and get some level of reimbursement later. Doctors would be eligible for $40,000 to $65,000 if they can demonstrate system use through improved quality measures (different from Glen Tullman's position above, where he thinks EMRs should be bought upfront and rewarded for use with a second round of money later). And here's the part that every vendor (and therefore HIMSS) hates: "After standards are adopted in 2009, the National Coordinator shall make available at a nominal fee an electronic health record, unless the Secretary determines that the needs and demands of providers are being substantially and adequately met by the marketplace." In other words, unless Rob Kolodner (a VA guy) believes that existing practice and hospital systems are good enough, he can make a low-cost system available. That's not much of a bold move since the only obvious system fitting those criteria is the VA's VistA, already free for anyone who wants to burn a CD (but not necessarily easy to install or use).
All of the federal debate begs a question: why would you buy a system now if there's a chance that Uncle Sam will help pay for it if you wait? If I were a vendor, I would be concerned about dramatic short-term sales dropoffs while waiting for possibly beneficial legislation to pass.
As the economy worsens, doctors are seeing the health of their patients decline as well. Providers are noting increases in headaches, stomach pains, anxiety, and depression, as well as rising blood pressure and increased obesity. Doctors believe the tougher economic conditions are elevating stress levels. Patients are also cutting corners on their diet and exercise, choosing cheaper and less nutritious fast food, and skipping refills of expensive medications.
As hospitals try to remain solvent, some resort to layoffs of employed physicians.  Consultants warn that more physician layoffs and pay cuts could still be ahead.
A Pennsylvania doctor starts a concierge practice, charging 400 patients $1,750 per year ($700K gross), which covers all visits, 24-hour telephone access, e-mail access, and online medical records. Interesting: she doesn't have hospital privileges since she doesn't take insurance, but she still is actively involved in the care of her patients when they are hospitalized. Some folks gripe that cherry-picking cash patients just makes the precarious healthcare system worse, but let's be fair: if it wasn't for the hassle of dealing with insurance companies, doctors wouldn't do it.
Robert Gumbiner, a doctor and philanthropist who created the FHP HMO because he thought fee-for-service was immoral because doctors get paid only when patients are sick, died last week at 85.
Big healthcare reform news from China: the government will spend $120 billion to build hospitals and clinics, subsidize insurance costs to get more citizens covered, and improve rural care. The official news agency said, "The health care sector is one of the weak links in China's social welfare system. Soaring medical fees, a lack of access to affordable medical services, poor doctor-patient relations and low medical insurance coverage compelled the government to launch the new round of reforms." It should not be forgotten, however, that China is wealthy, backward, and Communist, even though their problems are similar to ours.
The current House Ways and Means Stimulus Bill includes wording that would require federally appropriated funds only be spent on CCHIT-certified products. How is that going to fly with all those uncertified EMR vendors and their users?
Sage launches Intergy version 5.5 of its EHR/PM system. Some of the new features includes cardiac device integration, predictive orders management, encounter note wizard, and enhanced e-prescribing capabilities.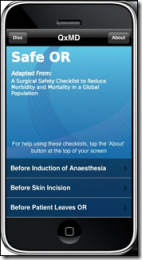 QxMD announces another cool iPhone application. Safe OR is based on the 19-item surgical safety checklist, A Surgical Safety Checklist to Reduce Morbidity and Mortality in a Global Population.
A study concludes that physicians who participate in online physician communities and social networks write about 24 more prescriptions per week. Good news if you are selling online ads for the pharma companies.
CMS posts the Measure Applicability Validation process for 2009 PQRI, which will be used to determine satisfactory PQRI reporting for participants who achieve a reporting rate at or above 80% for each measure submitted.
Odd: a college student drops by a local podiatry office after seeing an ad for a free nail trim, whirlpool, and foot massage. She finishes up 20 minutes later, fills out a medical form, and heads out. Her mother found out later that her insurance was billed for over $3,200, including charges for five surgical procedures. The doctor's receptionist told her that anytime the doctor touches a patient's foot, it's considered a surgery. Cigna, which paid $616, is looking into it.
The Association of Academic Health Centers calls for a revision of the HIPAA Privacy Rule, claiming the current version has a negative impact on research. The Association cites a recent study that found researchers were having difficulty recruiting participants and that HIPAA created barriers to diversity in research studies.
Doctations and Zynx Health form a strategic alliance to incorporate Zynx's AmbulatoryCare product with Doctations EMR.  Zynx AmbulatoryCare is a suite of clinical decision support content that includes evidence=based recommendations, order sets, performance checklists, alerts, and reminders.
The owner of a Montana billing service is convicted for mail fraud and filing false income tax returns. Kathleen Hunnewell billed insurance companies and patients on behalf of her healthcare provider clients and pocketed portions of the patient and insurance reimbursements, $225,000 worth over two years. She faces 20 years in prison and a $250,000 fine.