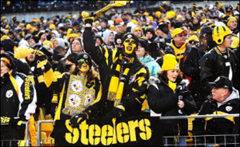 I write this on the eve of the Super Bowl. The outcome of the matchup between the Pittsburgh Steelers and Arizona Cardinals will be known to you before you'll read this. I thought, however, that this would be the perfect time to reflect on how a physician's work is never done.
Several years ago, I took my middle son to his first Steelers game. I finally got a weekend free and made sure that someone would be covering all my phone calls. I scored some great tickets and parked my car in town so my son and I could cross the Allegheny River on the bridge in true Pittsburgh style. We both got our faces painted in black and gold and we enjoyed our foot long hot dogs and Cokes. We settled in our seats and got ready for the kickoff. 
Just then, in the adjacent section, I saw a commotion around a fallen and cyanotic man. I looked at my young child next to me and said, "Son, I'm really sorry, but Daddy has to do some work after all." I handed him my cell phone and reluctantly entrusted him to the rabid fans around me.
It's a strange phenomenon to do CPR on a person as fans cheer around you. Eventually, medics arrived and I was able to intubate and shock the unfortunate man as he lay on the metal bench while his wife looked on. I was drenched in vomit and sweat as the game continued on the field. To make matters worse, the man's wife told me that her husband was a physician.
You're probably wondering at this point about my son. Well he decided that it would be a good idea to call his mom. "Where's your father? He left you alone in the stands with strangers?" she asked him. "Yeah, he's hanging out with some other people," he replied innocently. "Can you see him? What is he doing?" asked my confused wife. To her shock, he replied, "Oh yeah, I can see him now — he has his mouth on another man's mouth."
The ambulance finally came as the end of the quarter approached. I went back to my section and thanked the people who watched over my son. They asked me if I thought the guy was going to make it. I answered realistically that I very much doubted it. 
Silence fell over the entire section as people realized what had happened. I debated on what to say next.
"But what a way to go!" I shouted.
The crowd went wild.
My God, I thought, only in Pittsburgh.
Joel Diamond, MD is chief medical officer at dbMotion, adjunct associate professor at the Department of Biomedical Informatics at the University of Pittsburgh Medical Center, and a practicing physician at UPMC.