A reader forwarded a letter supposedly sent by PNC Bank in Pittsburgh that indicates that it will shut down its Xpack electronic claims and transaction management system this summer.
Dr. Trent Pierce, chairman of the Arkansas State Medical Board and apparent car bomb victim, appears to be on the mend, although still in critical condition. Authorities don't yet have a motive or suspects.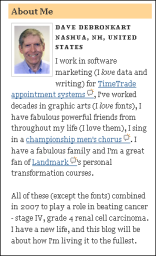 If you are interested in what you may have missed at last week's TEPR meeting, check out Nick van Terheyden's post on HIStalk. Though attendance was down over previous years, Nick did find a few bright spots, including the opening session:  "The opening sessions were great, and like or not Adam Bosworth's views on where to spend the $50 billion stimulus, he had a compelling story that was not about technology investment (surprising for an acknowledged pioneer of XML) but centered on incenting behavioral change in the US population to stop the epidemic increase in American waists. But it was the Illness in the Age of "e" hosted by Danny Sands from Cisco and his patient Dave deBronkart that stole the show."

Greenway Medical Technologies and Navicure announce that both are expanding their offerings to include more integrated solutions and services. Sounds like a solid match, given that both are "Best in KLAS" award winners in their respective areas.
A bookkeeper being paid $100K a year by a six-doctor ophthalmology group and left alone to manage their payroll pleads guilty to stealing $783,000 from them by paying herself for 165 worked hours per week. According to court records, "the doctors did not get deeply involved in the financial aspects of the practice."
Penn School of Medicine researchers find that patient information stored in electronic medical records can have new analytical formulas applied that allows generalizing drug efficacy studies to a generalized population, not just those who participate in clinical trials. The study was performed using a UK research database, the extent of which won't be available in the US for several years.
EMR vendor Bizmatics partners with PhyLogic, a national billing service and revenue cycle management company. The collaboration allows both Bizmatics and PhyLogic to offer and integrated EMR and PM solution.
The Detroit paper details the growth of eVisits and other online medical tools in Michigan. Henry Ford Health System reportedly conducted an impressive 30,000 eVisits last year. Insurance companies are reimbursing doctors between $20 and $30 a visit.
Outer Cape Health Services (located on the tip of Cape Cod) lays off eight employees in a cost-cutting measure. The laid off workers include both full and part-time clinical employees managers,  and support service personnel.  The medical group employs more than 100 people.
Marshfield Clinic (WI) selects SAP Business Objects XI intelligence system. Marshfield plans to use the BI tool to improve patient care and to analyze internal business operations.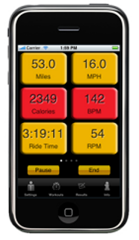 iTMP Technology introduces new technology that will allow an iPhone or iPod to double as a heart monitor.  The $150 SMHEART LINK is a wireless bridge that collects data from sensors, such as heart rate monitors, and sends it to the smartphone via Wi-Fi. It appears they are targeting the fitness world, but it will interesting to see if it is accurate enough for clinical use.
Nuance Communications, makers of Dragon Naturally Speaking and dictation/transcription systms, announces Q1 results: revenue up 11%, EPS -$0.10 vs. -$0.08.
Lawyers are getting electronic medical records before many doctors. We've written about them before: a company's new site that allows personal injury lawyers to obtain medical records directly from participating doctors.
What will be the effect of IBM's announcement that it's launching new technology to automatically import data from medical devices into PHRs and EHRs?  It definitely indicates that IBM is wanted to grow its healthcare footprint. It also provides more proof that the tele-health and remote monitoring market is growing.
A patient who failed to pay Carle Clinic's six-figure medical bills by filing bankruptcy and then incurring another $30,000 unpaid bill for defibrillator implantation is upset that he's not welcome back, calling the private practice "money-hungry" for declining to treat his other conditions. The nonprofit Carle Foundation Hospital wrote off what he owed it, so he offered the clinic $50 a month toward the $30,000 with no interest charges, which would require 50 years to pay off (he'd be in his early 100s by then). He says that's all he can afford out of the $36,000 a year he and his wife make. So what do you do?
This Computerworld article highlights some of the struggles of rolling out an electronic health record. No surprise here, but younger doctors prefer using technology and older docs prefer doing things manually.  A bit more surprising was the admission from the director of IS at Midland Memorial Hospital that they paid doctors $1,000 each to participate in EHR training. Midland uses Medsphere's OpenVista system, so I guess when you go with free software you can afford to pay doctors to use it.
Here is an interesting practice model discussed at last week's TEPR meeting. Greenfield Health (OR) has designed its practice to be patient-centered, both physically and operationally. The practice has invested heavily in IT (EMR, PHR, e-mail) and patients can walk right in and see a physician or staff member without sitting in a waiting room. The practice takes Medicare and most commercial insurance. And, Greenfield Health charges a retainer fee of $250-$650 a year per patient to ensure the practice remains small. The practice also has a consulting service on the side.