The CIO of Springfield Clinic (IL) develops a registration kiosk that is being tested at a remote facility. Allscripts intends to resell the technology, which the CIO developed under his under his own separate company. Meanwhile, the clinic is planning to install another 50 units across its 200+ physician network.
A reader is asking for recommendations for an EMR system that would be appropriate and a good value for a cardiology practice of 6-8 providers. Your advice is appreciated! Post a comment at the bottom of this article. Thanks.
On Wednesday, Inga (along with about 1,500 other people) sat in on the HIMSS Webinar,  "American Recovery & Reinvestment Act of 2009." A key takeaway:  if you haven't started implementation on an EMR yet, you better get a move on it so you can be using it in a "meaningful" way by 2011 (and line up your vendor resources before someone else does). Note that "meaningful" is not fully defined and will likely change multiple times over the next five years. And, of course there is the question of "what is a certified EHR?" HIMSS suggests the term means CCHIT-certified, at least initially. Also, you won't get your money for quite awhile and some payments will be in the form of reimbursement. More to come.
Allscripts announces that Edge Health Solutions signed a multi-million dollar agreement to resell its EHR under the name "EdgeEHR." Edge Health Solutions currently provides practice management software running on the Mac OS X to 1,000 physicians and dentists.
A federal grand jury indicts three Miami area doctors and three medical workers for filing $10 million in Medicare claims for HIV drug infusion treatments that patients either didn't need or receive. The physicians were also charged with laundering $5 million from the government payments.
CVS Caremark agrees to pay a $2.25 million settlement agreement over alleged HIPAA violations and deceptive and unfair trade practices. The FTC initiated an investigation into CVS Caremark following media reports that various pharmacies were discarding prescription drugs and personal consumer information into open Dumpsters. In addition to the resolution amount, the settlement requires CVS to implement a corrective action plan that includes employee training and sanctions for noncompliance.
Medical Justice offers a service to physicians intended to stop patients from participating in online rating sites, including having patients sign away rights to do so and preventing sites from publishing ratings of its members. Good thing or bad thing?
If you are a gambling enthusiast and tired of your same old medical iPhone applications, consider downloading Blackjack Card Counter. This tool makes card counting easy and thus helps you win more games. However, Nevada outlaws any devices to help count cards, so perhaps you're better off sticking with Epocrates.
Primetime Medical Software announces that MDVIP, a national network of 300 physicians specializing in personalized preventive medicine, has selected its Instant Medical History's medical knowledge base and questionnaire platform. MDVIP will integrate the knowledge base into its existing patient portal.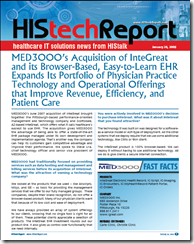 MED3OOO Group implements its practice management systems as an ASP for the employed physicians at Saint Francis Medical Center (MO). MED3OOO is also providing the hospital with revenue cycle and data management.  In case you missed it, we just recently interviewed MED3OOO's CTO  Steve Ura, who provides some thoughtful insights on the company's technology plans and the HIT world in general.
Payerpath founder and former CEO Jim Brady joins Marlin Equity Partners as an operating partner, with a focus on the healthcare IT and services sector.
A local business journal highlights some of the financial struggles currently facing Chicago-area practices. Declining revenues and rising costs are forcing more practices to consider selling off to hospital systems eager to add additional revenue sources. 
In regions where Zagat has begun rolling out its new physician review guide, doctors question its value and validity. Among the complaints: the ratings are too subjective and patients don't necessarily understand or follow prescribed care plans.