Availity and Humana offer free electronic prescribing systems to San Antonio, TX physicians. Eligible physicians will be provided a portable handheld device that is custom-installed and configured to work with their practice's patient scheduling system.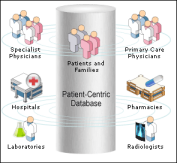 Fort Worth, TX-based HIE Sandlot goes live. Healthvision provides the backbone technology and is integrated with EMRs from Allscripts and NextGen. Sandlot is a subsidiary of the 600-member North Texas Physicians IPA.
Multi-speciality groups are on the rise as doctors try to achieve economies of scale as reimbursements fall and overhead increases. ProHealth (NY) is the featured example of this trend in a local business journal. ProHealth has doubled in size over the last two years and now includes 14 locations and 150 physicians.
Uncle Sam will pick up half the cost the country's healthcare spending by 2018, according to CMS.
Device manufacturer Medtronic will disclose payments it makes to any physician that exceed $5,000, starting next January.
Always on the lookout to help sell the wares of its vendor members, HIMSS rolls out its Online Buyer's Guide. The vendor ads are flanked by HIMSS ads on the individual pages, setting what seems like a record for commercial pitching for a non-profit.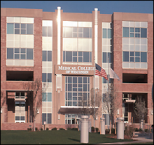 Three healthcare organizations representing over 1,150 physicians select Medical Present Value to provide real-time patient eligibility verification. The new clients include the 1,030- provider Medical College of Wisconsin, which is directly integrating MPV with its GE Centricity PM product.
The former patients of a Colorado family physician ask state and local authorities for help getting their medical records after the doctor moves out of state and leaves them behind.
EMR vendor AllMeds announces a 27% increase in 2008 revenues compared to 2007.
CCHIT adds three new products to its list of 20 Certified '08 Ambulatory products: MedicsDocAssist by Advanced Data Systems, SILK, and e-MDs.
A survey confirms what most physicians already know: Americans are skimping on healthcare because of cost concerns. Fifty-three percent of the 1,500 people surveyed relied on home remedies, skipped dental care, postponed medical care, or did not filled prescriptions in order to same money. Nineteen percent said that medical costs were causing severe financial hardships and one-third fear losing their healthcare coverage.
The AAFP and the American Academy of Home Care Physicians (AAHCP) lobby CMS to correct an oversight in the e-prescribing incentive program. As currently written, the law precludes house call physicians from participating in the e-Rx incentive program. The program does not not include the CPT codes used by house call physicians and CMS claims that changes won't be made until at least 2010.
A new study finds that 44% of patients who received reminders for screening tests are compliant versus 38% of patients not receiving a reminder. The use of electronic alerts within an EHR improved screening rates only if a patient visited the physician three or more times.
A Chicago pediatrician reportedly freaks out during her Medicaid fraud trial, first being forcibly removed from the courtroom after ranting in court about the stupidity of the judge and her own attorneys, taking evidence from her attorney's office, then screaming "Lock me up" at the judge from behind the glass partition where the judge had ordered her to be moved. She then refused to turn over evidence files she took and took off without returning, now the subject of an arrest warrant (all alleged, of course). Here's her blog, which features an impressive educational background and a bizarre career history. Bet you don't see this on a CV very often: "Recruited staff for and coordinated development of new county hospital pediatric department – Provident Hospital of Cook County [where Dr Shelton witnessed patronage hiring fraud and corruption – by Cook County Board President John Stroger Sr's godson Orlando Jones who he appointed the CEO – Mr. Jones committed suicide after he was indicted by the US Attorney in Fall 2007]" There are two sides to every story, of course.