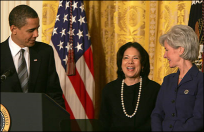 Kansas Governor Kathleen Sebelius (at right in the picture) is picked by President Obama to be the secretary of Department of Health and Human Services. Her primary healthcare experience was an eight-year stint as her state's insurance commissioner. If confirmed, Sebelius will oversee the Office of the National Coordinator of HIT and CMS.
President Obama also names former Clinton administration veteran Nancy-Ann DeParle (in the center of the picture) as Director of the White House Office for Health Reform, the "health czar" position conceived by Obama's original HHS secretary nominee Tom Daschle. DeParle managed Medicare and Medicaid in the Clinton administration and ran Tennessee's Department of Human Services from 1987 to 1989. She sits on the board of Cerner, Medco Health, and Boston Scientific, which could raise concerns about conflicts of interest. Cerner's report indicated that she made $195,000 from the company in 2007 (cash and stock) and held around $1 million worth of its stock at today's price.
The New York Times provides an update on NYC's Primary Care Information Project, a $27 million endeavor started two years ago. To date, over 1,000 physicians are live on eClinicalWorks, which is now installed in two hospital outpatient clinics, 10 community health centers, 150 small group physician offices, and one women's jail.
Navicure announces (warning: PDF) its new self-service patient kiosk solution, Navicure Check-In, which can operate stand-alone or be integrated with a practice management or HIS. The kiosk facilitates insurance verification, including real-time information on co-pay's and deductibles.
The day before the annual meeting of the American Academy of Orthopaedic Surgeons, physicians, nurses, vendors, and other volunteers built a playground in North Las Vegas. The 6,000 square foot playground is designed to be fully accessible to children with physical disabilities.
We are proud to announce the sponsors of HIStalk Practice, all of which officially came on board March 1. Our Founding Sponsors are EHR Scope/EMRConsultant and RelayHealth. dbMotion is a Platinum Sponsor and Hayes Management Consulting is a Gold Sponsor. We've known all of these companies for some time through HIStalk and we cannot thank them enough for their help in bringing you HIStalk Practice (we're amateurs working day jobs in healthcare IT, so the support of those companies means a lot to us). Please give their ads a click and check out their offerings if you are so inclined.
A retired Virginia physician recalls his early days in practice in the late 1950s, in which an office visit cost $3 and a house call $5. The average wage was $1 an hour and 80% of patients paid. Today's average hourly wage is $18.50, but I'd venture to say the average office visit is not $55.50. 
However, for $1.99, you can now load a iPhone application that will help you diagnose your symptoms and figure out just how sick you are. Self Care Decisions just introduced SymptomMD, giving users the ability to use one device to talk on the phone, check email, and figure out the cause of that nasty rash.
Speaking of RelayHealth, we interviewed SVP Jim Bodenbender on HIStech Report.
The eight-physician Cary Orthopaedic Sports Medicine & Spine Specialists (NC) claims it has eliminated transcription costs and paper charts since implementing ChartLogic EHR in 2006. 
This may be an early warning sign of ARRA's industry impact: KIG Healthcare Solutions (EMR reseller) and Precision Practice Management (medical billing) get a mention in the St. Louis business paper for strong growth. KIG expects to double its staff in the next 18 months. We interviewed KIG's Scott Anderson not long ago.
An increase in newly built medical office space and the weaker economy may work to the advantage of physicians. An excess of medical office space is providing physicians with options to move into new and larger space or renegotiate rates on current leases. Or, perhaps buy your own building at a lower price if you are so inclined.
Massachusetts gets kudos for its healthcare reform and is often promoted as a model suitable for national rollout, but the Boston Globe says its program flunks all five criteria advanced by IOM: universal coverage, not tied to a job, affordable to those covered, affordable to society, and providing access to care for everyone. Its respective arguments: over 200,000 residents still don't have coverage, insurance is still tied to jobs, even marginal coverage is expensive that starts at over $800 per month including premiums and payments, state costs have doubled to $1.3 billion, and high deductibles and co-pays prevent insured patients from seeking care.
Blue Cross Blue Shield gets $10 per claim for processing North Carolina's state employee medical insurance claims, 18 times what the state pays for processing Medicaid claims. The extra $20 million being paid to BCBS wasn't noticed until lawmakers met to consider bailing out the state health plan, which will go broke this month and needs $250 million to run through June. BCBS claims its margin on processing claims is 0.625%.
The business section of the New York Times features an article called How to Make Electronic Medical Records a Reality, with the answer apparently being regional health I.T. extension centers as recommended by Blackford Middleton and use in the New York City's Primary Care Information Project. The leader of that group, an assistant city commissioner in the health department, said, "There's no way small practices can effectively implement electronic health records on their own. This is not the iPhone."
If you'd like a house call, you may have to pay $1,500 a year, plus a per visit fee, if you are a patient of Dr. Natalie Hodge. She claims that technology has made house calls easy, saying all she carries is her iPhone, laptop, and a high-tech cooling system for medicine.
It seems like just yesterday that we launched HIStalkPractice, but actually it's been almost two months. So far we have had over 14,000 visitors and our subscriber base grows daily. If you have not signed up for updates, you can use the handy box on the top right of the page. We appreciate feedback, so if there is anything you think we could be doing differently, send us a note.
Internal documents released Friday indicate that AstraZeneca suppressed unfavorable studies on its multi-billion dollar psychiatric drug Seroquel. An e-mail from a company official praised its project physician for minimizing negative findings, saying, "Lisa has done a great 'smoke-and-mirrors job!" In another, the company's publications manager indicated that three sets of drug trials had been "buried."