From R.W. Emerson: "Re: Massachusetts Health Care Reform. Often I read negative things about how the Massachusetts Health Care Reform demonstrates a failure in the design instead of being a model for other states to follow. People point out the large number of people still uninsured as a symptom of its failure. My response to this is that the government can't force people to get health insurance who simply don't want to do the very limited paperwork to have it. I recently graduated from college, having no health insurance and an unreliable part-time job. I applied for Mass Health, which took all of ten minutes, and within days had a health insurance card in my hand. I had no co-pays for visits and paid $1 or $2 for my scripts depending on whether they were generic or name brand. I now have a job and an HMO. My free Mass Health was much better and cheaper as my co-pay for scripts have gone up over 700% and now I have to fight charges."
Will healthcare-specific credit cards be the next big trend in consumer-driven healthcare?  A consultant predicts that banks will soon offer interest-free healthcare credit cards that are linked to payroll for deductions and may even provide discounts. Perhaps it's not a bad idea, given that more providers are requiring payment up front and patients have increasingly higher deductibles and co-pays.
Patients who could name their own doctors and whose doctors also identified them as their patient were more likely to get preventive screenings. This according to a Massachusetts General Hospital and Harvard Medical School study of more than 155,000 patients.
CoxHealth (MO) successfully implements GE's clinical data registry system to streamline reporting from Centricity EMR/PM. GE's Medical Quality Improvement Consortium data system gives Cox the necessary tool to participate in CMS's PQRI program.
A Press Ganey survey of 2.4 million patients indicates that patient satisfaction is on the rise. The report concludes that increased competition and consumer empowerment are spurring improvements. Patients claim their top priorities are the sensitivity of caregivers, the cheerfulness of the practice, the overall care received, and the comfort of exam rooms. The survey also found that patients will tolerate some waiting, but delays over 10 minutes decrease satisfaction. Practices with 3-8 physicians earned the highest overall patient satisfaction scores.
A pharmacist in Lancaster, PA estimates that 65% of the local doctor offices are e-prescribing, considerably higher than the 6% national average. Numerous practices in the area have adopted the technology, including about 140 at Lancaster General  Medical Group and Physicians' Alliance.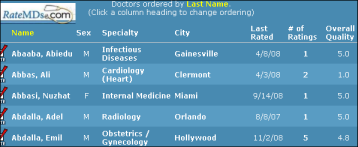 With the increase in physician rating Web sites, some doctors are now requiring patients waive their right to publicly post comments about the expertise and/or treatment of their providers. Some people just can't handle criticism.
Document manager vendors SolCom and EDCO merge their businesses and unite the document management services and technology efforts. We posted an HIT Moment interview on HIStalk yesterday with Mark Addink, the Chief Innovative Officer for the combined EDCO and SolCom's former CEO.
CCHIT announces plans to develop dermatology-specific functionality criteria this year and launch a dermatology-specific certification program in 2010. According to CCHIT, the dermatology community is overwhelmingly supportive of the move.
HIIMSS releases a statement supporting President Obama's picks for Secretary of HHS and the Director of White House Health Reform Office. HIMSS President H. Stephen Lieber calls Governor Kathleen Sebelius and Nancy-Ann DeParle "exceptional choices".
Former Dictaphone CEO and Chairman Rob Schwager joins Amphion, a medical transcription and coding service firm.
The New Mexico state senate passes a bill that would allow patients to opt in to having their medical records be made available electronically. An interesting aspect of the bill is that patients must re-consent annually, a unique patient identifier is required, and audit logs must be made available to patients showing who has accessed their records. Patients could also choose with records to make available.
An interesting take on the stimulus bill, which the author calls a 21st Century Gold Rush for those communities and organizations that quickly put shovel-ready projects together. In addition to submitting new projects for stimulus money, the author suggests dusting off old ones or partnering with others who have projects but will need help.
The California Nurses Association says the only reasonable option for meeting President Obama's healthcare goals is to expand Medicare to cover everyone. "To achieve the lasting and cost-effective reform the president seeks and most Americans desire, we must confront the source of the present crisis — an insurance industry that has been steadily pricing people out of access to care, or bankrupting them if they attempt to use it. Insurance company practices drive skyrocketing costs, a problem that won't be solved by more technology, electronic medical records, or any other stopgap measures some propose."
A workforce study by Adecco  finds sobering results of the recession: 20% of employees say the economy has had a negative impact on their mental health; 28% of employees (including 44% of men aged 18-35) would do something dishonest, like blackmail, to keep their jobs; and despite layoffs, 82% say their employer isn't paying any more attention to their job performance.