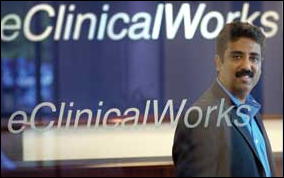 Clearly the biggest news story of the day is Wal-Mart's decision to market eClinicalWorks software and Dell hardware through its Sam's Club stores. Mr. HIStalk had a short chat with Girish Kumar Wednesday and that interview is posted here and on HIStalk. The Sam's Club package, which will be available later this spring, starts at under $25,000 for the first physician in a practice and $10,000 for each addition doctor. Ongoing costs will be $4,000 to $6,500 per year. The software will be provided in a SaaS set-up and the Sam's package includes five days of on-site implementation. ECW representations will provide demonstrations (via Webinar) as well as configuration assistance. Props to ECW and Wal-Mart for an innovative strategy. Time will tell if this marketing approach will succeed, but we liked this comment posted on HIStalk by Steven Tremain: "History shows us that any idea the majority laughs at is one worth watching. Disruptive innovations are in fact the only leaps that have ever changed the world. It may very well fail, but we will all learn from this."
The medical director of O'Connor Family Health Center (CA) claims he doesn't regret the decision to move to EMR, even though it cost $250,000, cost an army of people to install, and increased the patient backlog and decreased revenue. He is even okay with the fact that two years after implementing his vendor went out business and product support ends in two years.
A HIMSS survey finds that only about one-third of HIT professionals believe the HITECH stimulus plans will reduce healthcare costs.
A New Jersey oral surgeon is on the wrong end of a $10.2 million malpractice award after a 21-year-old patient dies during wisdom teeth extraction. The patient's doctor had not cleared him for surgery and the lawsuit claimed a diagnosed immunity disorder caused his throat to swell after the surgery. The family's dentist was also a defendant, but he was cleared.
We send out an e-mail link each time something new is posted on HIStalk Practice. If you aren't getting them, just drop your e-mail address in the Get Instant Updates box to your upper right and click Subscribe. That ensures you won't miss a thing.
Another study suggests that the HIT incentives will not be enough to convince many doctors to purchase an EMR system. As many as half the country's doctors will take a pass on EMR because the average cost of a full EMR over five years is an estimated $124,000, and, government compensation is a maximum of $44,000. That's a $14,000 a year deficit compared to a potential $8,500 Medicare reimbursement penalty for not automating. Someone will need to develop some quality ROI calculators to convince many physicians to take the plunge.
This American College of Physician Executives survey indicates more physicians are adopting technology, even though they may not like it. Most physician leaders find EMRs "clunky" and "unresponsive to their needs."  However, EMR use is up from 33% to 64% since 2004, 44% of the surveyed organizations use CPOE compared to 33% in 2004, and 38% use pharmaceutical bar coding, up from 20%.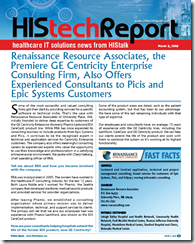 Check out our latest HIStech Report interview with Cheryl Iseberg, COO of Renaissance Resource Associates (RRA).  RRA provides consulting services on GE Centricity Enterprise, Picis, Epic, and other systems.
Despite otherwise gloomy economic news, physician offices added 6,000 workers in February, according to the Bureau of Labor Statistics. Hospitals added another 6,800 jobs.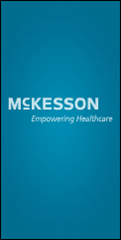 We gratefully acknowledge the support of McKesson, a new Platinum sponsor of HIStalk Practice. The company offers pretty much everything a physician's practice needs, from technology (EHRs and practice management, including the Practice Partner system), consulting services, medical supplies, revenue cycle management, and connectivity solutions. More information here and a page dedicated to the opportunities provided to practices by the economic stimulus legislation is here. We thank McKesson very much for supporting HIStalk Practice and its readers.
A Baystate Medical Center (MA) anesthesiologist who wrote 21 journal articles in the past 13 years has admitted that he made up most of the data he cited. Pfizer paid for his research, which found that two Pfizer drugs were effective in post-op pain. He was caught when the health system determined that he was not approved to conduct human research.
DataMotion introduces a $99 secure email solution designed for the small office market. Preferred9 includes the ability to send email securely and thus meeting HIPAA security guidelines.
A new P4P survey reports that P4P payments have grown to over 7% of physicians' total compensation and 4% of hospitals, with some physician programs producing 30% of physicians' compensation. Since 2006, the percentage of programs reporting quality improvements due to P4P has doubled and more than half of P4P programs cite measurable increases in their providers' clinical quality.
Availity promotes (warning: PDF) Russ Thomas to the role of President and COO. Thomas joined Availity in in 2008 as an executive VP and COO and served as president of Gold Standard before that.