If Massachusetts lawmakers have their way, "sorry" will no longer be the hardest word for doctors to say. The state is considering a bill that would let doctors say "I'm sorry" without admitting they made a medical mistake. Expressions of condolences or compassion would be inadmissible as evidence should a medical malpractice lawsuit be filed.
Southwest General Health Center (OH) selects Allscripts Professional EHR for its 30 employed physicians. The practice will deploy the EHR via the Software as a Service model and integrate the Allscripts application with its existing MicroMd practice management system.
Retail clinics in grocery stores and retail chain stores seem to be following the money, with most setting up in regions with higher median incomes and lower poverty rates. No surprise that Wal-Mart, CVS, and others prefer areas that offer better odds of getting paid.
We've recently mentioned incidents involving paper medical records showing up in dumpsters and recycling centers. Now a Michigan doctor is being made to pay $350,000 to settle a lawsuit with the Michigan Department of Health, which charged the doctor of improperly disposing medical records from a now-defunct hospital. The doctor burned the charts at his farm, which frankly sounds like a far better solution than the dumpster and recycling options. I suppose in all these cases people are trying to save a few bucks by not hiring a professional contractor to get rid of the charts. Hasn't anyone ever heard of a paper shredder?
EMR/PM vendor gloStream secures $7.5 million in series B financing to bolster its development, marketing, and sales efforts. gloStream plans to hire additional staff across the company to further develop and promotes its Microsoft Office-embedded EMR and PM solutions.
The Richmond Academy of Medicine (VA) aligns with NextGen reseller TSI Healthcare to offer Academy members preferred pricing on EHR and billing services. The Academy is an alliance of 1,700 doctors in the greater Richmond area.
Medical billing companies PracticeMax and MedaPhase merge to form one of the largest regional billing service companies in the southwest. The new entity, PracticeMax, will focus primarily on revenue cycle management needs of ER and urgent care physicians, along with certain other specialties.
The gloves come off in the continuing debate of the role of HIMSS and CCHIT in HITECH payments. The Washington Post ran two semi-critical articles suggesting that HIMSS used its lobbying influence to convince the Obama administration to spend billions on healthcare IT, then pushed CCHIT (which it was involved in creating) as the certifying agency for EHR products. In an apparently unplanned third article, the Post ran some heated comments from CCHIT head Mark Leavitt in response to these comments from Dr. David Kibbe: "One has to question whether or not a vendor-founded, -funded and -driven organization should have the exclusive right to determine what software will be bought by federal taxpayer dollars…It's important that the people who determine how this money is spent are disinterested and unbiased…Even the appearance of a conflict of interest could poison the whole process." Leavitt's response: "For months, I've been 'turning the other cheek' to Dr. David Kibbe … his repeated use of falsehoods and innuendo to attack CCHIT have found an audience in the national media, reaching a level that can no longer be ignored. By implication, he demeans the integrity of everyone who has contributed to that work – and I must rise to their defense." More of Leavitt's comments are in the graphic above.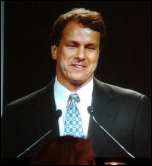 Allscripts CEO Glen Tullman earns a "Best of Illinois" award from the Juvenile Diabetes Research Foundation Illinois chapter. Tullman, whose son and niece have Type 1 diabetes, was recognized for his service on the Illinois Board of Directors, on the International Board, and for his support of the organization's efforts in developing an artificial pancreas. Glenn's brother Howard wrote about the event and took the picture above, which I found on his site.
Memorial Health University Physicians (GA) selects McKesson's Revenue Management Solutions for billing and practice management. The group will deploy McKesson Practice Complete, which includes the Horizon Practice Plus financial application and RelayHealth Ambulatory Claims Manager.
About 150 Alabama physicians are pilot testing a new e-prescribing tool made available from the state's Medicaid agency. The e-Rx technology is part of QTool, a web-based EHR and clinical support tool developed by ACS to support Alabama Medicaid's statewide EHR system.
Here is an interesting article, geared to the average consumer, that explains some of the key benefits of EHR. The stuff mentioned sounds great: fewer trips to the doctor's office because EHRs allow you to converse with your doctor online; personal access to your medical records online, regardless of where you are in the world; and no more dragging X-rays (or another diagnostic test results) from doctor to doctor because everyone can see them online. Maybe the average consumer wants to believe all that, especially since their tax dollars are going to subsidize the purchase of EHRs. The rest of us are left wondering how long will it take to achieve nirvana.
Properly implemented HIT, including EMRs and electronic prescribing, is a requirement for changing the model for primary care that is in place today. So concludes a New England Healthcare Institute report that claims HIT improvements would increase physician time during visits, provide timely access to information, and aid in the overall coordination of care. The study calls for a number of additional innovations to improve the quality of primary care, including patient-centered medical homes and better pay-for-performance initiatives.