RealMed earned the top spot in a recent KLAS survey of ambulatory electronic claims clearinghouses. Navicure and ZirMed tied for second place in the study that compared 15 industry solutions. Getting paid correctly the first time was an important factor in overall satisfaction, though customer service was also a crtical variable. Interestingly, price had little correlation to customer satisfaction.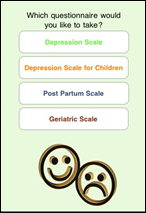 For $.99, you can purchase a new mobile iPhone application that screens for depression. The physician-created Sad Scale ranks symptoms and emotions, comes up with a score, and gives the patient the option to forward results to his primary care physician. I am pretty much convinced I could develop a hot-selling new application called Do You Need to Get a Life? Sample questions: do you spend more time Twittering than talking? Do you have 1000 Facebook friends but still unable to find anyone to go out with on a Friday night? Do you hyperventilate if you can't check your texts or e-mails for more than an hour? Feel free to send additional questions my way (though I may not share any of the royalties.)
Considering a remotely-hosted EHR solution? Information Management magazine presents a comprehensive overview of the pros and cons of using an application service provider versus an in-house server solution. In terms of cost, their take is that the ASP service is less money up-front, but likely costs about the same as the local server option over the long haul.
SRSsoft bags another customer willing to drop their CCHIT-certified EMR in favor of the SRS hybrid EMR. Southeastern Orthopedic Center thought they were good to go with regard to HITECH, but says, "The CCHIT EMR we had purchased would have placed overwhelming demands on our physicians and resulted in a significant loss of productivity, even if we had overcome the initial implementation hurdles."
A study in the Annals of Internal Medicine finds that time pressures, chaotic environments, low work control, and an unfavorable organizational culture were strongly associated with low physician satisfaction, high stress, burnout, and intent to leave. Really? Would anyone be content working in such an environment? The report also found some correlation between work conditions and quality of care and errors, though stress and burnout were not found to affect care.
Physicians using Allscripts Clinical Quality Solution (CQS) earned more than $4.5 million in pay-for-performance bonuses last year. The CQS solution is powered by TeamPraxis, a Hawaii-based MSO that developed the clinical data extraction tool. Currently 24 medical organizations across 16 states have implemented the CQS product.
St. Rita's Medical Center (OH) selects Retasure's retinal risk assessment solution for its 75 primary care physicians. Digital Healthcare, the developers of Retasure, say deployment of their product is up 50% over last year.
Eclipsys names Chris E. Perkins executive VP and CFO. Perkins previously served in similar roles at Per-Se and Emageon. Perkins takes over from interim CFO David Morgan, who stepped in after the January resignation of Robert Colletti. Colletti left the company after Eclipsys announced it would miss its Q4 earnings projections.
Advanced Data Systems (ADS) announces a partnership with Medflow, allowing them to offer Medflow's ophthalmology-specific EHR. ADS is a provider of the MedicsPremier PM solution, as well as MedicsElite EHR.
The CDC launches an environmental public-health tracking network to explore potential links between environmental contaminants and chronic diseases. The new network brings together data on air quality, drinking water, and other environmental information and will allow the public and researchers to compare it against disease data.