Monday morning started off with a panel of keynote speakers, all with great messages about meaningful use, EHR deployment, and improving quality care with EHR. William C. Biggs, MD, a physician and eCW user, shared how EMR has helped increase his productivity and created efficiencies. Next up was Jesse Singer, DO, the executive director of development for NYC's Primary Care Information Project. An impressive 1,500+ physicians are now live on eCW, which surpasses the project's original three-year goal of 1,200 physicians.
Micky Tripathi, PhD of Massachusetts eHealth Collaborative gave a high-level overview of ARRA and meaningful use, followed by John Halamka, MD (in black) with a more nuts and bolts "what does it all mean to me" type presentation. The group were as high quality a team of presenters as I have seen anywhere. Perhaps I was mildly partial to Halamka because he did an excellent job breaking down a complicated and potentially boring topic and presenting it in easy-to-understand terms. Plus he seems generally passionate about HIT and is pretty cute.
I did a quick pass through the ECW training and support area and liked this cool public art project in the works. The final products (at least three, I believe) will be donated to a yet-to-be-determined children's hospital.
I also realized that ECW is offering actual training sessions for participants at no additional charge (versus the $150 an hour you would pay to have someone come onsite).
Here is something you don't see at every conference: a dedicated "prayer and meditation room".
As mentioned yesterday, I talked to some of the exhibitors yesterday, including the folks at Medicity. I realize they are a sponsor and all, but really, these guys are just plain nice. Their customers are primarily health systems and HIEs, but they felt their participation was worthwhile because it gave them a chance to educate physicians about their offerings. Several clearinghouses are here, all competing with one another for that piece of business from ECW clients. Similarly, Fujitsu and Panasonic were each displaying their respective tablet offerings. One ECW person told me that they try to be as "vendor neutral" as possible, which I am sure vendors both love and hate.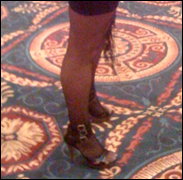 Yes, I have seen plenty of fun shoes.
This afternoon I had a chance to spend a few minutes chatting with eClinicalWorks CEO Girish Kumar Navani. I found him to be down to earth, engaging, and excited by his company's growth and the success of the conference. We discussed everything from the Walmart relationship (very strong) to customer support (always a struggle but much better than it was two years ago) to his philosophy on pricing (rather than pricing a product based on what the market will bear, figure out the cost and mark it up a set percentage.)
He admits some amazement over how much the conference has grown — attendance this year is about 2,200 compared to the 1,200 who attended last year's first conference. The attendance figure is especially impressive when you consider that eCW has only one product used by about 30,000 physicians; many of their competitors have far bigger client bases, more products, and user meetings of comparable size.
I hadn't given this much thought before, but I believe eCW's "one product" approach contributes to the company's success. All R&D is directed to the one software product. The company does not "waste" resources to sell PCs for a 5% markup. No clearinghouse, no inpatient system, no legacy systems, no hardware support. Just focus on a core competency. On the other hand, clients — especially those in smaller offices — are likely frustrated when support can't help them figure out why their EMR keeps locking up on one particular tablet PC.
All in all, the company seems to be doing something right. Advertising is practically non-existent (though they support HIStalk because Girish is a big fan). Girish believes that if every happy client tells five people, they will continue to grow. He claims the recession has not slowed their sales, nor have they seen doctors delay purchase decisions over ARRA meaningful use concerns.
A user told me today that the first eCW person to step into their office was their trainer. All the demos and negotiations were done virtually, which certainly saves a few pennies. And as for the Walmart relationship, it has opened doors for many larger opportunities, so Girish views it as a clear success. (Interestingly, WalMart gets next to nothing for the ECW portion of the sale).
Girish told me that when the conference is over Tuesday afternoon, he and 80% of his staff plan to stay until Wednesday. He expects his staff to keep their Vegas experience in check until the convention is over and then he will be celebrating with the rest of them. I respect a leader who likes to work hard AND play hard.
More updates to come.