Jonathan Bush is co-founder, CEO, and president of athenahealth.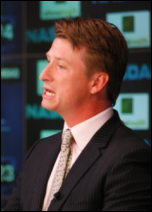 Tell me about the new guarantee and what it encompasses.
The goal of the guarantee is to try to point out the differences between buying software and solving the problems of medical records and billing. So what that guarantee says is that if for any reason you, as a user of athenaClinicals, do not get your payments, we will credit, you even if our technology works properly.
You will get whatever it is, six months free, or some sort of multi-thousand dollar benefit, which amounts to multiple years of profit to athena in exchange for a goof of any kind, whether it be staff not trained well enough or whether it be related to the government — whatever. That's exactly the kind of guarantee that key providers in healthcare ought to be giving.
Why do it? How can you do it?
The whole point is: how can we do it? How can we do something when the rules may change year to year? How can we know that we will comply? The point is, we better. The rules work into the cloud. You move the work, whether it could be done on software or not. You move the knowledge that you needed to know what the work is. You move all of the haggling and struggling necessary to compel results.
athenahealth is the only company that takes all those things to deliver success in moving your medical records online. They don't deliver various electronic tools which may or may not result to any success. This is just one of many examples.
I'm hoping in time there will be more and more guarantees like this: guaranteeing that it won't go slow, guaranteeing that you won't lose your data, guaranteeing that when patients start to move to patient health record, that you won't incur additional costs. Guaranteeing that if there's money to be made by exchanging information, that you'll make it.
We don't know what those guarantees are yet, but the whole point is to keep pushing on the differences until people give up on this kind of this idea of running their own microscopic-scale processing organization.
Why aren't other companies making the same offer?
I don't believe that any other company even endeavored to know all the rules and change their software accordingly. I don't believe any other company endeavored to correlate clinical information to payment information and actually have the infrastructure to get the payments in.
What is unique about Athena is that everything — the single principle that organizes all the work we do — is that we're the best in the world at getting doctors paid for being their best self. So if we're going to do a medical record, we better be able to prove how to get doctors paid more than not having a medical record for being their best self.
That means we need to figure out where the money is. Is it from the government? Is from various pay-for-performance programs? Is it from eliminating faxes? Is it from eliminating staff? And then we've got to make sure those things actually happen, which means it will take a lot longer when you think about it.
We're pretty good at writing software. We've had a working electronic medical record for five years almost. Ninety percent of the work we've been doing on athenaClinicals isn't on the clicky-click on the front of the electronic medical record. It's connecting up our ability to collect knowledge and do research with insurance companies and our ability to connect information into payment and to put that payment in the bank and to reconcile it against what we expect to get.
Doing all of that, making up a whole new revenue cycle, has taken five years. Nobody else has gone and made up a whole new revenue cycle. And if there isn't a revenue cycle attached to medical records, why are doctors supposed to do it? Because it's their mercenary duty? Why doesn't somebody else do it? It's not fair.
If it's something that's so valuable to society, that we simply let our arms fold and look down our noses at doctors for not losing twenty percent of their revenue to do this. It's so petty of us. Of course they should do this, and of course we're going to pay.
What has the reaction been from the market so far? I know it's just been a couple of days, but …
The great tragedy of the healthcare market and the real market — when you say the market, I mean the world of medical providers – the stock market analyzes 17 ways to Sunday, it ripples through the street, everyone knows about it. But the real market, which is the market of providers — and this is why Mr. HIStalk and you are so important – is that nobody knows nothing. Nobody knows that we exist, and here we are making guarantees, and people are saying, "You are guaranteeing what? Who are you? Who's Obama?"
Our target market is in there seeing patients. So I don't know. Hopefully the market will at least know that we exist at the end of this at a minimum. Maybe they'll all get on to the network, get rid of their software, get rid of their overhead, and start making money. But at least they'll know we exist. I'm very glad for that.
Athena's strength has always been on the revenue and collection side. Do you think the new program is going to attract the attention of those physicians who never before thought of athena as an EMR player?
Why haven't we really compelling EMR for five years? Because we have another compelling reason to know how we could make doctors more money. Now, if every doctor that gets on athenaClinicals doesn't make more money, I'm going to want to know why.
I believe that every single doctor that we give a proposal to on athenaClinicals will actually make more cash as a result of being on athenaClinicals than not. I couldn't say that for five years, and I still can't say that about any of the other software products that I've seen. My whole gig is that no wine before its time and we may have lost a couple of years doing this and our reputation is more known on the claims side.
But better to wait and then chirp around like a rooster when you've got something to chirp around about. Otherwise pretty soon people will think you're kind of a BS-er.
Not you. [laughs]
Not moi. That is impossible.
How many athenaClinicals physicians do you have right now?
We had a big spike with when the government came out with the stimulus package. Most of our major enterprise customers right now are a mix of pretty significant roll-outs of athenaClinicals. We're expecting that number to grow at multiples of the company growth rate. It's pretty exciting. In fact, I just authorized ten budget hires for clinical implementation folks yesterday because they're all flat out and still not covering demand.
Anything else you want to throw out there?
It' funny, because I have to say I feel a teeny, tiny bit guilty for making hay on this and being so good at what we do, because it just points out the fact that people have to do this in healthcare in our country. It's such a bummer.
Can you imagine auto insurance where getting gas required an auto insurance claim? Or changing your oil? It's just so amazing that we've complexified, just inadvertently slipped into this unbelievably overpriced, inefficient non-transparent system. My only hope is that the reason I don't burn in hell at the end of all of this is that I made it more transparent.
The fact that I have profited so much and all of us athenistas have easily profited so much in its complexity — I still am confident that we didn't start it, and we're ending it. It makes me feel good.
I have to say that just because this thing is going to be incredibly good for athenahealth, I don't think it's going to be a good idea. Just making up more rules and more complexity for consumers and doctors and everyone to have to understand. I think we should be going in the other direction.
What kind of additional resources are you having to dedicate to build all these rules into the process?
It's a good question. We don't know the frequency of change yet. We know that what Dr. Blumenthal said that we can expect some changes every year due to rules.
The other thing is that we've identified, since getting into this guarantee and this product approach, 36 other programs today that pay sometimes more than the HITECH act states. We intend to onboard all the rules for all of those programs and enroll all of our clients in all of those programs.
So it's not just a HITECH act. The staffing will have to expand to accommodate all of the programs that emerge, and the commercial sector as well. And the answer is we just don't know. But we're OK with that. We know that it will lead to differentiation, and so we know we have to do it. We just have to have our planners ready.
Jeremy Delinsky will lead the group a division called athena Intelligence Group, or AI Group. He's in charge of all the researchers and analysts and developers that deal with these rules on the revenue cycle and the clinical cycle side. We've got a wonderful new director who's in charge of clinical intelligence and they are ramping up a team
We always have a lot of those kind of candidates. We're in Boston. We've got a lot of MIT, Harvard, Brown kids that are interested in doing something important in the world, good bench perspective analytical types to work at the company and help the demand rise.
---
Right after we interviewed Jonathan Bush, a reader sent this comment, which we forwarded to him for a response:
athenahealth's guarantee is a great marketing scheme, but be sure to read the fine print contained in the FAQ section. The burden of demonstrating meaningful use still falls entirely on the physician. One of the requirements to take advantage of the guarantee is that the physician must "actively use our solution to meet the 'meaningful use' criteria." Buried in one of the last questions is the following exclusion: the guarantee does not apply to "any physician who fails to meet … specific required quality or administrative outcomes with specific performance goals."

So what exactly is it that athena is guaranteeing? Same as the other vendors who promise that their software will continue to meet the HHS certification criteria. No one can guarantee that a physician will or can demonstrate meaningful use, or that the government will agree that they have. Also, it is important to note that the guarantee is limited to six months of services. The physician would have to pay athenahealth up front, wait to see if they qualify for the incentive and meet athena's requirements, and then hope to get a refund. If they do not like the software and cannot demonstrate meaningful use, they are stuck with an EMR and a lost investment.
Jonathan Bush's response:
I was bummed to see some of our fine print being read as a wiggle out. The intent of this language was to express the limit of our abilities to warranty health outcomes — for instance, if a measure were to be written as "80% of diabetics must have a1C levels below 7" to qualify for funds, it's pretty clear we can't guarantee this. Another way of saying this is that our docs are still responsible for doctoring.
It is important to note that we only did this because the measures aren't known yet. We really don't expect any of the measures to written this way until the out years. The only other scenario this language was intended to cover is a specific administrative measure likely to be included that requires physicians to certify: 1) that they abide by all privacy and security laws; 2) that a formal privacy and security policy is in place and reviewed annually. We are accruing real money in case we have to pay on this. And that is because we are taking real responsibility for end results.