What is missing from this picture? If you guessed a crush of people, you are correct! I took this shot in the early afternoon, while most attendees were hunkered down in the educational sessions. Admittedly, during the breaks, attendees made their way to the exhibit hall. Attendees were offered a free lunch and had to walk to the back of the exhibit hall to reach the food, so that obviously gave traffic a boost.
Speaking of the free lunch: like a free EMR, free isn't always cheap enough. Barbeque sandwiches and corn on the cob. I pitied an exhibitor who had barbeque sauce splash all over her white shirt. I'm sure it was plenty tasty, but it looked a bit too messy and was not what my palate had in mind.
The best session I sat in was "HITECH Action Plan: EHR Incentive Payments and Practical Implementation Issues." Rosemarie Nelson, who is a principal at MGMA Health Care Consulting Group and an obviously seasoned presenter, offered straightforward advice for administrators looking to move to EHR and qualify for stimulus funds. Some of the tidbits were very simple, but perhaps not something every practice knows: standardize over customize, get a lawyer to review your EHR contract, find a non-techie doctor to be a champion. Her co-presenter was attorney David Schoolcraft, who also supplied good commentary. Based on the questions from the audience, it's obvious there is still a lot of confusion about what it will take to get stimulus funds. And, I would guess the majority of people in that room (maybe 300?) did not have an EMR in place. In an attempt to stress urgency and warn practices that meaningful use won't happen overnight, Nelson pointed out that going to EMR was a bit like have a baby: no matter how hard you try, it still takes nine months.
I noticed that sessions that covered financial strategies were packed. I didn't sit in any, but obviously the money side of the practice is a top priority for administrators at the moment.
I know I mentioned this already, but NextGen has a cool-looking booth. I said spaceship before, but I am changing that to space station. And I was mesmerized by the screen used by the demo guy. (Sorry the above picture is a bit blurry. I was trying to be sly and I didn't get up quite close enough.) The screen is just like an iPhone and totally touch screen. I have seen them before, but I have to say that anyone a little bit techie can be easily sucked into watching just because the technology is so fun.
A reader sent a note informing me that I should have named the MED3OOO guys to the best dressed list. They had some sort of "come bond with us" theme and all the guys were dressed up in tuxes, a la James Bond. I also noticed a couple of Bond girls (the kind Mr. H would appreciate).
Futurist Mark Anderson helped sponsor the Digital Physician Educational Pavilion, which got screwed with a lousy booth location. The premise was to have two different communities set up and demonstrate interoperability, including how practices with different EMRs can connect via an HIE application. It looked like about 10 different vendors participated. However, their space was past all the regular booths, and not even near where they were serving the free lunch. It's too bad because it had the potential to be a great educational tool for participants.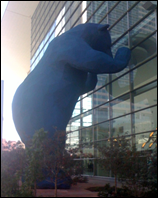 As I reflect on what I learned over the last couple of days, I fear that a lot of practices are not going to be ready for 2011 stimulus money — and that may be a conscious choice on their part. The money incentives and penalties may not be enough to effect change. And, doctors may not finding the products that allow them to maintain productivity, regardless of effect on quality of care. There are still plenty of seemingly successful vendors that are pushing products that automate some processes that aren't full-blown EMRs, and they'll continue to have some short-term success. With the current economic environment and uncertainty in healthcare legislation, practices are going to be holding their pocketbooks close for a little bit longer. If a practice has the money and inclination for change, there is plenty of innovative technology (from some of the big-name players as well as lots of little guys). No doubt it's still a pretty dynamic and exciting time to be in HIT.