From EMR Doc: "Re: Health Industry Insight Reports. eClinicalWorks was the clear-cut 'winner' in this assessment, earning the best ratings in both the small/midsize and large practice EMR markets. The second-tier group for the small/midsize market included Allscripts Professional and MyWay, Sage Intergy, and athenaClinicals. In the large practice market, Allscripts Enterprise had the second best scores, followed by Sage and NextGen. I was surprised to see that EpicCare didn't get very high marks and ranked lowest in the 'fits market needs' category."
Quality Systems promotes Patrick Cline to president and chief strategy office, moving him up from his role as president of the company's NextGen subsidiary. NextGen senior VP Scott Decker (above) takes over as NextGen president. Steven T. Plochocki drops his Quality Systems "president" title but remains CEO.
Portage Health (MI) selects eClinicalWorks EMR and PM solution for its 31 employed physicians. The eCW software will be interfaced with the hospital's Meditech inpatient system.
At the annual RSNA meeting, Asim F. Choudhri, MD discusses the use of smart phones to diagnose appendicitis from a remote location. Using OsiriX Mobile medical image viewing software, radiologists can read scans with full resolution and little panning. I find this technology off-the-charts cool.
The KLAS folks report that demand for computed radiography equipment in physician practices and outpatient clinics is on the rise. Hospital sales are flat, but demand is increasing from physician offices, who are deploying lower-cost single-plate equipment.
The 340-provider Sanford Clinic (MN) takes its Worthington clinic live on Epic.
This UCLA study shows that patient-care performance ratings improved significantly following the launch of a launch of a P4P program, though not when the incentives focused on doctors' productivity. The study included 25 medical groups across California and found that certain financial incentives to improve patient care, plus public reporting of performance ratings, positively effected the patient care experience. The greatest improvements were seen within those groups which placed less emphasis on physician productivity and greater emphasis on clinical quality and patient experience.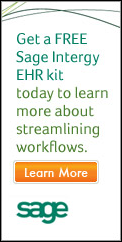 Welcome to Sage, a new Platinum sponsor of both HIStalk Practice and HIStalk. The Tampa, FL company offers a variety of physician systems, including the Sage Intergy EHR, practice management solutions, Sage Intergy RIS and PACS, community health applications, analytics tools, and EDI services. The Sage Intergy EHR Kit includes ARRA information, access to an online demo of Sage Intergy EHR and Sage Intergy, a presentation covering EHR benefits, and a practice case study. Thanks to Sage for their much-appreciated support of HIStalk Practice and HIStalk.
I hope everyone had a great Thanksgiving holiday. If you happened to take a break from your computer during the long weekend, be sure to catch up on the latest posts from Dr. Joel Diamond (who provides a refreshing reminder that ultimately this industry about healing) and Dr. Gregg Alexander (who examines the evolving pocket brain).
North Shore Gastroenterology and Endoscopy Center (OH) selects Wolter Kluwer Health's ProVation software for procedure documentation and coding and ProVation EHR for clinical documentation.
Eastern Maine Healthcare Systems and Anthem BCBS in Maine are piloting an e-visit program, giving patients the ability to communicate with their provider via e-mail. The initial phase of the program involves PCPs at selected practices and is designed to accommodate non-emergent issues. Patients can also use the program to schedule appointments, check tests results, and request prescription refills. Having been to Maine in the winter, I can appreciate the convenience of e-mailing a doctor over getting out in the frigid weather.
Even though some medical liability insurers extend discounts for doctors using an EMR, little evidence exists that their use cuts liability risk, mostly because of low EMR adoption. Meanwhile,some attorneys worry that EMRs may actually increase risk because they provide too much information. Other legal experts say that on balance, EMRs do mitigate risk because they provide better accuracy and decrease errors. Any expert opinions?