Physicians are more likely to report information about adverse events through an EHR system rather than a paper-based system, according to this Pfizer-sponsored survey. Participants included 300 primary care physicians, two-thirds of whom use some form of an EHR. Most of the doctors agreed that adverse event reporting through and EHR would improve patient care.
DrScore.com launches its "i Need a Doctor" iPhone application, which provides rating information on about 800,000 doctors. The idea is that the information handy if you find yourself sick and away from home. I'll be curious to see if anyone really thinks its worth its $4.99 price tag.
Here's an iPhone application much more likely to be a hit. Nuance introduces a Dragon Dictation application that lets users speak e-mail and text messages, as well as notes to oneself. For now, it is free. Here's the drawback: apparently the app uploads and stores all your contacts.
President Obama announces plans for the HRSA to administer $600 million to support construction and HIT projects in community health centers. Eighty-eight million dollars is earmarked to upgrade EMRs and other technologies. Great time to be selling to that market.
At its Executive Summit in Las Vegas, Allscripts announces its Professional EHR 9.0 release, as well as Allscripts Remote for BlackBerrys. The 9.0 release includes an enhanced user-interface and expanded disease management capabilities.
Speaking of Allscripts, Community Memorial Health Systems (CA) selects Allscripts' EHR, PM, and RCM products. Community Memorial Health System will host applications for 70 contracted physicians and a pilot group of 12 community physicians. The health system will also use technology from dbMotion to allow physicians access to a virtual patient record that includes aggregated clinical information from all the heath system's computers.
David Blumenthal writes on his Health IT Buzz blog that meaningful use criteria will be announced "in a matter of weeks." Blumenthal also says that proposed plans for a new certification program will be published in early 2010. Is it nit-picking to point out we were promised these details by the end of the year? Hard to believe it's been 10 months since ARRA was passed.
Former Sage Healthcare executive Maureen Peszk joins Pittsburgh Life Sciences Greenhouse.
The Centers for Medicare and Medicaid takes a look at today's primary care physicians and concludes most have too few patients to reliably measure significant differences in quality and cost performance measures. The results suggest that today's typical P4P and quality reporting initiatives may be flawed.
Aprima Medical Software adds HDI Technologies as a reseller to implement and support Aprima's EHR and PM solutions.
KLAS takes a look at the medical transcription market and pronounces it fiercely competitive.  Most providers have switched providers at least once and vendors must maintain high performance levels to retain clients. Acceptance of off-shore transcription is growing, with 43% of providers willing to risk reduced quality in favor of saving some money.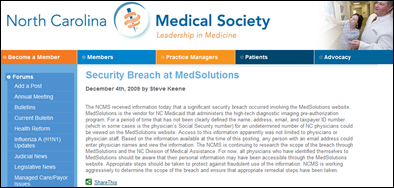 The North Carolina Medical Society informs members of a security breach involving MedSolutions, the vendor that administers pre-authorizations for certain Medicaid services. For an undetermined period of time, the MedSolutions website allowed anyone accessing the site to see demographic information, including Social Security numbers, of an unknown number of North Carolina physicians. The warning is prominently displayed on the NCMS home page, though I couldn't find any details on MedSolutions' website.
The 5,500-member Texas Academy of Family Physicians contracts with RemitDATA to aggregate members' reimbursement data to provide real-time benchmarking. The organization will use the data to identify and resolve payment trends.
OmniMD partners with 361°md to offer OmniMD's EMR and practice management products to its client base.
A "team" of researchers from the University of Illinois assesses the safety of walking across a street and talk on the cell phone. The conclusion is that talking on a cell phone is far more dangerous than listening to music on an iPod and the public should be aware and act accordingly. Brilliant work. Did I mention that the University of Illinois is a publicly funded school?