From Willie Morris: "Re: keynote speakers. We have been planning our annual user conference and, in brainstorming about possible keynotes, I wonder if you or your readers might have recommendations on someone new and different to help inspire and entertain our clients this year? We're obviously looking for someone with understanding and background in HIT/PM/EHR, but the ability to generate laughter doesn't hurt either!" Interesting question. I'd nominate Mr. H, but he'd have to do it behind a secret screen and use a voice changer. Suggestions, anyone?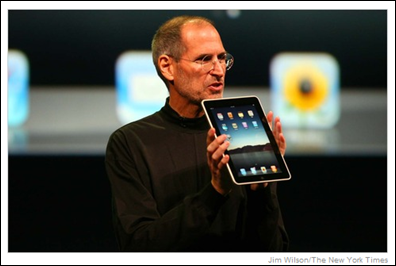 Steve Jobs and Apple unveil the new iPad, which Jobs calls a device that sits between the laptop and the smart phone. Jobs claims the iPad is better than the other devices for such things as browsing the Web, reading e-books, and playing video. The iPad will run most of the 140,000 (and counting) applications currently available for the iPhone and will be priced between $499 and $829. At 1.5 lbs, 10 hours of battery life, and a 9.7 inch screen, it won't be too difficult to carry around all day. It's too soon to tell what kind of impact the iPad will make in healthcare, but I am sure plenty of vendors are itching to check one out.
Dermatologists and medical oncologists are more likely to communicate with patients online than their peers in other specialties, or so this Manhattan Research report claims. Overall 39% of physician use e-mail, secure messaging, or instant messaging to communicate with patients, which is a 14% increase since 2006.
Duane Reade drugstores and Continuum Health Partners (NY) say that their joint program to place physicians in Duane Reade pharmacies is a success. For the last two years, Continuum has provided physicians for in-store clinics at four Manhattan-area Duane Reade pharmacies. The arrangement does not include the exchange of any money between the company and the health system. Instead, Duane Reade benefits with increased retail sales and Continuum is able to schedule future appointments at one of their own facilities. Officials say that their model is a success, in part because physicians provide the services, rather than PAs or NPs. Look for the opening of another 20 clinics over the next year.
McKesson and HP announce they are collaborating to accelerate EHR adoption among independent physician practices. The companies are bundling McKesson clinical and PM applications with HP solutions and including training, implementation, and local support. The program will be executed through HP distributor Tech Data. Good move, I'd say. McKesson seems to recognize that most practices, unlike hospitals, lack the internal resources required to coordinate the technical aspects of an EHR installation. And, despite how popular SaaS is becoming, there are plenty of providers who still insist on an in-house server. Offering a turnkey solution is going to appeal to a large constituency. HP is also a winner here because it'll have a chance to increase its footprint in the small physician office space, a market where they've not been much of a player.
Speaking of McKesson, they just released their Q3 numbers:  revenue up 4%, EPS $1.19 vs. -$1.12 (although most of that prior year's loss was because of their AWP settlement). That beats Wall Street estimates. Technology Solutions didn't do so great, with profits down 11%, although some of that was due to amortization of its revenue management product that went GA during Q2.
As healthcare moves into a digital era, physicians are wondering how much medical record data to provide patients. The debate stems from the fact that patients often don't understand what they are reading and its context. Patients can become needlessly upset by routine "abnormal" lab result. Providers argue that information to patients should be filtered to  reduce the need to interpret the details for the patient. Of course consumer groups believe patients have a right to see everything. And the debate will continue.
Day Kimball Healthcare (CT) selects athenaClinicals and athenaCollectorM for its network of 200 physicians.
Greenway Medical says that over the last year, more than 30 healthcare systems, PHOs, and IPAs have selected its PrimeSuite for their employed or affiliated physicians. New clients are  include the 1,400-member IPA Genesis Physicians Group (IP), Detroit Medical Center, and Bloomberg Health System (PA).
HHS is encouraging the public to comment on the latest proposed Meaningful Use criteria. Some comments have been posted and I've read through most of them. Here's a sampling of what's out there:
We are a small rural health clinic with eight providers but have been very aggressive in using information technology. We purchased and installed Practice Partner electronic health system in 2002. All of our providers have been using and completing their progress notes in the EHR since 2004 when we quit pulling paper charts. We have lab interfaces from the external lab vendor and the local hospital. I have only read the first 103 pages of this proposed ruling and have been focusing on what we will have to do to receive incentive payments as an early adopter in 2010. I find myself discouraged that we will ever be able to comply with this meaningful use definition. I also reflect on the last eight years of using the EHR and wonder how a new user of an EHR would qualify as well. Just installing and getting everyone using electronic records is a difficult task. So I believe that this version of meaningful use is too aggressive for the first year. Plus many clinical areas will need IT infrastructure like cabling, networks, servers and workstations installed multiplying the complexity of the first year adoption of the EHR. So, I would like you to consider making the first year measures the use of the EHR with items like Electronic RX, In-Clinic orders (not 80%), Vitals for over 50% of visits and use of the EHR to the point of not using paper charts for the majority of patient visits. Then slowly increase, at an increasing rate, the requirements over the next years. If the goal is to get the majority of clinics using EHRs and to provide incentive funds to help the economy then the first step of incentive payments must be easy to obtain.
All and all, a very thoughtful and compelling post. On the other hand, some of the comments were short on specifics, but straight to the point. Like this one:
This is a steaming pile of crap. If one could imagine what the worst possible outcome of the process of creating these rules could be, this is it. These are rules that only a bureaucrat could love and will not help increase the implementation of EHR. 556 pages?! You are out of your minds if you think this is helpful or necessary. What a waste of time and money… This is so disappointing I almost cried.
I had to smile.