A new KLAS report suggests that physicians are considering an increasing number of EMR vendors, though Allscripts, NextGen and eClinicalWorks remain on the short lists of most practices. Among small practices (five doctors or less), 72% are considering options outside the best-known vendors. Companies like Greenway and athenahealth that have traditionally served the smaller market are now being given more consideration by larger practices. Another interesting data point: one-third of providers planning an EMR purchase are replacing an existing solution, often because their existing EMR lacks the functionality or certification required to qualify for ARRA funds.
I notice the study examines what EMRs that doctors are "considering" rather than actually purchasing. I recently had a conversation with a small vendor who caters to small practices. He agreed there is a flurry of interest right now. However, plenty of physicians are not pulling the trigger because the docs are waiting for the CMS final rulings on certification and meaningful use. I'm not sure I blame them, given that a solo physician carries all the burden for the EMR's cost and must dedicate a significant amount of his/her personal and professional time for implementation. The investment is far less risky for a bigger group that's able to share the costs between providers and to pay staffers to coordinate the implementation.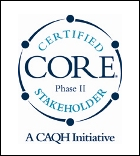 RelayHealth earns certification for its Payor Connectivity Services from the CAQH Committee on Operating Rules for Information Exchange (CORE) Phase II. The CORE certification means that RelayHealth's provider customers can securely process electronic queries within 20 seconds and receive consistent patient administrative information.
Mercy Health Systems (PA) plans to implement NextGen EHR for its 70 providers. Late this year Mercy will also deploy NextGen Health Information Exchange. The physicians already use NextGen's Practice Management software.
Allscripts announces a number of new deals:
AnMed Health (SC) picks Allscripts EHR for its 60 employed physicians and 40 affiliated physicians. AnMed currently provides Allscripts Tiger PM in a hosted model for the physicians and will offer the EHR through a similar setup.
Parkview Health (IN) selects Allscripts EHR/PM and RCM for its 170-member physician group, plus Allscripts' EDIS for its six hospitals.
The 200-provider Sacred Heart Medical Group (FL) chooses Allscripts PM and Payerpath RCM solutions
Allscripts also releases its third quarter numbers: revenue of $179.9 million versus $160.7 million a year ago, which beats analyst estimates of $175 million. Profit came in at $18.5 million versus last year's $13.3 million. Bookings grew 25% to $105.5 million.
EHR vendor SuiteMed announces that it will give free licenses to MediNotes e clients through the end of the year. MediNotes, which is owned by Eclipsys, will not be supported after December 31, 2010 and plenty of vendors are coming up with great offers in an attempt to woo MediNotes e clients.
Physician compensation in 2009 averaged $156,218 for primary care docs and $238,587 for specialists. Doctors in private practices earned more than their academic peers.
Physicians say that EMRs both help and hinder physician interpersonal communications with patients and other clinicians, according to this study. EMRs give physicians immediate access to information, which helps communication during office visits. However, some clinicians see EMRs as a distraction and rely too much on EMRs for information gathering, rather than gathering information through real-time communication. The study's co-author, Ann O'Malley sums it up well:
"Electronic medical records are a double-edged sword when it comes to communication with patients and other clinicians."
A HealthAffairs study concludes that between 75 and 85 percent of physicians with EHRs already use functions that meet some of the proposed criteria for demonstrating meaningful use. While that sounds promising, you have to remember that providers must meet all of the criteria for each stage in order to qualify for funds (in other words, using "some" of the criteria doesn't cut it). Another interesting tidbit in the study: less than one in five of the surveyed physicians had at least a basic EHR. Nineteen percent of primary care physicians had a basic EHR and 17% of specialists. In other words, more confirmation that EHR adoption and utilization still have a long way to go.