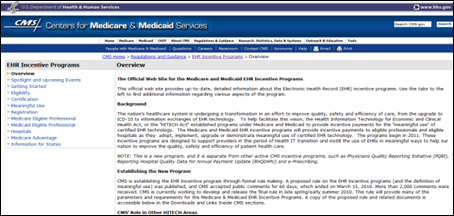 CMS launches its official website for the Medicare/Medicaid EHR Incentive Programs. Maybe technically it is a "new website" but it looks to me that CMS simply consolidated all the Incentive Program information into one area and there's not much, if any, new data. CMS opted to save taxpayers' money by not incorporating any graphics. None-the-less, it's now easier to find the specific EHR incentive data you need, regardless of whether you are a hospital, physician, or vendor.
ONC releases long-awaited details on its temporary EHR certification program. Starting July 1, organizations can pay $75,000 to apply to become an Authorized Testing and Certification Body (ATCB) for EHRs. Programs previously certified by CCHIT will not be grandfathered and will be required to go through additional certification. In addition, CCHIT, like other interested testing bodies, will be required to apply to become an ATCB. The Drummond Group, another entity planning to apply to be an ATCB, provides a succinct overview of the final rule here.
NaviNet announces plans to introduce an integrated patient information system to supplement its current healthcare communications network. NaviNet is seeking technology partners to integrate their PM and EMR systems with NaviNet's existing claims processing and HIE solutions.
PatientPoint names Raj Toleti CEO. PatientPort provides self-service applications for healthcare providers, including a patient-facing kiosk system.
Navicure hires James McDevitt as CFO. McDevitt previously worked with Geac Computer Corporation and Bausch & Lomb.
A researcher from CSC predicts that private insurers will follow the government's lead and impose financial penalties for contracted physicians not meeting EMR meaningful use standards. Insurers did it with electronic claims, so why not with EMRs?
Looking for some User Group meeting activities in the coming months? Here are details on a few:
NextGen Healthcare opens registration for its 2010 user group meeting, to be held November 7-10  in Orlando.
Allscripts Client Experience (ACE) is August 5-7 at the Mandalay Bay Resort in Las Vegas.
eClinicalWorks  heads to Orlando's Gaylord Palms Resort & Convention Center October 30th – November 2nd.
e-MDs hosts their users July 22-24th in Austin, TX.
SRS users head to Woodcliff Lake, NJ (outside of NYC) September 15-17th.
Atlanta is the place to go August 29 – September 1 if you are a client of Greenway Medical.
Deja vu or quelque chose de nouveau? Practice management firms are buying up practices, though a few things have changed since a similar buying spree in the mid-1990's. First, most of the buyers today are are experienced in the industry and they know how to operate practices. Purchase prices are more modest and cash is king. Finally, rather than primary care practices, today's buyers are focused on hospital-based physicians. It almost sounds like my love/hate relationship with skinny jeans: I want them as much as I did in 1995, but with my expanded view of the world I am not willing to pay as much, and, mais bien sûr, I only pay cash.