The Association of Alexandria Radiologists (VA) chooses McKesson's Revenue Management Solutions for radiology billing and practice management for its 26-physician practice.
MedLink International collaborates with HIE vendor Thrasys to market a cloud-based HIE platform to RHIOs and hospital groups. This is the same MedLink that was originally formed in 1997 as an answering service for doctors. A few years later, MedLink expanded its offerings to include VPN services to medical communities, as well as an EHR and PM solution for physicians. Management appears to be paying attention to market trends.
meridianEMR and PM vendor MedEvolve announce plans to share technical resources and integrate their products.
Greenway Medical Technologies says it had a record 1,300 attendees at last week's customer conference in Atlanta.
The Massachusetts eHealth Institute (MeHI) REC releases a list of certified EHR vendors and Implementation and Optimization Organizations. Ten companies make the EHR vendor list, which pretty much encompasses all the major players. Eighteen vendors are named certified implementers.
Meanwhile, I could not find a list of any certified vendors for the South Florida REC, though Mitochon Systems says they're now an Approved EMR Provider. Mitochon offers a free HIE/EMR/PHR system.
Nuance Communications introduces Dragon Medical Enterprise Network Edition for  large practices and hospitals. The new release includes a centralized management console and enhanced support for Citrix-based EHRs.
The American Society for Gastrointestinal Endoscopy will offer Welch Allyn's EHR Prep-Select service to its 11,000 members.
Three in ten Americans say they would use their cell phone to track and monitor their health and 40% claim they would pay to use a remote monitoring device that would send health details to their doctor. Most physicians support remote patient monitoring as long as there's an option for exception reporting, rather than just supplying raw data. Forty percent of physicians believe that a combination of e-mail, text messaging, and mobile health technologies could reduce office visits by as much as 30%.
Hill Physicians Medical Group (CA) brags that its IPA now has over 1,000 private physicians in the San Francisco area, plus another 1,200 practitioners that are part-time, faculty, or provide services through hospital-based positions. Across northern California, Hill has more than 3,500 physicians.
US Oncology selects PatientPoint as its patient portal solution.
A public radio station in Tampa looks at EMR adoption in the region, finding at least two physicians who aren't big fans. A family practice doctor complains that consult letters from specialists with EMRs run four pages long, compared to one-page notes from non-EMR docs: "You've got this mass of uncoordinated data. Even though it's all there it's agonizing to try and go through this information, so you become inefficient." A second doctor who's had an EMR for four years says, "It really cut down the number of patients we were able to see as we were learning to use this. It probably took about a year for us to get comfortable with the system." Ouch.
MedPlus and the eHealth Initiative release results from a benchmark survey on the role of RECs in EHR adoption. Some key findings:
Of the 46 RECs responding to the survey, 30 said price and total cost of ownership will be the most important criteria for selecting a preferred EHR vendor, with other factors being Meaningful Use guarantees, local implementation presence, and availability of system hosting.
Only 14 RECs said they had signed contracts with primary care providers.
30 RECs intend to change their fee structure in order to sustain themselves once stimulus funding ends.
28 RECs will conduct an RFP process to select recommended vendors, with 13 planning to choose five or more vendors.
Compulink Business Systems announces it is providing an unrestricted educational grant to the Joint Commission on Allied Health Personnel in Ophthalmology to develop online courses on EHRs for ophthalmic medical personnel.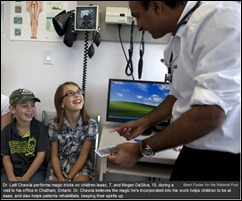 A professional magician-turned doctor finds that a bit of magic helps put patients at ease and builds rapport. Magic has worked so well for Dr. Lalit Chawla that he's written a manual (which includes 20 tricks) to help other health professionals incorporate magic into their professional work.