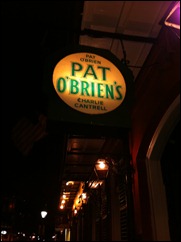 If it weren't for the above establishment, I would have posted an update a bit earlier.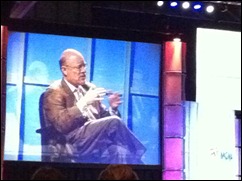 Monday was a packed day, starting with an 8:00 a.m. general session highlighting health reform. MGMA CEO William F. Jessee, MD moderated a panel that included representatives from the Federation of American Hospitals, Humana, the AMA, and the National Business Coalition on Health. The discussion ranged from what is wrong with healthcare today (a lot) to what is wrong with the reform package (a lot) to physician shortages, ACOs, and the purchase of private physician groups by hospitals. Lots of great discussion and theories for how health reform may affect practices. No bottom line was reached (not surprising, given the diversity of the panel) but there were plenty of reasons for stakeholders to wish they had a crystal ball.
David Blumenthal spoke at a separate session that was apparently mired with microphone problems. Unfortunately, I had noted the time wrong time and missed it. Another attendee told me that if had ever have heard Blumenthal speak before, I've already heard what he had to say, which including all the great reasons for implementing EHRs.
I sat in on a couple of other sessions and must conclude that the trend for hospital/IDN ownership of practices is high on the buzz meter. A fellow attendee told me a session on physician/hospital integration was beyond standing room only, with people sitting in the aisles to hear Marc Haley of The Haley Consulting Group share his thoughts on the topic.
Another hot topic was lower reimbursements and the threat of cuts. Though the Medicare cuts (totaling about 30%)  will likely not occur, look for drastic reductions in staff and delays in the purchase of EHRs if Congress doesn't take action by the end of the year.
MGMA released the results of a couple of surveys, including one that found better financial performance for groups with EHRs than those with paper records. Physicians in private practices averaged almost $50K per year higher revenue after operating cost per FTE. Hospital or IDN-owned groups with EHR reported an operating margin $42K more than those on paper records.
Also from MGMA: hospital-owned groups tend to have lower revenue figures than privately own practices, but, some of the differences can be attributed to variations in accounting practices. Specialists working in a hospital-owned group earned 20% less than their independent peers. Primary care physicians working in hospital-owned groups earned $192K, compared to $180K for physicians in private practice.
On a panel discussion about EHR certification, CCHIT seemed quick to point out that their traditional certification program is more robust than the standard ONC certification. Paraphrasing CCHIT Chair Karen Bell, MD, the ONC-only certification may not include everything a practice needs to provide quality patient care. Of course doesn't CCHIT have to come up with an argument for why vendors should continue paying thousands to obtain various CCHIT product certifications?
Also heard more than once: after CMS starts handing out incentive monies, look for the agency to roll out an audit process to verify that providers are truly using their EHRs in a meaningful way.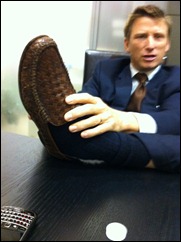 athenahealth CEO Jonathan Bush and I had a chance to compare shoe fashions and discuss what was going on in the athena world. Last week athenahealth announced great third quarter earnings, which of course put smiles on the faces of quite a few athenahealth staffers. A few other notable items gleaned from the always entertaining Bush:
"Cloud" is the buzz word right now and he says no one is in the the cloud like athenahealth.
The cloud, by the way, means that 100% of athenaclinical clients are on the ONC-certified version. It also means that the transition to 5010 will occur seamlessly for athenahealth clients, he told me.
In this age of vendor mergers and acquisitions, Bush says athenahealth is not currently a target. However, he believes that if one day a company were interested in athenahealth, it would be an entity that is a  "new entrant" to the healthcare IT vertical.
Bush is the master of the analogies and points out that the difference between buying athenahealth versus traditional solutions is a lot like flying: you could build a plane, develop your own flight plan, and fly yourself somewhere, or, you could go with athena, which is like buying a ticket to fly with a commercial carrier. The commercial flight gets you where you need to go, it's easier than the first option, and you leave the flying to the experts.
I attempted to hit quite a few more exhibit booths in between sessions. SimplfyMD showed me their EHR, which is heavy on scanning and pushing information to the doctor, rather than the doctor pushing information to the chart. The product does include templates for providers wanting to input their own chart notes, but I thought they looked a bit clunky compared to a number of other products. However, my impression is that they don't push the template option as much as they do workflow alternatives that keeps the doctor performing too much data entry. The EHR-only product is $400/month/provider and the company does not have a practice management solution. SimplyMD is young (a couple years old or less) and has about 680 providers live.
More on this in a bit, but I was surprised by Cerner's 10×10 booth, situated in one of the spaces on the outer edges of the hall. I consciously was keeping an eye out for Cerner and didn't even notice their booth the first time I walked their row.
Thanks to the sponsors who prominently displayed their "I Power HIStalk" signs, including SRSsoft, e-MDs, Advanced MD, and iMDsoft.
Workflow.com had its same tired tiki-themed booth. Time for a refresh, I think.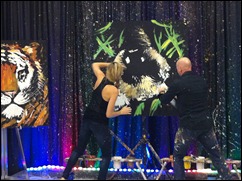 As usual, NextGen had a great approach for getting prospects to their booth and listening to their elevator pitch. During a 5-10 minute overview of the company and products, two attractive artists worked together to create art. It was fascinating to watch because the pair were so in sync that it was almost like watching some sort of modern dance. Very fun.
Some of the many giveaways that I didn't win included a lovely Coach purse (Ingenix), a few Wiis (Fifth Thirds was one I recall), a seven-day cruise (Tavoca), and plain old cash from a number of vendors. Eric Fishman of EHRtv won an iPad from Surescripts, as did a couple of his employees. Did I mention I didn't win anything?
Quite a few vendors were tweeting throughout the conference. I was amused by one from Greenway which encouraged people to "see" its founders at the booth. I'll blame the choice of the word "see" versus "meet" on the fact that was shorter to tweet; I assume Greenway didn't place Tommy Green and Tee Green in some sort of display case.
The Cerner folks sent me a couple of personal invitations to watch demo of their ambulatory EMR product. As I mentioned, the booth was pretty small, so doing an inconspicuous over-someone-else's-shoulder demo was a little challenging. I admit the demo I observed was limited and I didn't get to ask questions. However, compared to other EHRs on display throughout the exhibit hall, Cerner's patient summary screen looked comparatively "busy" and not particularly pretty. It didn't appear to be as intuitive as some of the newer, sexier products on the market and certain features seemed user unfriendly. For example, I didn't think the template charting function was very quick. If a provider were trying to find a particular item to select, they would have to wade through too many other options to find the preferred choice.
I have a few more impressions to share but I'll pick it up on the next post. Meanwhile, thank you Gateway EDI for the invite to your party at the Gordon Biersch Brewery. I am blaming Gateway for kicking off a fun evening that ended too late at one of New Orleans' most notable landmarks.