Wednesday is officially the last day of the conference, but I am heading out bright and early.
I still have quite a few impressions to share, but I'll start out by summarizing what I interpreted as the big buzzes this year:
Financial matters worry practice administrators the most. Declining reimbursement, healthcare reform, and rising costs are all contributing factors.
Hospitals are buying practices at a rate not seen for at least 20 years. Despite the failures back in the late 80s and early 90s, people are optimistic that alignment will work this time because physicians are tired of all the financial issues (see above) and evolving delivery models (ACOs) that support hospital ownership. Plus the new generation of physicians aren't interested in working 80 hours a week and foregoing family life and other interests. These physicians are happy to work for a hospital for a guaranteed minimum paycheck.
Meaningful Use is defined and products are being certified, but EHR adoption is still not surging, though growth is steady. Practices, at the least the larger ones represented by MGMA members, are moving forward, but no one I met is rushing to be the first in town to qualify for federal monies.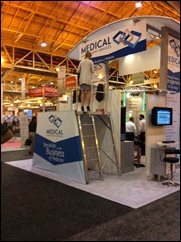 A reader suggested that maybe I should have thrown a shoe at the booth babe who pegged me in the head with beads on Sunday. With that in mind, I returned to the scene of the crime Tuesday. As you can see, Booth Babe is on a perch, giving her the ability to hurl the beads down onto the crowd. A nearby vendor told me that management banned her from throwing the beads into the aisle (which is how she pegged me). Instead, she had to sail the beads down to the people standing in the booth. A much more conservative, but far less dramatic approach. Anyway, all was forgiven after I noticed Booth Babe had on fabulous blue shoes.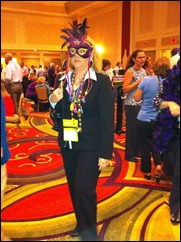 MGMA hosted a general reception Tuesday night. Many attendees took the opportunity to adorn themselves with Mardi Gras trinkets. The facility for this reception was smaller than the one used Sunday night. It also had fewer food and bar stations, which resulted in long lines. The MGMA people must have felt a little guilty about the wait since I noticed a couple of employees handing out free drink coupons. Free drinks always makes waiting more bearable.
True story: as I left my hotel room Tuesday morning, the maid told me she liked the shoes I had left in the room yesterday. In fact, she commented that the shoes were her size. A bit creepy, but she swore she didn't try them on. Obviously I am not staying at the Ritz (I have a hard time believing the maids at the Ritz would admit to looking that closely to my shoes). But, I have to love a maid who knows her shoe fashions.
If you are planning a trip to a convention in New Orleans, here is a tip. The Marriott Convention Center is right across the street from the convention center. There is a different Marriott about half a mile away. If you are going to an event at "The Marriott," it's good to verify exact which Marriott before walking half a mile in fabulous, yet not particularly functional shoes. It also may save you $8 on cab fare as you rush to go to the "correct" Marriott.
And here is a tip for vendors: don't ever tell a practice that has over four doctors that they are "small," especially if the practice is located a small town. I witnessed that conversation and I think the administrator (who actually had an eight-doctor group) wanted to smack the vendor guy, or at least throw some beads at his head.
Many vendors threw private parties Monday night. Some of my invites must have gotten lost in e-mail, but thank you Sage and Allscripts for making sure I was included. I missed both those affairs, but the Allscripts people tell me they hosted about 500 people. Given there are only about 4,600 at the convention (including 2,700 paid attendees), I'd say Allscripts won the big party award.
Speaking of MGMA attendance, I heard the numbers are up about 30% from 2009. MGMA said they "ran out" of space in the exhibit hall (the total number of exhibitors was north of 250). I'll take these as signs that the recession is easing a bit.
I chatted with the McKesson folks for awhile (who or may not have not gotten word about the company's re-org, but were tight-lipped about any changes, nonetheless). Among other things, they told me about several Practice Partner clients who were successfully using McKesson tools for Medical Home initiatives. I had an even more telling conversation with an administrator who implemented the Practice Partner EHR in September and was pleased with the progress. She said she decided on Practice Partner because it worked well with her Lytec billing software (which does everything she needs it to do) and the price was right. Her practice had nine providers and NextGen's proposal EHR was about $250,000. Glostream, which the doctors really liked, was almost $300,000. Practice Partner was about a third of the cost. She said that the Practice Partner software is perhaps not as pretty as the more expensive options, but, so far it is getting the job done and the doctors are pleased.
Medicity was showing off its new iNexx product, which is an open platform for health information exchange. Providers that are tied in can view clinical data from all connected providers. Medicity, along with third-party app developers, is creating additional modular applications. While I'm sure it could be deployed on a large scale, it seems like a great option for communities that are not ready for a full-blown HIE, yet want to share data. I believe the connection fee is $99 a month per provider. To promote the idea that iNexx can replace fax machines for data exchange, they were handing out "Pet Faxes."  As an aside, Medicity told me this is the first time they have exhibited at MGMA and are pleasantly surprised by how many physician offices are already aware of their company.
In some of the larger sessions, rather than opening the floor for questions, participants were encouraged to text their questions. This seems like a great alternative to queuing up at microphones (or shouting out questions that have to be repeated) and then having people tell some long story before actually getting to the question. The text alternative meant the questions were shorter and to the point. Thumbs up.
I also was a fan of the Healthcare Innovations Pavilion, which was set up in the exhibit hall. Vendors had 20 minutes to overview a topic and of course make a pitch of some sort. A couple that I sat through included Meaningful Use (MED3OOO) and patient portals (Intuit). MGMA strategically scheduled these when there were breaks in the exhibit hall and they were standing room only. The presenters I heard were solid and I think people like hearing what vendors have to say without necessarily walking into a booth and asking questions.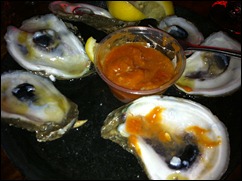 Remnants from my last dinner in New Orleans. Yum.
Heading out to the airport momentarily. MGMA 2011 in Vegas!