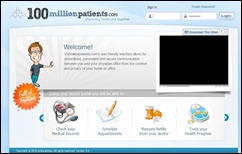 The eClinicalWorks 2010 Users' Conference is in full swing at The Gaylord Palms Resort in Orlando with a record 2,500 participants. As part of the event, eCW introduced its Version 9.0 product and launched its new 100millionpatients.com portal solution.
digiChart and MDAdvantage Insurance partner to extend malpractice discounts for physicians who use digiChart OB-Gyn EHR. digiChart will also offer software discounts for physicians covered by MDAdvantage.
NaviNet, a company traditionally known for healthcare communication services, introduces a practice management and EHR solution that integrates with NaviNet's Insurer Connect payer portal. The PM/EHR solution is based on CureMD's platform, so I am guessing that NaviNet is putting its private label on the CureMD technology.
Meanwhile, CureMD launches discrete reportable transcription (DRT). Doctors who want to transcribe clinical notes can use CureMD's overnight transcription service, then have the DRT technology directly populate discrete items into the CureMD's EHR.
Quality Systems (NextGen) reports Q2 numbers: revenue up 14% to $81.5 million, EPS $0.46 vs. $0.41, with both revenue and earnings falling short of expectations. The Street was looking for $85.7 million and $0.49.
The Tri-State REC, based in Cincinnati, releases its list of five supported EHR vendors and products. The list includes Allscripts Professional, athenaclinicals, GE Centricity, eClinicalWorks EHR, and NextGen EHR. Supported vendors will extend special pricing and terms to providers working with Tri-State, but the REC's director says Tri-State is "committed to working with any practice or provider, regardless of which certified EHR vendor they choose."
No surprise here: primary care physicians, on average, have the lowest income of doctors in any medical specialty based on hours worked. Primary care docs earn about two-thirds of general surgeons, averaging $60 an hour compared to surgeons, who make $92 an hour. The top paying specialty is neurosurgery ($132 per hour), followed by radiation oncologists ($126 per hour). Primary care physicians averaged 51.2 hours a week compared with the 59 put in by surgeons, 57.9 by subspecialists, and 47.4 by "other" physicians.
The REC Ohio Health Information Partnership is working with Welch Allyn to offer providers the Welch Allyn EHR Prep-Select service, which helps practices pick their EHR  and achieve Meaningful Use.
Gateway EDI launches Patient Exchange, an online patient portal that includes billing statements and online pay options.
The AMA collaborates with Press Ganey to provide physicians with a Web-based tool for measuring patient satisfaction. Using an electronic survey, the RealTime solution collects and evaluates patient feedback and generates reports and summaries to identify satisfaction trends.
AZZILY will integrate MaxMD's mdEmail service into is EHR/PM/PHR application. I chatted with the AZZILY folks last week at MGMA and they plan to official launch their product later this year.
Correction: I mentioned recently that an Allscripts exec told me that Travis Bond (founder of Bond Medical) is a new Allscripts MyWay reseller. I have since learned the executive was incorrect — he's not.
October was another record month for HIStalk Practice with our highest number of visits ever (11,358). Views were up 38% over last October and overall readership is 24% higher for the year. Over 900 confirmed subscribers receive a handy notice in their inbox every time we have a new post. If you are not one of those confirmed subscribers, sign up for e-mail updates to your right. Also, share your love with our sponsors by visiting their sites and checking out their offerings. And if you think you'd like to be a sponsor, click on the sponsorship link at the top of the page. Thanks for reading and for telling your friends that they are unhip if they aren't tuning in.
O'Brien's Billing, a New York-based billing service specializing in mental health, selects Kareo as its billing software solution.
Speaking of Kareo, I'd like to welcome the company as our newest HIStalk Practice Gold Sponsor. Kareo offers a Web-based practice management and medical billing software that includes integrated electronic claims processing. Its pricing model is transparent, with options listed right on their Web site (starting at $69 per provider per month). The-six-year old company partners with Practice Fusion for its free EHR and integrates with other third-party EHR products. VC firm OpenView Partners recently invested $9.5 million in Kareo, giving the company the ability to further enhance its product suite and expand the company's infrastructure. If you click on their banner to the left, you'll see details a special pricing exclusively for HIStalk Practice readers (25% off Kareo's Plus, Complete, or Max plans for the first six months). Mr. H and I appreciate their support!
Practice Fusion, by the way, announces a partnership with Microsoft's Windows Azure MarketPlace to offer researchers de-identified health information at no charge. The clinical dataset includes insights on vitals signs, diagnoses with ICD-9 codes, medications with NDC codes, prescription events, immunization details, and allergic reaction details. Practice Fusion also just obtained ONC-ATCB 2011/2012 Certification through Drummond Group.
PM/EHR vendor American Medical Software selects Intuit Health's patient portal solution for its physician clients.
A CompTIA study suggests that 34% of healthcare providers are using comprehensive EHRs and more than half of all providers use some form of EMRs. I haven't seen the actual study, but apparently the survey sample included only 300 healthcare "providers," which included doctors, dentists, nurses, PAs, and office managers (who are clearly not "providers", but I'll let that slide). CompTIA also surveyed 370 IT firms, of which only 40% did business in the healthcare sector. In other words, the methodology sounds questionable and I'd be wary of adding these statistics to my next EHR white paper. If you have read the report and have a different opinion, please share.