KLAS releases its 2010 Best in KLAS awards. Winners in the ambulatory care categories include:
Ambulatory EMR (Over 100 Physicians) – Epic EpicCare Ambulatory EMR
Ambulatory EMR (26-100 Physicians) – eClinicalWorks EMR
Ambulatory EMR (6-25 Physicians) – Greenway Medical PrimeSuite Chart
Ambulatory EMR (2-5 Physicians) – e-MDs Chart
Practice Management (Over 100 Physicians) – Epic Resolute/Prelude/Cadence
Practice Management (26-100 Physicians) – McKesson Horizon Practice Plus
Practice Management (6-25 Physicians) – Greenway Medical PrimeSuite Practice
Practice Management (2-5 Physicians) – e-MDs Bill
Claims and Clearinghouse Services – Navicure
I'm also told that Praxis EMR took the top stop for solo physician EMR and athenacollector for solo physician practice management. The Best in KLAS ambulatory winners are almost a repeat of 2009's, except in the 2-5 physician space and in claims and clearinghouse services. Last year Greenway led the pack for 2-5 physician EMR and athenacollector for 2-5 physician practice management; RealMed was the top clearinghouse. This year e-MDs displaced both Greenway and athena and Navicure earned top clearinghouse honors.
RediClinic announces plans to open 20 new clinics in HEB supermarkets in Texas. The clinics will be affiliated with Methodist Health System in San Antonio, Memorial Hermann Healthcare in Houston, and St. David's Healthcare in Austin.
Wellington Radiology Clinic (IL) picks McKesson's Revenue Management Solutions for radiology billing and PM services.
WebPT, a startup company providing EMR solutions for physician therapy practices, receives a $1 million investment from private equity firm Canal Partners.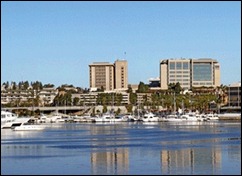 Hoag Memorial Hospital Presbyterian (CA) has connected 250 community physicians to its HIE, giving practices online access to lab, radiology, and pathology reports, as well as transcribed reports and face sheets. Hoag is using Medicity's Novo Grid solution to facilitate information exchange.
Everyday Health acquires online medical news service MedPage Today. MedPage Today's portfolio includes a website, mobile applications, and partner site blog KevinMD.
Nashville-based EMR company iPractice Group will hire 30 employees in January. The company promotes a $74,500 contract that includes "all services" for doctors moving from paper to EMR. The founder says the company plans to start sales in January and will add 100 more staff by the end of 2011. Pretty darned aggressive strategy for a startup entering a competitive and crowded market.
A former University of Michigan physician pleads no contest to counts of unauthorized access of computers and using a computer to commit a crime after it was discovered he altered computer files to boost his performance evaluations. Eric Batterson installed keystroke recording software on computers to obtain colleagues' passwords and access their e-mail accounts. He then went into different systems, made improvements to his evaluations, and also lowered evaluations of his colleagues. To avoid prison, he must pay $9,400 in restitution.
Tucson Orthopaedic Institute rolls out an online learning solution for Allscripts Enterprise EHR. It was developed by the consulting firm ImplementHIT. Interestingly, ImplementHIT's CEO Dr. Andres Jimenez is the former clinical director of content and online training for Allscripts.
Coming to a cell phone near you: diagnostic testing. GENTAG develops a disposable wireless diagnostic test platform that enables consumers to use cell phones to diagnose pregnancy, fertility, pathogens, AIDS, drugs, allergens, and certain types of cancers. The technology is based on immunoassays and is being marketed primarily to the OTC consumer market.