Day One of registration for EHR incentive money is now over. I wonder if the ONC's new portal is  bustling, or, if Blumenthal will need to invest a few dollars to better inform providers of the specifics for the attestation process? If you are an Eligible Professional and ready to register, make sure you have on hand your NPI, NPPES user ID and password, and tax ID number if you are reassigning benefits.
Medicity receives modular ONC-ATCB certification for its iNexx platform technology for ambulatory care providers. Aetna, by the way, announces that its $500 million purchase of Medicity is complete.
Sutter Health (CA) patients can access their personal medical records using Epic's MyChart for the iPhone. The app also allows patients to message their doctors, check lab and test results, view appointments, and receive health reminders.
Happy New Year, by the way. I've reinstated a few of my regular resolutions for 2011, such as making time for regular exercise and losing a few pounds. I've also decided to step away from the computer a bit more and make time for things like have lunch with friends every once in awhile. I already get up pretty darned early and rarely watch TV, so I don't exactly know how I am going to "make" this extra time. But what the heck, I'll give it a whirl for a few weeks.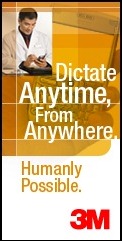 With the new year, HIStalk Practice is adding some new sponsors. A big welcome to 3M Health Information Systems, which is already a supporter of HIStalk Mobile. The 3M HIS division offers a variety of software and consulting services for clinical documentation and improving financial performance, including computer-assisted coding technology, ambulatory revenue management software, mobile transcription, and an assortment of charting tools. Click on their ad to the left or the link to your right to learn about some of their many offerings. A big thank you to 3M HIS for their support of HIStalk Practice!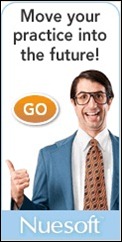 Also lending their support to HIStalk Practice: Nuesoft. The great folks at Nuesoft are spreading their Platinum love across by HIStalk and HIStalk Practice, which makes Mr. H and me most appreciative. Some of Nuesoft's products include NueMD PM and billing software, NueMD EHR, and the Nuetopia medical billing service. In addition, they offer a suite of clinic billing and management products for student health clinics and college health billing services. They are also the creators of the very fun Lady Gaga video that we've posted on HIStalkTV. Thanks, Nuesoft, for your support!
If you are not already signed up to receive automatic e-mail updates for HIStalk Practice, the new year is a great time to take care of such housekeeping details. Take two seconds to sign up at the top right hand corner of the page. I promise you will instantly feel the calm that comes with knowing you will never miss a post. It's also a great time to share your love with our sponsors. Take a moment to click on their ads and see what offerings might make your life more complete, or at least might address some of the pesky HIT problems in your life. And thanks for reading.
CMS launches its new Physician Compare Web page, which provides online tools to help patients locate area health professionals. A later phase of the project will specify which providers participate in e-prescribing and will eventually include quality of care profiles.
Two aspects of last year's healthcare reform package may be a boon for house call providers. The Independence at Home initiative will launch in 2012 and include incentives for primary care teams providing house calls. There may also be a place for house call providers in emerging ACOs. Proponents believe that incorporating house calls into care programs can increase quality and reduce costs. And here is an interesting statistic: 2.3 million house calls were paid for by Medicare in 2009, up from 1.5 million in 1995.
The use of online appointment scheduling services is growing, with 16% of family doctors now allowing patients to schedule appointments online. As doctors incorporate more technology into their practices, providers are warming up to online tools and realizing the potential to reduce overhead costs and attract new patients. Pricing for online scheduling models vary: ZocDoc charges doctors $250 a month to be listed in an online directory; Health in Reach charges providers only when a doctor gets an appointment.
Neurological Services of Orlando selects Waiting Room Solutions' EHR and PM system.
We are looking for a few physicians willing to share their insights into the technology in use in their practices. If you are a physician using an ambulatory EMR or some other cool technology, and willing to share your impressions, send me a note.
Ingenious Med wins a 2010 Mobile Star Award in the Healthcare Management category. The category recognizes vendors providing "breakthrough mobile application enhancing quality of care and practice management."