From Matt Cassell: "Re: Cerner Ambulatory. Great article on Cerner PowerWorks products. I think you're right on target with your overview. I sold the product for over a year and I even spent time with Dr. Goldstein a few times in his office. Nice work."  Thanks, Matt. The Cerner folks, by the way, said they would be responding to a couple of the comments and questions posted by readers.
Greenway Medical Technologies selects DiagnosisOne to provide clinical decision support for its EHR deployments.
Pulse Systems is named a solution partner for Virginia HIT, the REC for the state of Virginia. I tried to figure out the names of other selected vendors, but couldn't find any details on the REC's web site.
Gastorf Family Clinic (OK) is one of the first practices in the country to receive an EHR incentive check. The two-physician practice, which uses e-MDs' EHR, was issued a check for $42,500 just two days after registering for the HITECH program.
Speaking of HITECH registration, CMS says 4,000 providers registered for EHR incentives in the first four days after its site went live on January 3.
Nuesoft Technologies announces the availability of Nuetopia, a service that combines EHR and medical billing software with RCM expertise. Nuesoft says practices should anticipate a 10% increase in net payment by subscribing. Nuesoft, by the way, is a HISsies nominee for Most Fun HIT Vendor. They certainly make some fun videos, like the one above, featuring Tony DaLuzza, aka "Tony Two Times."
Billing and practice management service provider AdvantEdge Healthcare Solutions acquires competitor AMSplus, Inc., a division of CBay Systems.
WebPT, an EMR used by about 5,000 physical therapists, closes on $1 million in Series A VC funding. WebPT intends to use the funds to expand its product development, sales, and marketing teams and to build up its support infrastructure.
The Doctors Clinic (WA) launches Sage Healthcare' patient portal, giving patients access to their medical records and supporting online appointment and prescription refill requests. The 80-physician clinic is implementing Sage Intergy EHR.
The Connecticut State Medical Society estimates that almost 40% of its doctors are now using EMRs, with larger practices leading the charge. Cost remains the biggest barrier. The medical society's president predicts more smaller practices will consolidate or join larger groups in order to  afford new technology.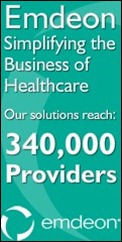 Please join me in shouting out a virtual hello to HIStalk Practice's newest Platinum sponsor, Emdeon. The Nashville, TN-based company provides revenue and payment cycle management solutions that reach an impressive 340,000 providers, 5,000 hospitals, 600 vendor partners, 1,200 payers, 60,000 pharmacies, and 81,000 dentists. That's more connections to payers, providers, and vendors than any other healthcare business. At HIMSS last year, Emdeon had the Harlem Globetrotters shooting baskets in the center of the booth. At MGMA, they partnered with an alligator conservation group and sponsored photo ops with an alligator (which I took advantage of). In other words, they strike me as a fun and creative bunch, which is exactly the kind of sponsor we love. Thanks, Emdeon, for your support!
A healthcare attorney shares some advice for physicians contracting with vendors for new technology. Some of the details he recommends to be spelled out include include who owns the  copyrights for customized software; defined dates for delivery and proof of operability; specified time periods for vendors to fix problems, as well as the consequences for missing deadlines; expectations for support response times and upgrades; and who holds the source code for any software in escrow. Plenty of vendors don't like lawyers like him since it slows down the closing process and makes everything more complicated.