From Ann Thrax: "Re: Testimony for HIT Standards Committee. Have you listened to the testimony? You don't want to miss hearing what Dr. Scott Monteith has to say." The written transcript is not yet posted on the ONC site, but you can cue the recording around 2 hours and 49 minutes to listen to Dr. Monteith's five-minute testimony. Here's a snippet:
"ONC's strategy has put the cart before the horse. HIT is not ready for widespread implementation. The problem isn't Luddite doctors not adopting. The problem is that HIT isn't ready, especially if we want safe and efficacious bells and whistles like CDS, interoperability, etc."
From Doubter: "Re: Practice Fusion. Awesome interview, but it just doesn't smell right. How do you have 500% growth and no idea when you will be cash flow positive, or better yet, turn a net profit?" In fairness, CEO Ryan Howard probably knows these details, but as a privately held company, he chose not to share.
Speaking of Practice Fusion, they were among the top six EHR vendors in a recent report by Black Box Rankings. The survey considered the satisfaction of primary care physicians with their EHR vendor. The other leaders included eClinicalWorks, DrFirst/Rcopia, Amazing Charts, Greenway, and ChartLogic. The Practice Fusion rep told me they earned more #1 rankings on individual criteria than all the other EHR vendors combined.
Hayes Management Consulting announces the formation of a new revenue cycle practice under the leadership of Sharon Christoforakis. She previously served as SVP of revenue operations at ABQ Health Partners and as a manager / consultant at Pricewaterhouse Coopers.
With the start of a new year, most deductibles are reset and patients pay more out-of-pocket costs. It's also the time of year that the risk for embezzlement in practices is highest. Patients, unlike insurance companies, often pay in cash, and 45% of thefts occur before or after cash transactions are recorded on the books. The trend for higher deductibles and co-pays means the potential for embezzlement is rising. Consultants recommend that practices develop a system of checks and balances and provide plenty of physician oversight, including the monitoring of refunds and checking for "phantom" vendors. MGMA says that 83% of practice managers report that at some point in their career they worked in a medical offices where employee theft occurred. Less than 30% of practice embezzlers are prosecuted, though about 82% are fired from their jobs.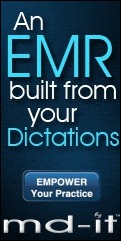 Please join me in welcoming MD-IT as HIStalk Practice's newest Platinum sponsor. The Boulder, CO-based MD-IT offers medical transcription services and software that are used by over 7,000 physicians in 950 practices across the country. Their offering includes traditional dictation and transcription services, speech recognition tools, document management, EMR, health information exchange, and practice consulting, including assistance qualifying for Meaningful Use incentives. Their Web-based platform provides 24/7 access with 99.9% uptime and a nationwide network of regional offices providing local service options. MD-IT is also sponsoring HIStalk, so we are doubly appreciative of their support.
The 52-physician Infinity Primary Care (MI) joins the 1,300 member Henry Ford Physician Network. No doubt Henry Ford's future plans include the formation of an ACO.
Patients looking for a primary care provider want to be able to access more detailed information online, according to a new Harris Interactive poll. Results also indicate that in the absence of quality data, patients will select their provider based on location and recommendations from family and friends. Also noteworthy: 42% of Americans are worried that healthcare reform will require them to change their doctors. These findings are based on a telephone survey of 2,020 adults, which has me thinking: am I the only person who avoids answering the phone if I suspect someone is calling about a survey or who refuses to participate if I answer the phone in error? I doubt it. So who, exactly, are these people that participate in phone surveys?

Think you are an EHR incentive program guru? Try taking this EMR Straight Talk quiz from the folks at SRSsoft. It includes all the details you should know if you are seeking Meaningful Use money. I actually found it a little tricky, yet my (perfect) score is listed above. Guess that means I get to keep my job for now.
As patients look for ways to trim their healthcare costs, more will likely turn to direct-to-consumer lab tests. In 2009, patients spent about $20 million on tests like lipid panels, hormone levels, vitamin D, and liver function. Look for the segment to grow 15 to 20% annually. The AAFP, of course, advises that patients seek counsel from their physician, since "there are a host of factors that go into whether a test is needed, warranted, or a waste of money."