NCQA's new patient-centered medical home standards reinforce federal Meaningful Use incentives for primary care practices to adopt HIT. The PCMH 2011 calls for medical practices to be more patient-centered and includes Meaningful Use language embedded into evaluation standards. NCQA believes that practices meeting PCMH 2011 requirements will be well prepared to qualify for Meaningful Use and vice versa. Download here.
The 170-physician Florida Woman Care adds athenaClinicals EHR and athenaCommunicator. The practice is already an athenaCollector client. I also see from athenahealth's blog that Dr. Catherine F. Vanderloos of Shreveport, LA was among the early recipients of a $21,250 EHR incentive check.
Amazing Charts releases AC OnCall, an app that gives providers access to their Amazing Charts records from an iPhone, iTouch, or iPad. Users can download the app for free for three months or pay a one-time fee of $24.99.
Delta Radiology Medical Group (CA) signs a three-year billing services contract with Zotec Partners.
Doctors Urgent Care (WV) installs Benchmark Systems' EMR and PM system for its three urgent and primary care practices.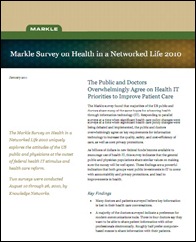 Most doctors want to share patient information electronically with other providers, according to a new Markle survey. Almost half of doctors would also like to share records with patients electronically and 65% believe patients should be able to download their personal health information online. PHR adoption continues to be slow, with only 10% of the public claiming to maintain one. But, that's up from 3% in 2008.
Michael Last Internal Medicine chooses the Waiting Room Solutions Internal Medicine EHR and PM product.
Holy Name Medical (NJ) selects Aprima's EHR/PM software as a recommended and subsidized solution for its affiliated physicians.
AMA announces it is working with Covisint to help physicians receive reimbursements from CMS's PQRI program. AMA members are eligible for discounts for the Covisint DocSite, a web application for submitting data for 2010 PQRI reporting.
Epocrates looks to raise $75 million in its IPO, which is scheduled for February 2. Epocrates is seeking listing on the NASDAQ exchange under the symbol EPOC.
AMA spent more on lobbying efforts last year than any other healthcare group. AMA shelled out almost $22 million, which was a nine percent increase over 2009. AHA was also a big spender, with almost $18 million in expenditures.
Men and the chronically ill are most likely to support remote monitoring and virtual visits. Nearly half of the 1,000 adults in this survey are receptive if it saves time and money; 23% said they would never consider a remote visit with a doctor.
Doctors report that one in 18 patients are considered difficult and more likely than others to stay sick. "Difficult" patients were defined as those more likely to have worse symptoms two weeks after their visit. Physician experience makes a difference: doctors with less than 10 years of experience report that 25% of visits are difficult, compared to just 2% of visits for physicians with more than 20 years experience.
The Florida Academy of Family Physicians recommends Ingenix CareTracker as a PM/EHR solution to its members. FAFP members are eligible for discounts on monthly subscription fees and implementation services for the product through the HIT distributor CareTracker Partners.
Providers can buy insurance to protect themselves from financial losses associated with data breaches. Agents see small group practices as good targets since most offices lack internal resources to manage security concerns. It's pricey though: $5,000 a year will get you $1 million of protection for up to five physicians. Insurance covers fines, patient notification costs, credit monitoring, investigation, legal defense, and even PR-related costs to rebuild the practice's reputation.