CMIO Rant with … gives CMIOs a place to air their thoughts or gripes. Yours are welcome.

The Great Prescription Pad Race
By Andy Spooner, MD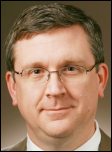 Which is more usable: a prescription pad or a computer?
That's a no-brainer. For writing a prescription, the pad wins, hands down. Consider its features:
Instant-on. No booting up. Just reach in your pocket and you are ready to go.
Compact, lightweight. Did I mention your pocket?
Self-documenting. No need to print a summary describing the prescription.
No irritating pop-ups with irrelevant alerts.
Patient-centered. The pharmacist can fill in missing information (liquid or tablet or capsule? brand or generic?) based on patient preferences.
Flexible. Can be taken to any pharmacy. No need to route it to a specific place, or even to ask the patient about a preferred pharmacy.
Streamlined. No need to worry about pharmacy benefit management rules. The pharmacist can sort all that stuff out.
Information-persistent. If the family has a question about an apparently erroneous prescription, they can read the details right off the prescription when talking to the after-hours nurse.
No record-keeping clutter. Patients can just tell us about their prescriptions next time we see them. They could just bring in the bottle or something.
With all of these advantages, surely only the geekiest of pencil-necked CMIOs would advocate an electronic method of prescribing, right?
Of course not.
The prescription pad is easier only if we define the work as the minimum possible activity that a doctor can do to get a prescription into a patient's hands. The truth is, we are not done with the task of prescribing when we hand the slip of paper to the patient. If we think we are, then the pad seems far easier to use—more usable—than any electronic health record or e-prescribing system.
The above competition is absurd, of course, in an era when, according to the CDC's National Ambulatory Medical Care Survey, over 80 percent of office-based physicians in 2013 used electronic prescribing. That rate rose from less than 60 percent over the past three years. E-prescribing is here to stay.
But we still hear about how unusable electronic medical record systems are. In The Atlantic this month, we read that a doctor who sees 14 patients a day spends "1-3 hours" each day entering orders. Assuming that each patient needs some orders for health maintenance (screening lab work), prescription renewals, and maybe a few diagnostic tests and referrals, it's hard to take that statistic seriously. It's clear that the writer is irritated at his EMR, and there may be some legitimate design or implementation issues with it. But 1-3 hours of ordering per day? C'mon.
Somewhere between the slapdash paper prescription and the three hours of daily ordering is the truth. Managing clinical information takes some amount of time, and some of it should be done directly by physicians. Some of this activity serves a "compliance" goal that you may not like, but all of it is a part of building a system of healthcare that serves a worthy goal.
If we insist that all clicks are wasted time, then we can't have a conversation about usability, because under the prescription pad scenario, the only usable computer is one you don't have to use at all.
On the other hand, if we insist that our current systems are bad because of hyperbolic, data-free assertions about how the EMR is making our lives miserable, we are similarly blocked from making productive plans to improve usability because, well, it's just too darn much fun to complain.
My thesis, then, is that EMR usability is not as much about design as about expectations. Variations in what these expectations ought to be between different perspectives will lead to unproductive conversations (or no conversations at all) about what it means to have an EMR that's easy to use.
All I know for sure as a CMIO is that physicians want all of this stuff to be easier to use. We also want these systems to read our minds, but that's at least a couple of versions away, if I am understanding the vendor presentations at HIMSS correctly.

Andy Spooner, MD, MS, FAAP is CMIO at Cincinnati Children's Hospital Medical Center. A general pediatrician, he practices hospital medicine when he's not enjoying the work involved in keeping the integrated electronic health record system useful for the pediatric specialists, primary care providers, and other child health professionals in Cincy.