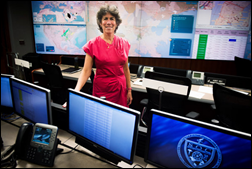 HHS representatives weigh the pros and cons of a new program that will use Medicare data to alert public health officials to the potential needs of vulnerable patients during a disaster. HHS tested parts of the program in three states, and is looking to take it nationwide. Critics are concerned about the security of patient data, but ONC head Karen DeSalvo, MD has said the program protects patient privacy and that its benefits outweigh its risks.
The VA's troubles continue with the resignation of Undersecretary for Health Robert Petzel, MD. In accepting Petzel's resignation, VA Secretary Eric Shinseki said, "As we know from the veteran community, most veterans are satisfied with the quality of their VA healthcare, but we must do more to improve timely access to that care." That statement seems questionable given the fact that at least 40 veterans died waiting for appointments at a VA facility in Phoenix, which has also been accused of maintaining a secret waiting list.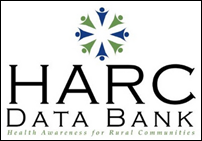 In other health data news, the Colorado Rural Health Center launches the Health Awareness for Rural Communities Data Bank to enhance access to streamlined data sharing and collaboration for rural healthcare providers, communities, and other interested stakeholders. The data bank is a collection of over 100 population health measures, as well as demographics, indicators, and projects from the state's 47 rural and frontier counties. It's refreshing to hear of big data projects like these that boil patient health information down into usable and hopefully effective population health management tools.

Business administration costs, not physician salaries (as highlighted by the recent release of Medicare physician payment data), are the real cause of skyrocketing healthcare costs, according to a New York Times article. It points out that healthcare is staffed by some of the lowest and highest paid individuals in any industry, with the compensation of health insurance executives topping over $583,000, general physicians reaching $185,000, and EMTs reaching just over $27,000. Perhaps the most telling statement in the piece comes from Abeel A. Mangi, MD cardiothoracic surgeon at the Yale School of Medicine: "Most doctors want to do well by their patients. Other constituents, such as device manufacturers, pharmaceutical companies and even hospital administrators, may not necessarily have that perspective."

Physicians interested in the transparency of their payment data – Medicare or otherwise – may want to comment on the CMS Open Payments Program, which in September will publish payments that drug and device manufacturers have made to physicians. Those physicians interested in reviewing their open payment data must register with the CMS Enterprise Portal by June 1 for the opportunity to correct any  data discrepancies beginning in July. Physicians who have been less than pleased with the opaque nature of the Medicare physician payment data may want to go over this particular set of information with a fine-toothed comb, if only to equip themselves with explanations for their pharma and med device ties when the media come calling.

Scott Gottlieb, MD gives his two cents on the publication of open payment data: "Washington has little faith in American physicians, and sees a need and a license to regulate just about every aspect of medical practice, even trinkets doctors receive. There's a clear view that doctors can't be trusted to have any financial interactions with drug and device makers, no matter how small or simple these transactions. A free mug is as likely to influence a physician's judgment as a $50,000 consulting fee."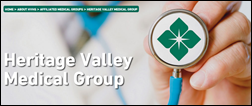 The National Committee for Quality Assurance recognizes Heritage Valley Medical Group (PA) physicians for their use of evidence-based measures in diabetes care. Ninety-three percent of the group's 125 employed physicians met the standards for NCQA's Diabetes Recognition Program. The group participated in the program after a community health needs assessment found that diabetes care was a top concern.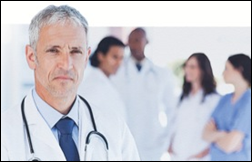 Oncologists list the pros and cons of moving from independent practice to hospital employment. The downsides seem to outweigh the benefits, with one physician venting that, "You don't make decisions anymore. If you are a physician and you want to buy a widget, you have to go and get permission. It requires an act of Congress." Loss of autonomy, "having a million different bosses," longer wait times for on-site lab results, and higher patient copays were also mentioned.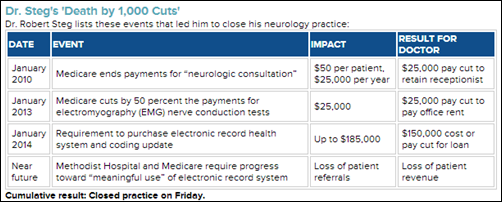 Solo neurologist Robert Steg, MD explains the reasons why he closed his solo neurology practice, citing the requirement to move to a cost-prohibitive EHR as the final straw. The "Near future" category in the chart above ties into his EHR concerns, since Steg's inability to purchase one would have prevented him from operating within the hospital's ACO, and gaining referrals from its network.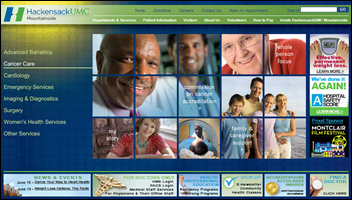 In additional ACO news, HackensackUMC Mountainside (NJ) announces the formation of Mountainside Medical Group, a network of physicians employed by the hospital. The rise in hospitals creating physician groups  (not to mention investing in urgent care and retail clinics) may seem counterintuitive, but actually plays into the business model of ACOs and their need for coordinated care between physician and hospital networks.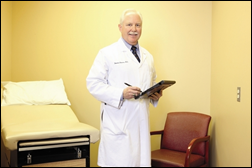 The local paper takes a deep dive into the world of physicians, EHRs, HIE, and Meaningful Use in Michigan, which in 2013 saw  48 percent of its office-based physicians on an EHR. Michigan's numbers are on par with the national average, according to the ONC. The state's physicians are likely similar to many others in that the plethora of EHR vendors, and implementation and maintenance costs,  have left many unsure of which way to turn in terms of achieving interoperability to drive HIE efforts.

Tenet Healthcare (TX) announces that it will double the number of its nationwide MedPost Urgent Care centers by the end of the year. Kyle Burtnett, senior vice president of Tenet's outpatient services, says the move is part of Tenet's broader strategy to grow its portfolio of outpatient facilities, as well as to expand into "faster-growing, less capital intensive, higher-margin businesses."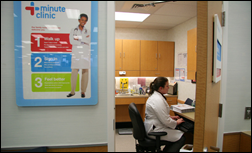 Even public health departments are getting in on the urgent care action. The Rhode Island Department of Public Health announces it will allow CVS to open MinuteClinics in seven of its pharmacies to provide more accessible and convenient care to consumers via a trusted brand name. MinuteClinic is the first retail clinic provider to achieve three consecutive accreditation awards from The Joint Commission. Primary care physicians have expressed their concern, however, commenting that the proposed clinics may erode their practices and further threaten an already beleaguered business model. The health department has incorporated those concerns into 22 stipulations the clinics must meet to set up shop. The guidelines also mandate that the clinics use the state's EHR.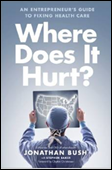 Athenahealth CEO Jonathan Bush releases his new book, "Where Does it Hurt? An Entrepreneur's Guide to Fixing Health Care," amidst continuing debate around the valuation of the company's stock. While the book has yet to hit the best seller lists, the company got a bit of an uplift recently from analyst Mohain Nadu, who explained that because of athena's cloud technology advantages, the company can introduce new services and technology much faster than a traditional software vendor. Perhaps Nadu was obliquely referring to Epic, which hedge fund manager and stock naysayer David Einhorn recently called out as one of athenahealth's biggest threats. It goes without saying that Epic is neither public nor based in the cloud, and for what's it worth trailed behind athenahealth in the 2013 Best in KLAS Overall Software Vendor award.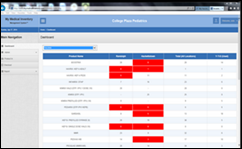 My Medical Inventory offers a new Web-based tool to help physicians better manage medical supply inventory. Julio Guerra, MD developed and tested the software in his practice, ultimately deciding to commercialize it based on positive feedback from his office staff.

GloStream introduces GloComplete, a revenue cycle and practice management service that incorporates the company's EHR and practice management solutions. The company already has 40 practices and 120 physicians using the new tool, and expects an overall growth of 30 percent by the end of the year.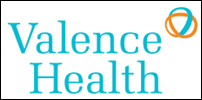 Valence Health launches the Valence Partner Network, a group of health services firms that will offer integrated solutions to Valence Health clients, including more than 30,000 physicians. Founding network companies include Aldera, Dubraski & Associates, Emmi Solutions, Limeade, Navitus, and Warbird Consulting Partners.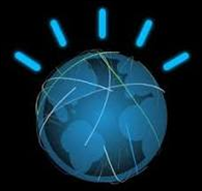 IBM announces that Modernizing Medicine is one of three partner companies that will release "Made with Watson" apps this year. The company offers specialty EMRs and is developing an iPad app that will guide physicians through a patient encounter to provide evidence-based medicine suggestions.