Top News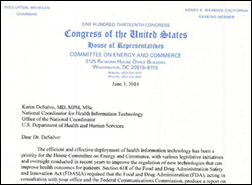 Just a few days after National Coordinator for Health IT Karen DeSalvo, MD announced an ONC reorganization, GOP leaders send her a letter questioning whether ONC has the statutory authority to regulate healthcare IT products, and if it has authority to receive user fees under its budget request. The authors refer to a recent report that suggests ONC may create a Health IT Safety Center for the purposes of regulating software and other health IT products, and mentions that ONC's 2014 budget "suggests it will impose a new user fee on health IT vendors and developers to support ONC's certification and standardization activities." Like many in the industry, the authors want to better understand the way in which ONC is moving from coordinating and promoting health IT to regulating it, and what role the office will play in developing requirements for health IT and EHR certification.
The Medicare Fraud Strike Force strikes again. After charging 90 people last month for $260 million in false billing, the force pulls in a slightly smaller fish when it indicts Los Angeles-based physician Robert A. Glazer, MD for a $33 million fraud scheme. Glazer allegedly billed Medicare for services that weren't medically necessary, and were at times not even provided to the intended beneficiaries, among other wrongdoings.
---
Announcements and Implementations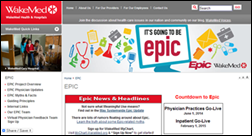 WakeMed Physician Practices (NC) goes live on Epic as part of a $100 million rollout across the WakeMed Health & Hospitals system. WakeMed joins nearby Duke Health and UNC Health Care systems on the Epic platform. Inpatient rollout is scheduled for Feb. 1, 2015.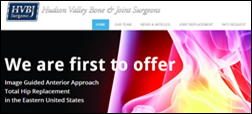 Hudson Valley Bone and Joint Surgeons (NY) selects the SRS EHR to replace its current document management solution. HVBJS staff note they chose the new EHR for its Stage 2 Meaningful Use certification, ease of use, and ICD-10 compliance.

Battleboro Memorial Hospital Physician Group (VT) launches MyHealthPortal from Medfusion to give patients access to select portions of their health records online.
---
Acquisitions, Funding, Business, and Stock

MTS Healthcare partners with The Shams Group to offer an iPad patient-intake kiosk that integrates with NextGen Healthcare's ambulatory EHR. In other NextGen news, the company claims it has achieved "vendor agnostic interoperability" because one of its client practices has exchanged C-CDA Summary of Care messages with Tucson Medical Center's Epic system using the Surescripts network.

Greenway Health introduces Entrada's mobile dictation solution to its PrimeSUITE EHR online marketplace of partners. The marketplace offers value-added solutions for Greenway technologies from 70 vendors.
---
Government and Politics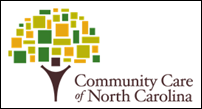 The Arkansas Dept. of Human Services taps Community Care of North Carolina to help Arkansas providers apply for status as Medicaid patient-centered medical homes. Physicians who enroll will receive care coordination support and assistance in quality improvement and population health management from CCNC, with the ultimate goal of establishing a Community Care of Arkansas governed by physicians and healthcare organizations in that state.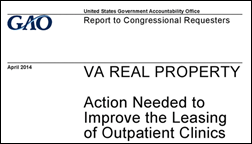 It seems the VA just can't catch a break when it comes to bad press. A local paper sheds light on delays and rising costs associated with 41 construction projects for new VA outpatient facilities. Like its wait times, these construction delays are nothing new: the Government Accountability Office revealed earlier this year that only two of the 41 projects were on time, with average delays running to 3.3 years and costs increasing from $153.4 million to $172.2 million. It's sadly ironic (or maybe just plain sad) that veterans are waiting far too long for appointments while the VA is wasting time and taxpayer money attempting unsuccessfully to open new facilities. Perhaps new leadership will help turn things around. The Wall Street Journal reports that the White House is considering Cleveland Clinic CEO Toby Cosgrove, MD as the next VA secretary.

A 20-year analysis of campaign contributions finds that physicians, who have become increasingly generous, are leaning more towards Democratic causes. Republicans did, however, benefit from increased physician donations from 2009-10, when the Affordable Care Act was rolled out. Authors of the analysis consider the findings "remarkable" because they defy the historical image of physicians as a "conservative, right-leaning bunch … ."
---
Innovation and Research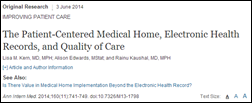 A new study finds that the quality outcomes of physicians participating in patient-centered medical homes improve "significantly more over time" than those physicians that are not affiliated with a PCMH. The study compared PCMH physicians who use EHRs with non-PCMH physicians who document on paper or in an EHR. PCMH physicians were found to have quality improvements in four of the 10 measures studied, including eye examinations, hemoglobin A1c testing for patients with diabetes, chlamydia screening, and colorectal cancer screening. Researchers found that the odds of overall quality improvement in the PCMH group were 6-percent higher than in the EHR group and 7-percent higher than in the paper group.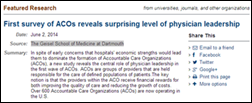 A national survey of ACOs finds that half identify as being led by physicians, while a third identify with being led by physicians and hospitals. Results also show that physician-led ACOs are more likely to have advanced IT capabilities and comprehensive care management programs, and are more likely to measure and report quality and financial performance at the clinician level. It just goes to show that while a hospital's economic strength is important, the success of an ACO rests largely on the shoulders of physician leaders. 
---
People
Healthgrades names Jeff Surges (Merge Healthcare) to the newly created role of president.
---
Other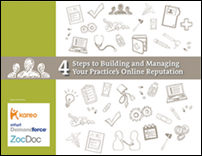 Love 'em or hate 'em, online physician reviews such as those tracked by Healthgrades show no sign of going the way of Google Health. Kareo releases a social media and reputation management guide for practices that have limited resources to develop an online presence.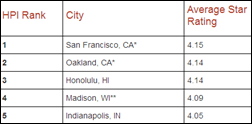 Speaking of online reviews, Vanguard Communications releases the Happy Patient Index, a ranking of 100 U.S. cities according to patient ratings of physicians, group medical practices, clinics, and hospitals found on Google+ and Yelp. The top three happiest cities are San Francisco/Oakland, Honolulu, and Madison, while the unhappiest are Laredo, Toledo, and Bakersfield. It would be interesting to compare the utilization of healthcare IT in the happiest cities with that of the unhappiest to see if any correlation exists.
---
5 Questions with Kate McIntosh, MD
Kate McIntosh, MD is a pediatrician and managing partner at Rainbow Pediatrics (VT), and medical director of regional extension center Vermont Information Technology Leaders, which is working to implement the state's HIE.

VITL recently conducted a statewide survey gauging patient views about EHRs and HIE. Why did it feel the need to conduct the survey, and does it plan to conduct another?
VITL was interested in the comfort of Vermont residents with the electronic storage of health information, and also their concerns about security and privacy of health information. We were also interested in how much Vermont residents understand about the new consent policy that gives providers permission to access patient information within the state HIE.
The public opinion survey was designed to create a baseline for an upcoming awareness campaign to provide the general public and healthcare providers more information about the benefits of the HIE, and the services available to the providers to access patient information on the exchange. VITL does plan to conduct this survey again as the awareness campaign unfolds to track how attitudes and awareness about health information systems develop within the state of Vermont.
What types of patients were surveyed?
This was a random phone-number survey of both land lines and cell phones within the state of Vermont. We had a very strong participation rate. Vermont has very high community participation, and the researchers were surprised and impressed by the willingness of participants to take part in a very detailed survey. Participants were 49-percent male and 51-percent female. Twenty-seven percent were ages 18-34, 24 percent were ages 35-49, 29 percent were ages 50-64, and 20 percent were 65 or older. Twenty-five percent came from Chittenden County, 10 percent from Rutland County, and the rest were spread throughout the state. Additional demographics included marital status, household size, number of individuals in the household under 17, and level of education. These stats were then weighted to reflect the actual demographics of the state of Vermont.
Do you think patients in Vermont have a higher level of awareness when it comes to EHRs and HIE than patients in other states? Why might this be?
Vermont residents are a well-educated and motivated patient population. They have a high level of awareness regarding electronic health information. This awareness seems to have come primarily from Vermont physicians who are implementing EHRs. I do not have national statistics, but this awareness seems to be on par with a recent survey conducted in Maine.
How far along is VITL in creating the HIE? Will these survey results impact the way in which it moves forward?
Implementing a HIE is an ongoing and ever-changing process of adding more interface connections from more providers and receivers of data, and more connections to other HIEs. VITL is bringing a provider portal online so that providers (with appropriate patient consent) can have direct access to the data of their patients within the HIE. We are actively building interfaces to increase the amount of data flowing through the HIE, and are focusing our efforts on reaching out to data-starved parts of our provider population including home health and hospice agencies, behavioral health providers, skilled nursing facilities, and long-term care facilities.
The survey gives VITL unique insight into the general public's mindset as we roll out the provider portal. This understanding will help us to better inform healthcare decisions by providing information at the point of care. Both the general public and providers should benefit from improved quality of care delivery, reduced costs, and enhanced patient safety and outcomes.
How is VITL funded? Have you created a strategy for financial sustainability over the next three to five years?
VITL is currently funded through state and federal grants, and we are actively working to transition to more sustainable funding sources. VITL is implementing services that will be provided on a subscription basis, including a data gateway for Vermont's accountable care organizations, and a secure email and HISP based on the Direct Project standards. Other fee-for-service offerings are in early development phases.