Top News
Former National Coordinator Farzad Mostashari, MD, MSc announces the launch of Aledade, a new company that will help independent physicians form ACOs by offering services that include on-site clinical support, EHR optimization, implementation of an integrated data and technology platform, quality reporting, provider benchmarking, real-time ADT notification, identification of high-opportunity patients, and patient outreach. The company, which is not tied to any hospital or health plan, says it has initiated partnerships in four targeted areas – Delaware, Arkansas, Maryland, and New York City – and will use that experience to create a replicable model that will allow it to expand rapidly over the next year. Mostashari will serve as Aledade's CEO. His co-founders are EVP Mat Kendall, formerly ONC's Director of the Office of Provider Adoption Support, and CTO Edwin Miller, formerly VP of product management for CareCloud. If Mostashari and his team bring half the enthusiasm to this endeavor that he did to his efforts at ONC (not to mention his connections), than this company just might survive its start up growing pains.
Several media outlets report that Nuance may be discussing sale of the company with Samsung, with shares rising nearly 10 percent earlier this week on the rumor. Mr. H suggests that the recent addition of two of Carl Icahn's people on Nuance's board may have heightened the money-losing company's interest in finding a buyer. Samsung already uses Nuance's voice technology in its devices (as does its arch nemesis Apple, for which Nuance provides Siri), but would probably have little interest in Nuance's considerable healthcare businesses that include Dragon speech recognition, transcription, clinical documentation and coding, and image sharing. It will be interesting to see whether cash-rich Apple will be threatened enough by the rumored Samsung interest to make overtures of its own for the $6 billion market cap Nuance or perhaps part of it if Nuance is willing to break it up.
---
HIStalk Practice Announcements and Requests

It's time to say goodbye to Inga, who has moved on to greener pastures after seven years of contributing to HIStalk Practice and HIStalk. She finished working on the sites in April and has finally tied up her last loose ends. Rumors that she is launching a healthcare shoe division of Christian Louboutin may or may not be unfounded, but we will wish her well in any case. Jennifer Dennard took over writing HIStalk Practice several weeks ago, while Lorre is happily handling the non-writing HIStalk chores. In helping HIStalk Practice turn over a new leaf, Jennifer has tweaked the site a bit for easier reading, put a spotlight on upcoming HIStalk webinars, and launched a new "5 Questions with …" interview series. If you know of an independent or small practice physician with a compelling healthcare IT experience to share, feel free to send her an email with all the details.
---
Upcoming Webinars
June 24 (Tuesday) noon ET. Innovations in Radiology Workflow Through Cloud-Based Speech Recognition. Sponsored by nVoq. Presenters: David Cohen, MD, medical director, Teleradiology Specialists; Chad Hiner, RN, MS, director of healthcare industry solutions, nVoq. Radiologists – teleradiologists in particular – must navigate multiple complex RIS and PACS applications while maintaining high throughput. Dr. Cohen will describe how his practice is using voice-enabled workflow to improve provider efficiency, productivity, and satisfaction and how the technology will impact evolving telehealth specialties such as telecardiology.
June 24 (Tuesday) 2:00 p.m. ET. Share the Road: Driving EHR Contracts to Good Compromises. Sponsored by HIStalk. Presenter: Steve Blumenthal, business and corporate law attorney, Bone McAllester Norton PLLC of Nashville, TN. We think of EHR contracts like buying a car. The metaphor has is shortcomings, but at least make sure your contract isn't equivalent to buying four wheels, an engine, and a frame that don't work together. Steve will describe key EHR contract provisions in plain English from the viewpoint of both the vendor and customer.
June 25 (Wednesday) 2:00 p.m. ET. Cloud Is Not (Always) The Answer. Sponsored by Logicworks. Presenter: Jason Deck, VP of strategic development, Logicworks. No healthcare organization needs a cloud – they need compliant, highly available solutions that help them deploy and grow key applications. This webinar will explain why public clouds, private clouds, and bare metal infrastructure are all good options, just for different circumstances. We'll review the best practices we've learned from building infrastructure for clinical applications, HIEs, HIXs, and analytics platforms. We will also review the benefit of DevOps in improving reliability and security.
June 26 (Thursday) 1:00 p.m. ET. The Role of Identity Management in Protecting Patient Health Information. Sponsored by Caradigm. Presenter: Mac McMillan, FHIMSS, CISM, co-founder and CEO of CynergisTek. Identity and access management challenges will increase as environments become more complex, users create and manage larger amounts of sensitive information, and providers become more mobile. Learn how an identity and access management program can support regulatory compliance, aid in conducting audits and investigations, and help meet user workflow requirements.
July 2 (Wednesday) noon ET. The CIO's Role in Consumer Health. Sponsored by HIStalk. Presenter: David Chou, CIO, University Of Mississippi Medical Center. We are moving towards an era where the consumer is searching for value. Healthcare is finally catching up with other industries and this is forcing healthcare providers and health plans to rethink their "business model" as consumers test new decision-making skills and demand higher quality and better value. Technology can provide value in this space as we move towards digital healthcare.
---
Acquisitions, Funding, Business, and Stock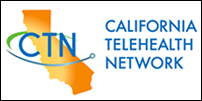 The California Telehealth Network selects HealthFusion's Meditouch EHR as its first EHR partner, meaning the cloud-based solution is available to CTN members at a discount and with "special benefits." CTN is working to connect over 800 California healthcare providers in underserved areas to a state- and nation-wide broadband network dedicated to healthcare.

The Doctors Company, a physician-owned medical malpractice insurer, acquires the Medical Advantage Group, a healthcare consulting and management firm. The Doctors Company owned a large stake in MAG prior to the acquisition.

The relatively new Health Analytics and Informatics Division of Anthelio Healthcare Solutions offers the CodeGenie physician documentation feedback solution, which enables coders, clinical documentation specialists and compliance auditors to provide real-time feedback to physicians in order to meet coding specificity requirements.

VivaCare upgrades The Health Library, a suite of patient education materials that includes patient handouts, videos, and other resources that can be printed, viewed on a mobile device or displayed on a practice's website. New additions include better search functionality, a more mobile-friendly design, and expanded content offerings. 
---
Announcements and Implementations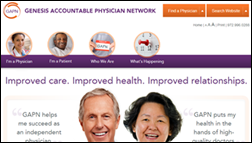 Genesis Physicians Group (TX) and Healthways form GenHealth, an organization that will support independent physicians with population health management tools. GPG affiliate Genesis Accountable Physician Network has signed on as GenHealth's first clinically integrated physician network customer to better enable its ACO efforts.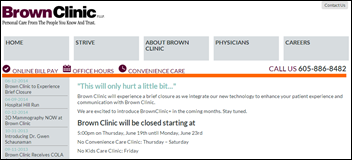 The Brown Clinic (SD) tells patients, "This will only hurt a little bit," when it announces a planned closure to accommodate the implementation of its new EHR, BrownClinic+.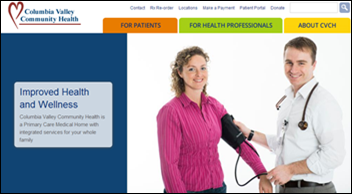 Community Valley Community Health (WA) implements Access Passport Web-based forms in its clinical and HR settings. A CVCH representative notes that, "This process ensures we have the signed paperwork for each patient, which protects them and reduces our liability risk. Plus, there's no paper to deal with."
---
Government and Politics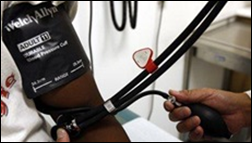 In preparation for the National ACO Summit taking place this week in Washington, D.C., the Brookings Institution highlights the top eight Medicare ACO challenges, two of which include supporting clinical transformation, and developing bonus payments and other incentives to participate. Farzad is scheduled to keynote on day two of the Summit, which seems to have a more interesting lineup of speakers than day one. If you're attending and would like to share your impressions with fellow HIStalk Practice readers, drop me a note.
The local paper highlights the "people problem" the state of Virginia (and likely many other states) and its healthcare stakeholders have encountered as HIEs go live across the region, including an unwillingness on the part of competing hospitals and payers to share information, as well as the cannibalizing efforts of smaller exchanges. Proponents have high hopes for the new HeaLiXVA HIE, which, as a physician-led effort, "will be free of the bias that comes with a health system-led or insurer-led exchange."
---
Innovation and Research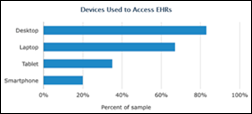 An ongoing survey finds that there is continuing clinician demand for mobile access to patient data in the ambulatory setting. While the survey sample at this point is only 400 physicians, it is interesting to note that the majority of them access their EHRs via desktop, followed to a lesser degree by laptops, and to a much lesser degree by tablets. The findings certainly reflect the wants and needs of my family's physicians. Those new to laptops seem to enjoy the ease of access over desktops, while those that carry laptops would love to upgrade to tablets.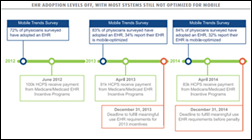 A separate study with a sample size more than three times as large finds that demand for mobile access to EHRs has leveled off, most likely due to a push to implement EHRs (done via desktops) in time to meet 2013 Meaningful Use deadlines. Perhaps the following finding serves as the common denominator between the two analyses: Most respondents viewed traditional EHRs as time-consuming interferences and longed for more user-friendly and efficient options.
---
People
Practice Fusion names Robert Park (Chegg) CFO.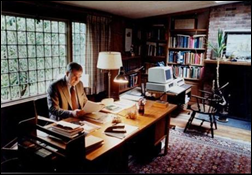 Arnold Relman, MD passes away at 91. Known for his outspokenness regarding the dangers of for-profit medicine, Relman led the New England Journal of Medicine for 13 years, and was professor emeritus of medicine and social medicine at Harvard Medical School.
Mary Milroy, MD, the new president of the South Dakota State Medical Association says EHRs add an hour of busy work to a doctor's day, adding that, "The systems we use are cumbersome, designed by IT people and not medical people. The huge problem is they don't communicate." Her clinic uses NextGen, another practice she covers uses Epic, and the local hospitals use Epic and Meditech. She says none of them talk to each other.
---
Other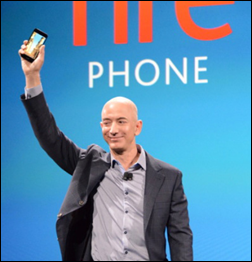 Tech-savvy physicians may be excited to learn that Amazon has unveiled its first mobile phone, complete with 3-D graphics (no glasses required). Amazon CEO Jeff Bezos seems the most likely successor to the reign of Steve Jobs over product announcement hoopla.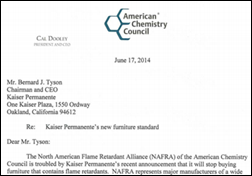 The North American Flame Retardant Alliance issues a letter to Kaiser Permanente urging it to rethink its decision to stop buying furniture treated with chemical flame retardants linked to cancer and brain damage in children. The letter-writing campaign comes as no surprise, given that Kaiser spends $30 million a year on furniture, and has 600 medical office buildings and 38 hospitals in eight states. The NAFRA contends that, "Their use has helped the healthcare industry achieve a low incidence of fire-related deaths and injuries, despite the fact that an estimated 6,240 fires (about 17 fires per day) occur in healthcare facilities annually."
---
Sponsor Updates
RelayHealth announces that RelayHealth Financial has bolstered RelayAssurance Plus 5.0, providing transparency into the claims lifecycle.
McKesson launches Benchmark Analytics service to provide custom reports and consultation to optimize performance.
Kareo and Falcon EHR partner to provide cloud solutions to nephrology practices.
---
Contacts
Mr. H, Lorre, Jennifer, Dr. Jayne, Dr. Gregg, Lt. Dan, Dr. Travis
More news: HIStalk, HIStalk Connect.
Get HIStalk Practice  updates.
Contact us online.