Top News

White House officials expect President Obama to nominate former Proctor & Gamble CEO Bob McDonald to take over as the secretary of the VA. McDonald graduated from West Point and then spent five years in the Army before moving into the corporate world. He was ousted from Proctor & Gamble last year, after a 33-year career, following a string of disappointing quarters that drove stock prices down and eventually attracted activist investor pressure.

Obama's choice comes just a few days after Deputy Chief of Staff Rob Nabors presented his review of the VA to the president. As one might expect, the review highlights personnel issues, lack of accountability and responsiveness, and unrealistic scheduling standards, to name just a few of the agency's systemic problems. Nabors also notes that the VA's VistA system is "cumbersome and outdated," but is state of the art when it comes to capturing patient documentation to form an integrated health record. He says the real problem with scheduling patients is a lack of clinicians, support personnel, and space, not deficiencies in IT systems. He does not, however, provide specific directives as to how the VA should address these problems. Perhaps the administration is waiting for new leadership to take the reigns before making suggestions.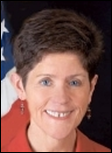 Speaking of new leadership, it is likely that Bob McDonald will work with Carolyn Clancy, MD, recently appointed interim undersecretary for health at the VA. Prior to joining the VA almost a year ago, Clancy served as a longtime director of AHRQ. It will be interesting to see how the two, who come from decidedly different professional backgrounds, will work together in an attempt to rectify the problems pointed out by Nabors.
---
HIStalk Practice Announcements and Requests

Don't forget to register for the next HIStalk webinar: The CIO's Role in Consumer Health, taking place July 2 (Wednesday) at noon ET. Presenter David Chou, CIO, University Of Mississippi Medical Center, will cover where the industry is headed, how to leverage existing technology used by other verticals, and give the CIO's perspective on shifting towards digital healthcare. I'm hoping he'll also touch on the impact consumer/digital health is having on physician practices.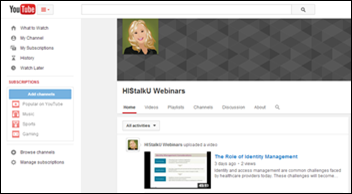 Webinar guru Lorre has made HIStalk webinars available on YouTube, which you'll be pleased to learn requires no signup to start watching.
Watching: Sign Painters, a documentary that highlights the almost-lost art of hand-painted signs. I had the opportunity to attend a standing-room-only screening recently, followed by a Q&A with director Faythe Levine, and neither disappointed. The film is still making the festival circuit, with stops coming up in Australia, Canada, New York, and Tennessee.
---
Acquisitions, Funding, Business, and Stock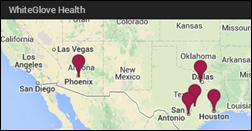 Mobile healthcare provider WhiteGlove Health (TX) acquires GlenRidge Healthcare Solutions, a consulting firm that specializes in provider, payer, and employer solutions. Company representatives hope the acquisition will help manage costs, and improve access to care and the quality of existing networks.

Allscripts reports 23 new Sunrise commitments at client facilities or at new client organizations internationally and in the United States since January 2013. These include commitments to Sunrise Ambulatory Care, Sunrise Emergency Care, and Sunrise Surgical Care. The news of the company's platform expansion comes on the heels of its decision to partner with CSC and HP to bid on the $11 billion DoD EHR contract. Shoring up confidence in a prospective buyer can't hurt, but I wonder if winning the bid (which Mr. H points out as highly unlikely) might actually do the business more harm than good. Companies brought in for contract government IT work haven't had the best track record lately.

Cloud services provider SurDoc launches a medical data archival and retrieval service (SMAR) that enables providers to archive; back-up; and retrieve and send medical records, patient data, and billing information from multiple devices. SMAR also offers consumers the ability to upload and manage a secure personal health record.
CareCloud borrows $25.5 million from a growth capital lender as it eyes future expansion and product development. The infusion of cash is no doubt needed, as the company signed a record number of medical groups to its cloud-based platform in the first quarter of this year.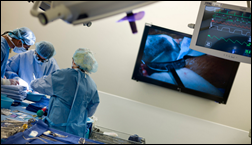 Imprivata raises $66 million in its recent IPO, slightly shy of the $75 million it anticipated. Fortune reports the company went public to secure access to capital markets and increase its liquidity in order to better take on competitors like Caradigm.
---
Announcements and Implementations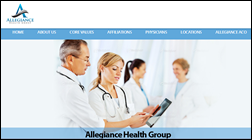 Allegiance ACO, part of the Allegiance Health Group (NJ and PA), implements Healthec's ACO-in-a-Box solution to support its coordinated care efforts for more than 5,200 care beneficiaries within the Medicare Shared Savings Program. The "box" includes data analytics and reporting,  care coordination, and practice transformation tools; clinical nursing support to manage population health and chronic patients; and clinical intervention to high-risk patients.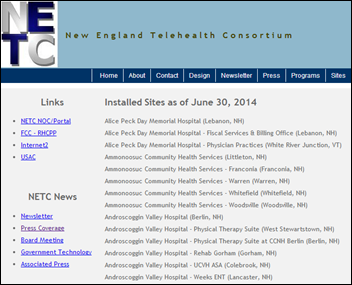 The New England TeleHealth Consortium announces it has made 250 connections amongst network providers in Maine, New Hampshire, and Vermont. Healthcare facilities linked to NETC's network can instantly share information by delivering telemedicine capabilities. NETC was formed in 2007 via a $24.6 million FCC Rural Health Care Pilot Program award – the largest ever – to bring telemedicine to the region.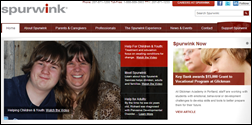 Non-profit behavioral health and special education agency Spurwink (ME) receives a $70,000 health information technology grant as part of the Healthinfonet Behavioral Health Information Technology Reimbursement initiative funded by the State of Maine. Spurwink will use the money to improve its medical records systems and incorporate data into the state's HealthInfoNet HIE.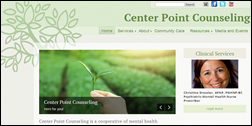 In other behavioral health IT news, Center Point Counseling (WI) selects the CX360 EHR from Core Solutions to assist it in meeting Stage 2 Meaningful Use objectives. CPC EHR Project Manager Megan Tully noted the EHR's user interface was an "important factor for driving clinician adoption of the system."
---
Government and Politics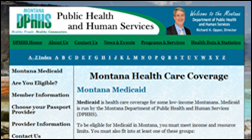 The State of Montana just can't catch a break. After the state DHHS comes clean about a HIPAA breach affecting 1.3 million people, officials now report that Xerox is in breach of contract in developing a new computer program to run complicated Montana Medicaid payments. The state says it has lost nearly $13 million as a result of the delays, and will consider ending the contract, signed in 2012, if the problems aren't fixed by mid-July.
HHS announces it will allow nearly every consumer who signed up for health insurance coverage on the federal exchange to be automatically re-enrolled if they don't return to the site to switch plans. People who don't take proactive steps to come back to the site and report changes in their income will also have their tax credits renewed.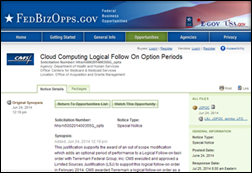 In other Healthcare.gov news, HHS yet again extends its contract with Verizon's Terremark subsidiary as host for the website and related data services hub, despite the fact that it expects to transition to Hewlett-Packard for those same services by the end of August. It is somewhat nauseating to know that the federal government has such low expectations of success that it is willing to spend up to $45 million on a "just-in-case" back-up plan.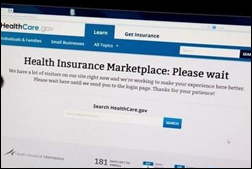 In another questionable spending move, the state of Michigan awards computer contracts worth nearly $90 million to CGI Technologies and Solutions – the same Canadian company behind the initial, dismal rollout of Healthcare.gov. I did a double take when I read that state officials, despite knowing of CGI's track record with federal health IT implementations, believe it to be "a leader in the field, … recognized for excellence in … implementation, particularly in a government setting." US-based Accenture actually offered the lowest bid, but Michigan decision-makers decided CGI's higher price would be a better value.
---
Research and Innovation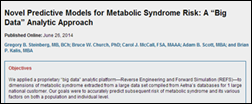 New research demonstrates that analysis of patient records using data analytics can predict future risk of metabolic syndrome, a condition that affects more than a third of the U.S. population and can lead to chronic heart disease, stroke, and diabetes. Data was analyzed from nearly 37,000 patients, and included medical claims records, demographics, pharmacy claims, lab tests, and biometric screening results over a two-year period. It's worth noting the research was sponsored by Aetna and data analytics developer GNS Healthcare.
---
People
The National Association of Professional Women names Millville Medical Center (NJ) Practice Manager Sherry Sherman, RN as a 2014 Professional Woman of the Year.

Updox names Michael Harris (Ecommerce) to lead the company's innovation and technology teams.
ONC's Director of the Office of Consumer eHealth Lygeia Ricciardi announces on Twitter that she has resigned effective July 25.
---
Other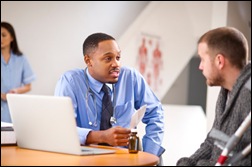 Family practice physician James Legan, MD shares his Updox patient portal experience with U.S. News and World Report, offering tips for successful portal adoption:
Help patients create a portal account at their visits and print out instructions on how to use the portal.
Send patients their visit summary right away so they have it in their account before they leave the office and can message you back from it.
Advise staff to create portals for themselves so they know what patients are experiencing.
"Don't let your nurse wimp out [on signing up for the portal]," Legan adds. "Push her, and within one to two months of upfront, labor-intensive training, the improved efficiency will become so apparent that she will become the portal creator queen."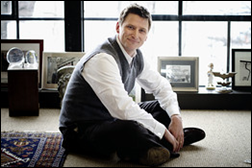 Athenahealth CEO Jonathan Bush shares tips on how to ask for (and handle coming back from) a sabbatical: "Paying someone to take 10 weeks off to realize that they [want to] quit is worth it, especially if they're an A-minus, B-plus player who isn't going to get fired for performance. You get a B-plus out so you can put an A-plus in."
---
Sponsor Updates
ESD shares how to implement automated testing.
Billian's HealthDATA adds physician referral data to its flagship Portal database product.
FirstHealth of the Carolinas launches its patient portal from RelayHealth.
---
Contacts
Mr. H, Lorre, Jennifer, Dr. Jayne, Dr. Gregg, Lt. Dan, Dr. Travis
More news: HIStalk, HIStalk Connect.
Get HIStalk Practice  updates.
Contact us online.