Top News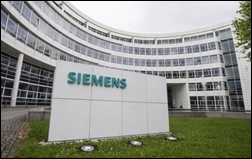 Siemens AG is reportedly considering the sale of its healthcare IT unit (potentially worth over $1.4 billion) to focus on its industrial and energy businesses. The company is already spinning off its hearing-aids unit in an effort to give its healthcare businesses "operational independence," and considered selling its microbiology unit earlier this year. If the report is true, it will be an odd move given that healthcare was one of the company's most profitable business in 2013. Other than the recent DoD EHR Update from Dim-Sum, I have not heard of anything concrete regarding a likely Siemens bid for the DoD EHR contract. Perhaps it is staying out of the fray for this very reason. A HIStalk Practice reader familiar with these types of M&A scenarios notes that this rumbling is "sort of like rumors of  McKesson selling off its IT division. They both keep losing customers, so who would want to jump on that mess? But, Siemens probably feels it's best to sell now before it is worth less."
---
HIStalk Practice Announcements and Requests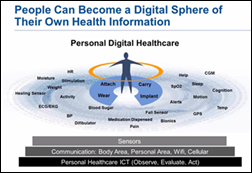 I had the opportunity to tune in to "The CIO's Role in Consumer Health," the recent HIStalk webinar featuring David Chou, CIO at University of Mississippi Medical Center. Chou touched on a number of ways consumer health is forcing the hand of hospital executives, as they try to keep up with the demands of an increasingly tech-savvy patient population. Chou also gave his two cents on the way in which consumer health is impacting physician practices: "It is making physician practices act more as business entities, rather than just providers. How can you attract new clients? How can you use technology to create a better patient experience? It is changing dramatically from the traditional practice of medicine to more of a business that provides the best care possible." Be among the first to know about future HIStalk webinars by signing up for HIStalk Practice updates.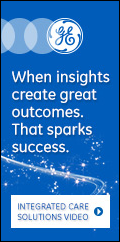 Welcome to new HIStalk Practice and HIStalk Platinum Sponsor GE Healthcare. The company offers healthcare IT products in enterprise imaging (Centricity RIS, PACS, Clinical Archive, and Centricity 360 collaboration), care delivery management (Centricity EMR and PM, Perioperative Manager, Perioperative Anesthesia, Perinatal), population health management solutions, revenue cycle management, financial risk management, EDI and claims processing, contract modeling and management, activity-based costing, and utilization management. Thanks to GE Healthcare for supporting HIStalk Practice and HIStalk.
---
Announcements and Implementations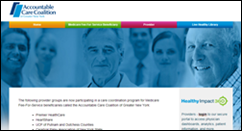 The Accountable Care Coalition of Greater New York and predictive analytics firm AllazoHealth are awarded a $91,914 grant from the 2014 Pilot Health Tech NYC program to launch a medication-adherence pilot program. ACCGNY's historical claims data will be run through the AllazoEngine analytics tool to generate medication adherence predictions for each patient's medications and prioritize patients for different interventions. The pilot will focus on Medicare-eligible beneficiaries with heart failure, diabetes, epilepsy, hypertension, and/or hyperlipidemia. (On a side note, ACCGNY uses population health management technology from Lightbeam Health Solutions. Company CEO (and sommelier) Pat Cline was featured in a recent interview with Mr. H.)

Group Health Cooperative (WA) and Providence Health Care (WA) name their jointly owned ACO CareUnity. Formed in 2012, the ACO includes providers from Group Health Physicians, Providence Medical Group, and Columbia Medical Associates. It is the largest in the region, serving 50,000 patients through access to 700 physicians and advanced practitioners.
---
Acquisitions, Funding, Business, and Stock
Orion Health is considering going public with an IPO on the New Zealand Stock Exchange, with an unnamed source suggesting a value of around $440 million US. 
Milwaukee Health Services (WI) receives a $190,000 city loan to upgrade its GE Healthcare EHR to earn Meaningful Use incentives. The community health center spent $3.1 million on its previous Pearl EHR from Atlanta-based Business Computer Applications, Inc., which it sued in a dispute over being locked out of its system over unpaid invoices. BCA was acquired in February 2014 by government contractor Acentia.
---
Government and Politics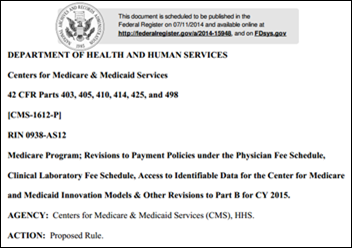 Politico provides highlights of and industry reaction to the recently released proposed physician fee schedule for 2015. The tide of billable telemedicine codes seem to ebb and flow (much like corresponding state licensure), with CMS proposing seven new ones but doing away with others. Most notable is the proposal that providers who bill for Medicare's new complex care management services must use an EHR certified in 2014 or other HIE platform that includes a care plan accessible by all providers within the practice. Providers were no doubt delighted to receive the 687-page proposed rule at 4:15 p.m on July 3. I'm hoping consummate document reader Dr. Jayne will provide the HIStalk audience with her take on the proposed changes. Comments on the rule are due September 2.
---
Research and Innovation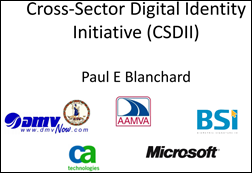 Patients within the Inova healthcare system (VA) are nearing the end of an identity management pilot that will enable them to reconfigure their access to EHRs using a combination of verified credentials. Funded by the National Strategy for Trusted Identities in Cyberspace, the Cross Sector Digital Identity Initiative aims to bring together data from online services such as Microsoft, Google, LinkedIn, and Facebook; information from state motor vehicle departments; and commercial databases; and validate user identity using voice matching. The next use case for the CSDII identity management pilot will involve outside providers who need access to patient records.
The local paper highlights the progress various healthcare institutions have made with secure messaging. On average, 40 percent of both physicians and hospitals report sending and receiving secure messaging, due of course in large part to Meaningful Use requirements for EHRs. Kaiser Permanente saw 8.2 million messages circulate in 2013, and reports an average annual increase of 20 percent. The only hindrance seems to be reimbursement for time spent in front of the computer (or mobile device). Perhaps an increase in patient satisfaction scores directly tied to secure messaging and corresponding recognition (financial or otherwise) from government agencies should be a focal point as more doctors move forward with the technology.
---
People
Urgent care EMR vendor DocuTAP hires Bryan Koch (Greenway Health) as EVP of revenue cycle management.
---
Other

The National Committee for Quality Assurance seeks input on standards for a new program to evaluate ambulatory care clinics that provide patient-centered care and work to reduce fragmentation by forming virtual neighborhoods with medical homes. The Patient-Centered Connected Care program will assess entities that provide care in nontraditional settings such as telemedicine providers, urgent care clinics, retail clinics, and worksite clinics. Many of the proposed standards line up with Stage 2 Meaningful Use requirements. The public comment period ends August 6.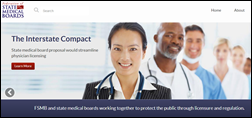 The Federation of State Medical Boards issues a telemedicine-focused model state policy that would make it easier for doctors to obtain licenses in multiple states. Expedited licensure would be available for certified specialists with no history of disciplinary problems. The patient's location at the time of the encounter would determine which state's medical regulations would apply. (FSMB subject matter Alexis Gilroy, JD mentioned this change when Mr. H interviewed her in May.)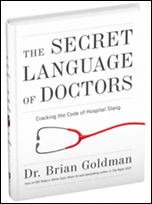 Thanks to @ZDoggMD for tweeting about another book to put on my summer reading list. "The Secret Language of Doctors," by Brian Goldman, MD promises to tell readers "what it means for someone to suffer from incarceritis, what doctors mean when they block and turf, what various codes mean, and why you never want to suffer a horrendoma." I'm especially interested in learning about the "clandestine phrases doctors use to describe patients, situations, and even colleagues they detest."
---
Contacts
Mr. H, Lorre, Jennifer, Dr. Jayne, Dr. Gregg, Lt. Dan, Dr. Travis
More news: HIStalk, HIStalk Connect.
Get HIStalk Practice  updates.
Contact us online.