Top News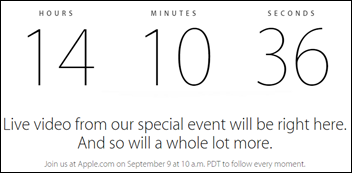 Apple plans to announce its new phones, operating system, and possibly the rumored iWatch today at 10 a.m. PDT. Gadget lovers can catch a livestream of the event here. For those that haven't kept up with what to expect, Dr. Travis at HIStalk Connect has written a few posts outlining the company's likely moves and their implications for healthcare:
---
HIStalk Practice Announcements and Requests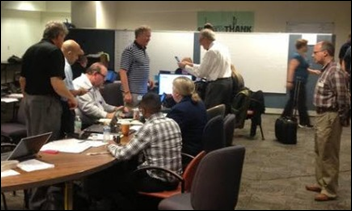 There's still time to register for this Thursday's 1 p.m. ET webinar on Electronic Health Record Divorce Rates on the Rise – the Four Factors that Predict Long-term Success. Presented by The Breakaway Group, A Xerox Company, the presentation will cover the findings of research published in "Beyond Implementation: A Prescription for Lasting EMR Adoption." Registrants get a free electronic or paper copy of the book. I'm looking forward to hearing from presenter and Flagler Hospital CIO Bill Rieger, who led his team last year through an implementation of Allscripts SCM, ED, lab, radiology, HIM, registration, scheduling, billing, pharmacy, medication administration, and CPOE.

There's still plenty of time for HIStalk sponsors to be a part of our annual MGMA "Must-See Exhibitors Guide." Send me your company name, logo, booth number, and a brief description of services by September 30 to ensure a spot in the digital guide. I'll also include contact information for companies not exhibiting but looking to schedule one-on-one meetings. (If you're a fan of social networking like me, you'll want to check out 5 Ways to Use Social Media at #MGMA14. I'm already looking forward to stopping by Cerner's Tweet Street.)
---
Acquisitions, Funding, Business, and Stock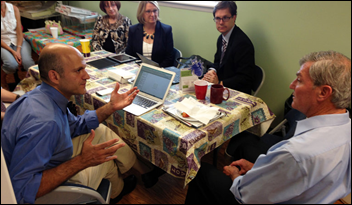 NPR takes a look at the effects VC-funded businesses like Aledade have on primary care physicians. Backed by VC firm Venrock and led by Farzad Mostashari, MD, the company has so far helped 100 private-practice physicians form three ACOs in exchange for 40 percent of any savings realized.

Physician practice ownership company Mednax completes its acquisition of MedData, which handles revenue and billing for over 3,000 physicians in 43 states. It will become an independent operating division of Mednax, which has also acquired eight medical practices this year.

EHR, analytics, and population health management software vendor Sandlot Solutions raises $23.3 million, including $17 million in a preferred stock investment from Lemhi Ventures, and financing from existing investors North Texas Specialty Physicians and Santa Rosa Holdings.
---
Announcements and Implementations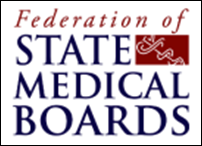 The Federation of State Medical Boards announces that its Interstate Medical Licensure Compact is complete and ready for adoption by individual state medical boards. The compact simplifies the process of transferring licenses from state to state, and was written to help make it easier for physicians to provide telehealth services to patients that live out of state.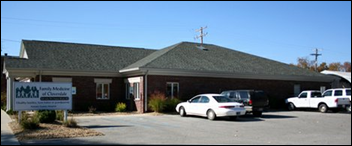 Putnam County Hospital Physician Practices (IN), which includes Family Medicine of Cloverdale, North Putnam Family Healthcare, and Putnam Pediatrics and Internal Medicine, launch the FollowMyHealth patient portal from Allscripts.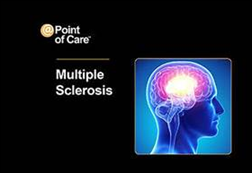 Point of Care integrates IBM's Watson clinical decision-support technology into its own real-time clinical-decision practice platform. The integration marks an expansion for Watson technology beyond the hospital setting, which has included MD Anderson Cancer Center (TX), Memorial Sloan-Kettering (NY), Baylor College of Medicine (TX), and most recently Mayo Clinic (MN). I should probably let Dr. Jayne know that Watson is moving into the kitchen, too. Bon Appétit magazine is giving readers a chance to be a part of the Chef Watson Web app beta program.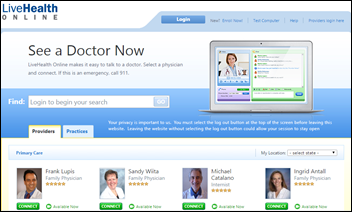 LiveHealth Online launches a telehealth app that offers face-to-face video consultations for $49. Patients can choose from among 35 physicians, and the consult is covered by a number of insurance plans.
---
Government and Politics
The New York State Department of Health publishes its proposed Statewide Health Information Network for New York regulation, describing SHIN-NY's policy and funding framework, privacy and security policies, and exchange services. The financial section of the proposed regulation notes that a sustainability plan must be submitted and approved, and that "healthcare providers who serve medically underserved populations have access to the SHIN-NY dial-tone and member-facing services regardless of the provider's ability to pay." A 45-day public comment period is in progress.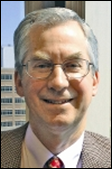 The local business paper covers a three-year demonstration project the state of Michigan will begin in 2015 to manage over $8 billion worth of care for seniors and patients with disabilities who are covered under Medicare and Medicaid. Unlike other similar state pilot projects, Michigan's dual-eligible demonstration program will use a "Care Bridge" to coordinate medical, long-term, and behavioral health care using EHRs and care coordinators for 110,000 patients in 25 counties. The state and federal government hope to see 1 percent in savings the first year, and 2 percent in the second.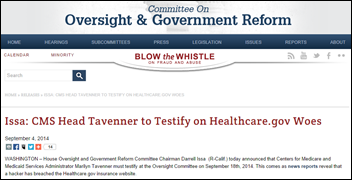 As expected after last week's announcement that Healthcare.gov had been hacked, CMS announces that Administrator Marilynn Tavenner will testify in front of the House Oversight and Government Reform Committee. No doubt Committee Chairman Darrell Issa is looking forward to the bureaucratic tête-à-tête.
---
People

Robert B. Doherty, senior vice president of government affairs and public policy at the American College of Physicians, shares his thoughts on why doctors hate EHRs. He offers several tips on what EHRs need to do better:
Provide physicians with abstracted, relevant clinical data in the most user-friendly way possible.
Supplement but not substitute for physician decision-making.
Facilitate face-to-face interactions between doctors and their patients, not detract from them.
Make it as easy and quick as possible for physicians to document in the record the care provided to the patient.
Become fully interoperable.


---
Research and Innovation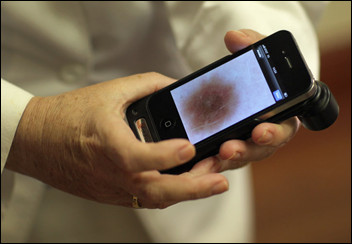 This article shines a spotlight on Canadian startup Figure 1, whose app has been deemed the "Instagram for doctors" by too many media outlets (dare I call one lazy when it recycles headlines from another?). The free app features secure, photo-sharing capabilities and an online reference library. Dr. Travis reported that the company secured $4 million in Series A financing last month, and likely stands by his prediction that Doximity will soon snatch it up.

A study finds that family practice physicians report losing 48 minutes per day thanks to EHR-associated tasks. Nearly 90 percent of respondents reported at least one data management function was slower post-EHR adoption, while close to 64 percent reported that note writing took longer. A third reported that it took longer to find and review medical data with the EHR than without, while the same amount noted it took longer to read the notes of other clinicians in the EHR.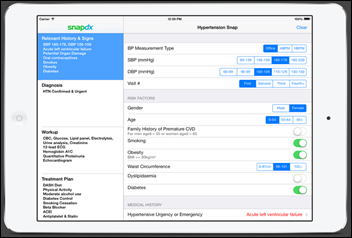 This article profiles SnapDx, a physician-developed app that steps physicians through a variety of physical exams. The app also provides current best practices and pushes users to input results in order to generate a recommendation on next steps.
---
Other

CMS makes one last push to get physicians to sign up for the Enterprise Portal and Open Payments system. I spotted this banner ad at the top of one of my daily industry reads, and clicked through to find that it lands on a CMS.gov page that encourages physicians to "Review your Open Payments data before it is available to the public." The review and dispute period ends on September 10. Payment data will go live on September 30.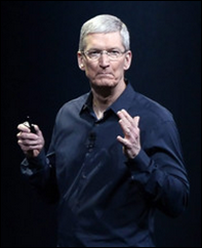 In the wake of the iCloud hack, Apple CEO Tim Cook announces the company will begin alerting users when someone tries to change an account password, restore iCloud data to a new device, or when a device logs into an account for the first time. The new system will immediately enable users to change the password to retake control of the account, or alert Apple's security team. It seems that it's not just healthcare struggling with security awareness. "When I step back from this terrible scenario that happened and say what more could we have done, I think about the awareness piece," Cook said. "I think we have a responsibility to ratchet that up. That's not really an engineering thing."
---
Contacts
Mr. H, Lorre, Jennifer, Dr. Jayne, Dr. Gregg, Lt. Dan, Dr. Travis
More news: HIStalk, HIStalk Connect.
Get HIStalk Practice  updates.
Contact us online.