Top News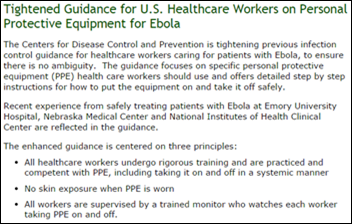 CDC issues updated Ebola guidelines that focus on better protecting healthcare workers. CDC Director Tom Frieden noted three key changes: "One, training, practicing – demonstrated hands-on experience so that the healthcare workers are comfortable donning and doffing [personal protective equipment]. Two, no skin exposure. Three, observation of every single step, putting on and taking off the PPE."

The new guidelines may also serve as the agency's attempt to quell opposition to Frieden's leadership during the outbreak. As Ford Vox, MD noted in a recent op-ed, "At the VA, new leadership is in place, and the agency is picking up the pieces. America could use a surgeon general right now, and that we don't have one represents a failure of our partisan politics. But it's entirely within the President's authority to identify and appoint new leadership at the CDC, the central agency managing this crisis. Frieden is clearly a good man and will go on to do good things. But the President must now choose someone better attuned to the crisis leadership role that has overtaken the rest of the CDC director's job description."
---
HIStalk Practice Announcements and Requests
Check out the list of HIStalk sponsors exhibiting at this year's MGMA conference in Las Vegas (less than a week away!) via our "Must-See" Exhibitors Guide. Take a moment to look over the products, innovations, and giveaways our sponsors plan to showcase, and map out your trip to the exhibit hall accordingly. I'm willing to bet that I'll run into the supremely talented magician above, who has an uncanny ability to draw a fairly sizeable crowd to whatever booth he happens to be working at.
---
Webinars
October 21 (Tuesday) 1:00 p.m. ET. Electronic Prescribing Of Controlled Substance Is Here, What Should You Do? Sponsored by Imprivata. Presenters: William T. "Bill" Winsley, MS, RPh, former executive director, Ohio State Board of Pharmacy; Sean Kelly, MD, physician, Beth Israel Deaconess Medical Center;  David Ting, founder and CTO, Imprivata. Providers are challenged to use EPCS to raise e-prescribing rates for MU, improve physician productivity, reduce fraud and errors, and meet New York's March 2015 e-prescribing mandate. Hydrocodone painkillers such as Vicodin have moved to Schedule II, with the higher CS prescribing volume adding another reason to implement e-prescribing. This webinar will describe why organizations should roll out EPCS, presented from the perspectives of pharmacy, compliance, physicians, and technology.
November 5 (Wednesday) 1:00 p.m. ET. Keeping it Clean: How Data Profiling Leads to Trusted Data. Sponsored by Encore, A Quintiles Company. Presenters: Lori Yackanicz, administrator of clinical informatics, Lehigh Valley Health Network; Randy L. Thomas, associate partner of performance analytics, Encore, A Quintiles Company; Joy Ales, MHA, BSN, RN, senior consultant, Encore, A Quintiles Company. Data dictionaries, organizational standards, and pick lists for data entry fields may describe the intent of a particular data field, but don't guarantee that the data captured in the source system actually reflects that intent. Data profiling is the statistical analysis and assessment of the data values in source systems for consistency, uniqueness, and logic to ensure that the data landing in a data warehouse or analytic application is as expected. Attendees will learn which projects benefit from data profiling and the resources needed to accomplish it.
---
Acquisitions, Funding, Business, and Stock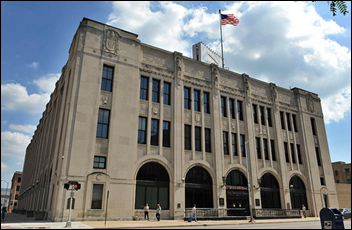 Managed care company Molina Healthcare Inc. will establish a new office in Detroit that will house up to 125 employees. The California-based company will move into the 30,000 square foot office sometime this fall.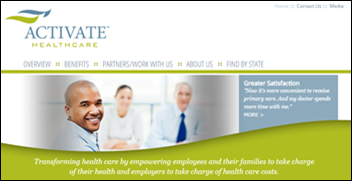 Activate Healthcare announces plans to triple the size of its Indianapolis headquarters and hire up to 203 employees over the next nine years. The company currently has 110 employees who support its 22 on-site primary-care clinics.

Development and commercialization firm PureTech closes a $55 million growth stage investment round, with participation from Invesco Perpetual. The company also appointed H. Robert Horvitz (MIT), Joi Ito (MIT Media Lab), and Raju Kucherlapati (Harvard Medical School) as senior partners.
Athenahealth reports Q3 results: revenue up 26 percent, adjusted EPS $0.27 vs. $0.29, meeting expectations for both. The company's $293 million Epocrates acquisition from January 2013 continues to drag down the bottom line as the unit's quarterly revenue dropped 27 percent to less than $10 million. Mr. H provides a concise review of the company's earnings call, pointing out that, "The company added 2,800 athenaClinicals physician users, but at a high expense."
---
Announcements and Implementations

Nextech Systems and MDIntelleSys launch an integrated, cloud-based EHR and practice management system for ophthalmology. Nextech formally acquired MDI earlier this month.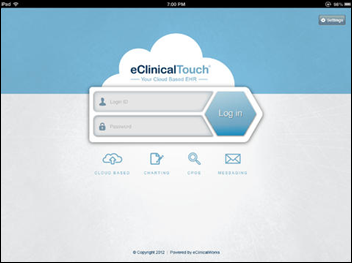 Nuance partners with eClinicalWorks to integrate its speech recognition technology with eClinicalTouch for the iPad and eClinicalMobile for iPhone and Android. The new product seems geared towards physicians using Nuance's Dragon Medical Solution in the ambulatory setting.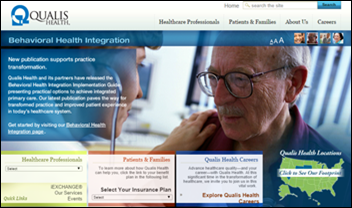 The Qualis Health Regional Extension Center achieves its goal of helping nearly 2,400 eligible physicians and other providers in Idaho and Washington successfully attest for Meaningful Use. The REC is ninth among 62 nationwide that have achieved Meaningful Use goals.
Practice management and clinical software developer MacPractice offers the Updox Integrated Fax and Document Management solution to its physician customers. Updox will provide MacPractice users with the Direct infrastructure needed to send and receive Transitions of Care, and portal users to transmit records to meet Stage 2 Meaningful Use criteria.
DrFirst announces October 28 availability of its electronic prior authorization service Patient Advisor ePA+SM, which will integrate multiple sources starting with CoverMyMeds.
---
Government and Politics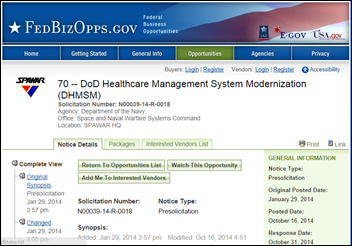 The DoD DHMSM application due dates are pushed back again – from October 23 to October 31. Is this a case of the big players needing more time to fill out paperwork (a red flag, in my opinion), or is the agency waiting for an as-yet-unnamed vendor to enter the fray? Perhaps our own Dim-Sum will soon weigh in.
This article highlights the lack of practicing physicians on the Health IT Policy Committee, and the "riches" that panel members from Cerner, Epic, and Allscripts have gained as a result. "These companies with enormous market share were essentially asked by the federal government to help write the rules intended to push them forward into the Information Age," says Dan Haley, vice president of government and regulatory affairs at athenahealth. "It shouldn't be surprising to anyone that they were very kind to themselves in writing those rules and setting those standards."
---
Research and Innovation

NIH grants $11 million in funding across three institutes to explore how social media can help researchers better understand, prevent, and treat substance use and addiction. The three-year project will analyze social media interactions to gain insight into patterns of use, risk factors, and behaviors associated with substance use. It will also study how social media can enhance screening, prevention, and treatment.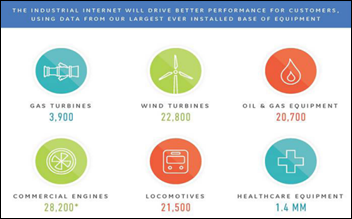 GE announces alliances with Verizon, Intel, and Cisco in an effort to ramp up support for its Predix software, designed to add intelligence to various Internet of Things end points. GE currently monitors and analyzes 50 million data points from 10 million sensors on $1 trillion of managed assets daily.
---
People

Steve Hynes is promoted to CEO of MRO Corp.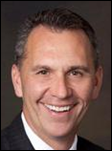 Pat Sir (UnitedHealth) joins telehealth and wellness company Healthiest You as president.
Paul LaVerdiere (Iron Mountain) joins ESD as regional VP.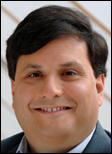 President Obama names Ron Klain as the government's Ebola response coordinator, a move that has many questioning the former chief of staff's lack of experience with healthcare and emergency response. Anthony Fauci, MD head of the National Institute of Allergy and Infectious Diseases, defended the selection of Klain, saying that, "There are [already] health officials – there's myself, there's the [CDC], there are others. You don't need to be a healthcare person, you need to be somebody who is a good organizer. And his experience is extraordinary. He has been chief of staff to a couple of vice presidents. He has a lot of experience."
---
Other

Professor and author Richard Foster, MD sits down with Rock Health to discuss the current state of entrepreneurship in healthcare IT: 
"It's just so complex. There's no business in the world where if you don't do things right every time, people die. There's no business in the world where the chief practitioners, otherwise known as docs, have absolutely no training in technology. There is no healthcare IT class, that I'm aware of, that is given in a major medical school in this country, or any other country. There is no course in major medical schools, that I'm aware of, that teaches you how to start and run a practice."

An op-ed by Matthew Edlund, MD points out three issues that make EHRs a "grand farce," including privacy, functionality, and communication. This statement seems right on the money: "Just as entrepreneur Peter Thiel predicted, the real way to profits in IT is through monopolies. So instead of making your records available to other 'competing' systems, just put up huge silos and turn communicating records into a 'profit center.' Many  of the 'big operators' do exactly that."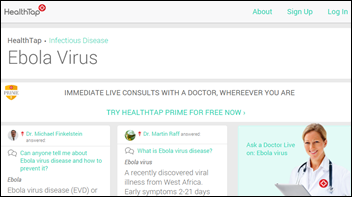 NPR talks with infectious disease specialist Jonathan Po, MD about his experience as a HealthTap telemedicine physician. The interview to me seems like a thinly veiled attempt to cash in on Ebola concerns. The interviewer does himself no journalistic favors when he refers to the virus as "a dream for hypochondriacs." 
---
Sponsor Updates
Bill Fox, senior vice president of Emdeon, is featured in an interview on healthcare payments innovation.
eClinicalWorks announces that it has assisted 5,000 EPs in meeting CMS PQRS requirements.
PerfectServe hosts members of its Strategic Customer Advisory Panel today for a meeting at the Grand Hyatt Hotel in Dallas.
---
Contacts
Mr. H, Lorre, Jennifer, Dr. Jayne, Dr. Gregg, Lt. Dan, Dr. Travis
More news: HIStalk, HIStalk Connect.
Get HIStalk Practice  updates.
Contact us online.