Ah, Las Vegas. The identity crisis the city seems to have long-suffered from is a fitting venue for this year's annual MGMA conference. No doubt physicians are struggling with similar issues, i.e. are they affiliated with the local hospital? Fiercely independent? Staying on or hopping off the Meaningful Use bandwagon? Considering early retirement? Losing patients to the urgent care clinic down the street? No matter how physician practices seek to identify themselves, MGMA this year is focused on keeping everyone moving "Always Forward."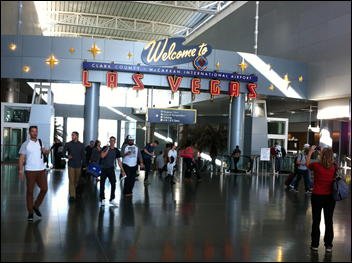 My trek to Vegas was seamless enough. I had anticipated getting quite a bit of work done on the four-plus hour flight, but thanks to spotty in-flight Wi-Fi, I was able to enjoy an entire book (The Winter Ghosts, by Kate Mosse) instead. Aside from connection issues, the journey was quite relaxing, thanks in large part to Jill and Robyn, the nicest flight attendants I've ever met. My experience with Delta remains unmarred.
Thankfully, the taxi queue at McCarran Airport was not quite of HIMSS proportions, and I was even more grateful to find the fare to my hotel, which is within walking distance of the Las Vegas Convention Center, to be not nearly as steep as I have paid in the past. Kudos to MGMA for having it at the LVCC rather than an overpriced casino further away from the airport.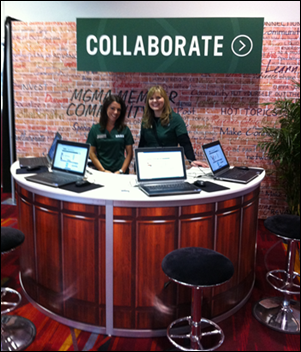 After dropping off my things at the hotel, I enjoyed a five-minute walk to the convention center in balmy 75-degree weather. The conference was easy enough to find once I got inside, thanks in large part to MGMA staffers. More kudos, this time to the folks at the main registration desk for doing their own "work around" to provide me with a badge since the press office had closed for the day. I spent the next 90 minutes delivering HIStalk signs to exhibiting sponsors like CareSync. I'm looking forward to catching up with their team more during Monday's MGMA tweetup.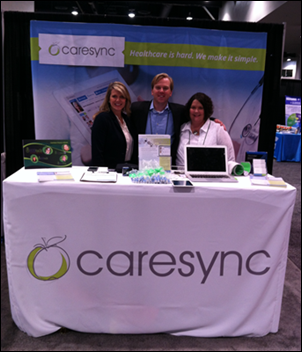 Most attendees came to the opening reception in the exhibit hall directly from the day's keynote, which featured football legend Lou Holz. Long-time MGMA member Sharon Poston, CEO, Williamsburg Regional Hospital (SC), and Cindy Ott, Executive Director, MGMA South Carolina, told me they enjoyed Holz's speech. I ran into them amidst a group of what seemed like long-lost friends. MGMA Senior Policy Advisor Robert Tennant's description of MGMA as a place for hugs certainly rang true.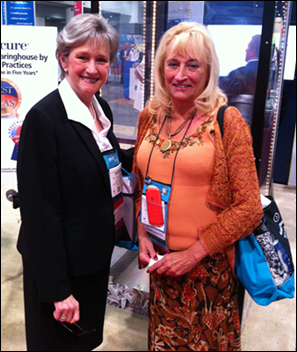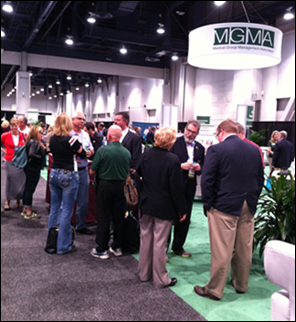 The show floor was fairly busy during the first hour of the reception, though it will likely pale in comparison to tomorrow's foot traffic. It was actually a great time for me to talk one-on-one with attendees and exhibitors, such as Medelita CEO Joe Francisco, who looked rather dapper in his starched-white physician's lab coat. Their coats, he explained, were the first to have pockets specifically made to fit iPads.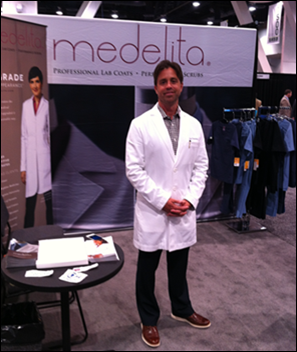 The booth below, which seemed to be touting handheld massage devices, had by far the most interest of the night. I'll have to swing back by tomorrow to learn more.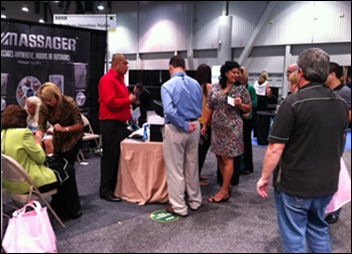 The folks at PracticeLink also had quite a bit of foot traffic. Tammy Hager, director of sales and client development and physician relations, told me physicians enjoy using their online healthcare job search tool to find the perfect fit for open positions.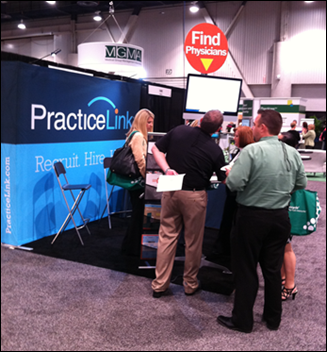 Allscripts also had a fair amount of foot traffic, thanks to interest in its FollowMyHealth patient portal.
Sherry Baker, RN practice administrator at Louisville Pediatric Specialists (KY), told me in between bites that the last year has been tough from a healthcare IT perspective. She has been busy overseeing implementation of the practice's Intergy EHR from Greenway Health, which, given some of her comments, was more of a challenge than she bargained for. I hope to run into her tomorrow to learn more about her EHR journey.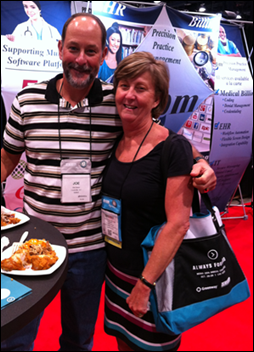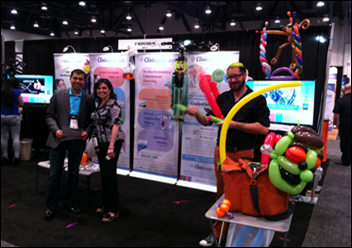 The Clinicspectrum booth was certainly eye-catching, as was the Guy Fieri look-alike I ran into. Turns out he's actually the CompuGroup Medical photographer who will be taking pictures of attendees tomorrow in front of some kind of green screen.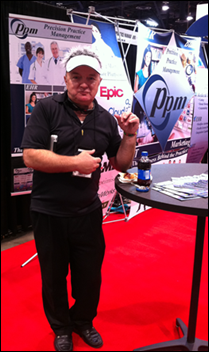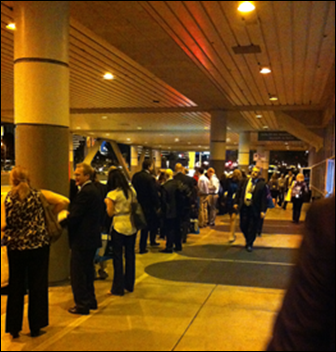 Things began to wind down once the second hour of the reception hit. No doubt attendees were already heading to their hotels to get a head start on the evening's activities. After finally giving in to a quick stop at the The Coding Network booth, which had some very persistent booth reps who clearly knew their ICD-10 pain points, my first evening at my first MGMA wound to a close. I counted myself lucky that I didn't have to stand in another taxi queue to get back to my hotel. More updates to come over the next several days. In the meantime, don't forget to check out the HIStalk "Must-See" Exhibitors Guide for MGMA 2014 for a chance to catch up with some of our sponsors.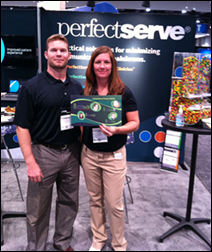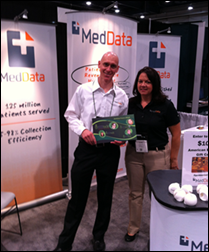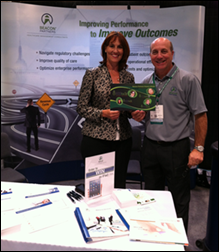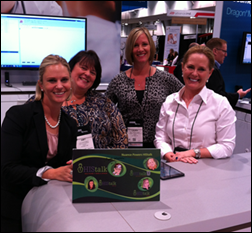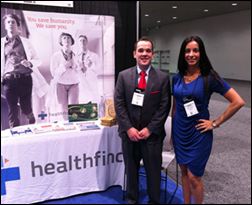 ---
Contacts
Mr. H, Lorre, Jennifer, Dr. Jayne, Dr. Gregg, Lt. Dan, Dr. Travis
More news: HIStalk, HIStalk Connect.
Get HIStalk Practice  updates.
Contact us online.