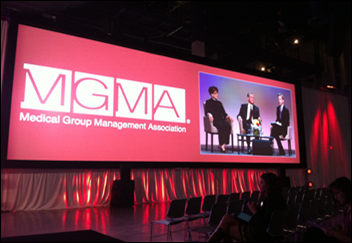 My third and final day at MGMA started off with a session on "Practice Sustainability in an Age of Uncertainty," featuring moderator Anders Gilbeg, senior vice president, MGMA government affairs; Susan Turney, MD, former CEO of MGMA and current CEO of Marshfield Clinic Health System (WI); and James Madara, MD vice president and CEO, AMA. The giant hall in which it took place was maybe half full, leading me to wonder how the rest of MGMA's members were spending their morning. (No doubt they slept in after a fun night out courtesy of the many vendor parties that took place the night before.) Whatever the case, I settled in to hear the three touch on healthcare's affordability problem, the plight of small physician practices, how to build better relationships between hospitals and practices (a question that got a laugh from the audience), and how to stem the physician shortage.
Technology came up a few times, mainly in the form of telemedicine and mobile health tools. When addressing the potential demise of the small physician practice, Turney explained that practices have to be inwardly focused and progressive, with technology being a key component.  She seems to feel that practices can't wait for government or payers to catch up when it comes to reimbursement for using mobile technology. She added that, "If we do the right thing, the payment system will follow." I find that a little hard to believe. Yes, payment reform might come about, but how long will it take? Can physicians barely keeping their doors open afford to wait for payers to catch up to what's "right?" Time will tell whether her optimism is naïve or right on point.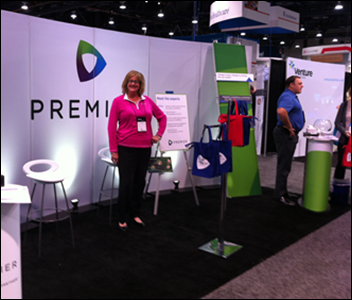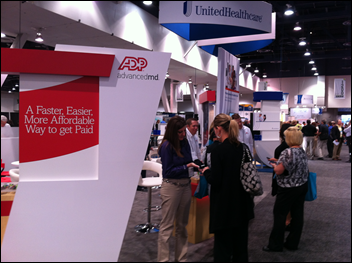 I then buzzed around the exhibit hall for about an hour, taking in one last round of vendor offerings. I was pleased to see many of our sponsors proudly displaying their HIStalk signs. Contrary to my experiences at HIMSS and HFMA ANI, the last day of the exhibit hall at MGMA seemed to be bustling. I had expected to find sales reps nose deep into their phones, but most were busy engaging with attendees, one of whom was in a kilt, oddly enough.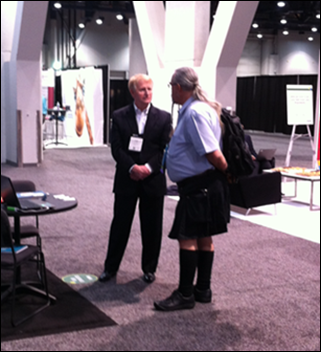 Note to vendors: A smile and direct eye contact will get you everywhere. I still do not understand the absolute rudeness some vendors feel it is ok to exhibit to those whose conference badges don't scream prospect or customer. One look at my press badge and a few sales reps brushed me off without a backward glance.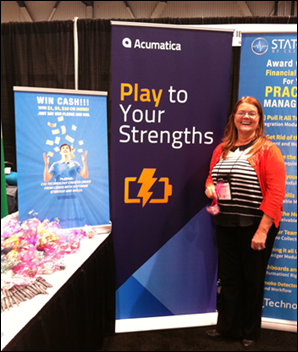 Others, like Sheri Blaho at CS3 Technology, were happy to chat with me for a few minutes. (CS3, by the way, is a consulting firm specializing in ERP software implementations.)  I also had the opportunity to chat with Todd Occommy, MD at the Doctor on Demand booth. The company has been in the news of late thanks to nabbing an additional $21 million in investment money. Todd told me that attendee interest in the company's white-label and co-branded telemedicine services was good, adding that a team from a large multispecialty practice in Texas had shown great interest just before I showed up.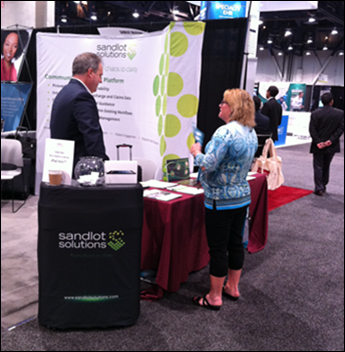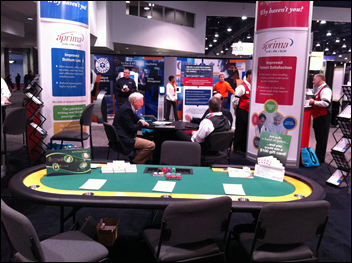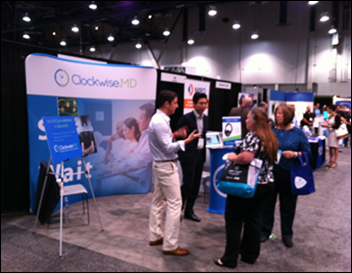 I had the good fortune to run into HIStalk Practice contributor Micky Tripathi, president and CEO of Massachusetts eHealth Collaborative. I snagged the picture below just before he co-presented on "Getting Quality Reporting Under Control: Meaningful Use and Beyond" with MAeHC client Paul Bergeron, MD, CMO, Central Massachusetts IPA. The presentation didn't touch too much on Meaningful Use, instead focusing on CMIPA's journey to building a data analytics warehouse for the use of its member physician practices. (Many physicians in the state have been on EHRs since 2005, which has given them a comfort level with healthcare IT reflected in new statistics that show positive EHR-related gains in safety, quality, and decision making.) 
Based on the number of audience questions at the end, I'd say their presentation was a success. Most questions revolved around how to manage the sticky situation of who pays for what in an IPA-led IT implementation, and how to fairly distribute quality-based incentive payments fairly. As Paul reiterated a few times, the safe answer to both is "there's no one size fits all."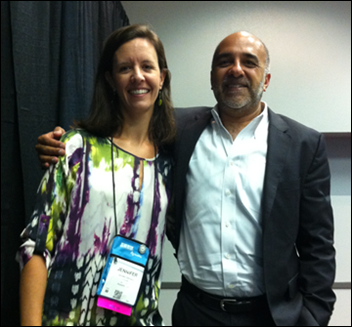 My last, and perhaps most enlightening conversation of the show came when I decided to rest my feet next to those of the CEO of an orthopedics practice in Texas. She was at the show specifically looking for a new SEO marketing firm to better raise the practice's online visibility. My, what a story she had to tell about her practice's recent conversion to Allscripts from Phoenix Ortho, which provided terrible customer support and user interface. While she didn't use the word "nightmare," the ensuing litigation between Phoenix Ortho and the practice likely keeps her up at night. Her staff seems happy enough with Allscripts, though she calls her physicians "click busy" due to the numerous amount of clicks it takes them to get anywhere. She stressed that it's much better than the Phoenix Ortho EHR, which displayed a patient's left knee when users clicked on a right shoulder.
The clock struck 12 pm, at which point I hustled to the airport to catch my flight home. All in all it was an enjoyable experience. I appreciated getting up close and personal with physicians, sponsors, and readers. Did you attend the show? What were the highlights for you? Email me and we'll compare notes.
---
Contacts
Mr. H, Lorre, Jennifer, Dr. Jayne, Dr. Gregg, Lt. Dan, Dr. Travis
More news: HIStalk, HIStalk Connect.
Get HIStalk Practice  updates.
Contact us online.