Top News
The New York-based HIXNY RHIO unveils its patient portal, which it anticipates will improve access to patient information between providers through the SHIN-NY (come to find out it's pronounced "shiney") statewide HIE.
---
HIStalk Practice Announcements and Requests

Don't let the holidays pass you by without acknowledging how much you appreciate that colleague who  goes above and beyond. Managers, peers, and customers can nominate a non-management employee (vendor or provider) for the HIStalk "Beacon of Selfless Service" award. We'll happily announce winners over the next several weeks, hopefully inspiring others to go that extra mile. The HIStalk team will also be running recaps of holiday-related company good deeds or celebrations this holiday season, so please send along your recaps with a photo or two.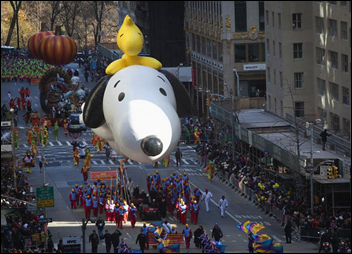 Watching: Thanksgiving at my house doesn't officially start until the Macy's Thanksgiving Day parade commences. It's a great excuse to lounge on the couch in leisurely attire just a little bit longer before heading into the kitchen to finish prepping the turkey and trimmings. This article provides helpful links to the route map and where to watch live-stream video (great for people like me who cut the cable cord long ago.)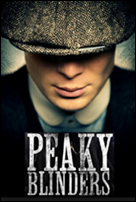 Long holiday weekends are golden opportunities for binge watching. On deck for me is Netflix original Peaky Blinders, a gangster family epic set in 1919 Birmingham, England. It won't take you long to figure out where the title comes from.
---
Announcements and Implementations
Drchrono uses Apple's Touch ID fingerprint reader to authenticate physicians logging into its EHR. Apple opened up the biometric reader to third-party developers when it released iOS 8. Three taps of the finger – one to get into the iPad, one to open the app, and another to open the EHR – gets them in without having to enter a passcode (though that option is still available).
---
Acquisitions, Funding, Business, and Stock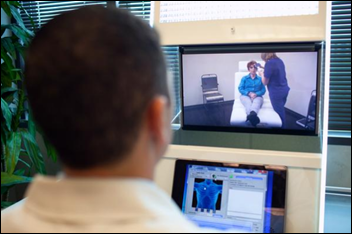 Optimized Care Network aims to install 100 CareSpace telemedicine kiosks in hospitals and physician practices as part of an investment deal with Mobility Exchange, which will bundle the kiosks with wireless data plans from Verizon. Founded less than a year ago, OCN landed a $1 million investment earlier this month from Modern Medical CEO Joseph Favazzo.
Forbes lays out the past, present, and likely dim future of digital health IPOs, calling out companies like Castlight Health, Vocera, Imprivata, Everyday Health, epocrates, and Accretive Health as those that have underperformed since their respective IPOs. Of those reviewed, only Veeva Systems and Medidata Solutions are trading above their IPO price, leading to the conclusion that, "Despite sizable market opportunities within the healthcare sector thanks to government legislation, the public seems confused about what digital health is."
---
Government and Politics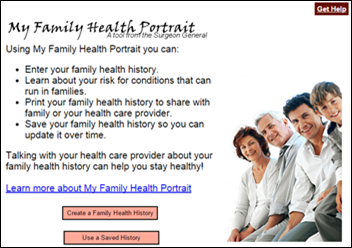 Thanksgiving also marks Family Health History Day, as ONC so kindly reminded me in the holiday edition of its weekly e-blast. While I agree that knowing my family's health history is important, it's not necessarily going to be my first topic of conversation over turkey at the dinner table. A quick peek at the My Family Health Portrait online tool makes me think it's in dire need of a redesign.
---
People

The National Association of Professional Women recognizes Karen Mingain (HealthNET Systems Consulting) as 2014 Professional Woman of the Year.
---
Research and Innovation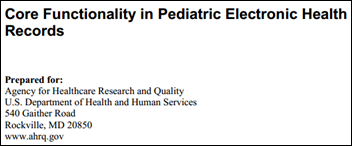 An AHRQ study finds (not surprisingly) that EHRs should be developed for pediatricians with functionalities "related to a child's evolving maturity." Researchers determined that EHRs should include vaccination, development, physiology medication dosing, pediatric diseases management, pediatric norms and the relationship between pediatric patients and their caregivers. They added that, "Key Informants indicated that if these functionalities are implemented well, the EHR will also better support the care of all patients." I think the keyword here is "well." Pediatricians likely already have the ability to document most of these details, but finding the time to do it "well" when faced with an already overbooked day of appointments probably makes it very challenging.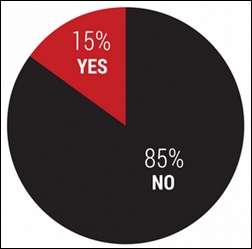 An overwhelming majority of physicians on PracticeFusion's EHR say that their patients have not asked about incorporating health data from wearable fitness trackers or health apps into their health records. Combine this with privacy and security concerns, plus a physician's lack of desire to receive this type of data, and it's not likely we'll see much marketplace traction with Apple's HealthKit.
---
Other

The Commonwealth Fund issues a brief outlining the significance of the release of Medicare physician payment data, limitations of the dataset, current uses of the information, and proposals for making the data more meaningful for public use.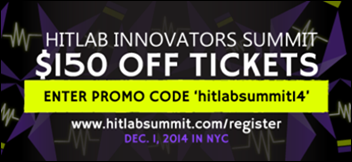 There's apparently still time to register for the HITLab Innovators Summit, happening December 1 in New York City. The promo code will knock your general admission registration fee down to $550, plus a $30.95 processing fee.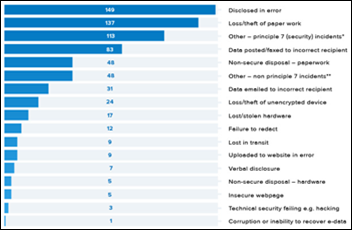 This article points out the UK's need for EHRs in light of the recently uncovered fact that one fifth of data security breaches in the healthcare sector are the result of paper records being lost or stolen. To combat the problem, the Department of Health has appointed Dame Fiona Caldicott to the new position of national data guardian for health and care. Health secretary Jeremy Hunt has committed to ensuring a paperless NHS and fully integrated digital patient records across NHS and social care services by April 2018.
Ryan Jeffrey Shaw, assistant professor in the Duke University School of Nursing, voices his frustration with the over-hyped wearables craze:
"[T]he biggest challenge for most patients isn't gathering data, but changing human behavior. You can have the hottest medical gizmo on the planet, but it's not going to help you much if you keep eating junk food and avoiding the gym. So, yes, by all means push aside those turkey leftovers and go check out these new wearable health devices on Black Friday. Just don't expect them to magically make you healthier. That's something you — and our country's health care system — still need to work on if these tempting holiday gifts are going to live up to their promise."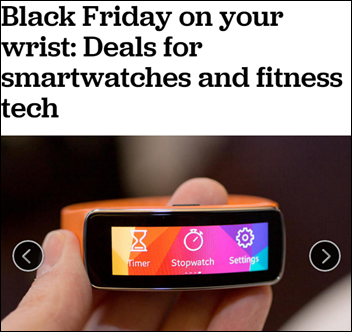 If you're an optimist and believe that a wearable will make all the difference in your journey to health and wellness, check out CNET's guide to 14 Black Friday deals.

Boston.com correspondent MD Mama, aka Claire McCarthy, MD shares a list of things she's thankful for, including:
"that baseball season is completely over (since Boston Children's is right near Fenway Park–traffic gets nuts)"
"that nobody in the family complains if I work late"
"my job and my wonderful colleagues–and my wonderful patients who let me into their lives and let me serve them."
---
Sponsor Updates
Intelligent Medical Objects, Allscripts, and eClinicalWorks earn glowing remarks from the HIStalk Advisory Panel.
---
Contacts
Mr. H, Lorre, Jennifer, Dr. Jayne, Dr. Gregg, Lt. Dan, Dr. Travis
More news: HIStalk, HIStalk Connect.
Get HIStalk Practice  updates.
Contact us online.
Become a sponsor.