Top News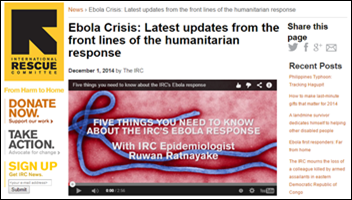 International Rescue Committee plans to roll out a new EHR at its Ebola treatment unit opening the week of December 15 in Monrovia, Liberia. The tool, developed by IRC along with healthcare IT vendor Vecna, will be accessed via waterproof Sony tablets that can be taken into high-risk zones. Wilson Wang, MD senior clinical advisor for IRC's Ebola response team, is confident the new EHR – the first to be used by providers working in the midst of the West African outbreak – will enable better physician support, especially in light of the fact that there is not yet a single source of information for the most up-to-date data on what's working in the current outbreak. "We think this has the potential to really change not only how quality and safety is addressed in an Ebola situation, but it can also be adapted to any health care situation," Wilson adds.
---
HIStalk Practice Announcements and Requests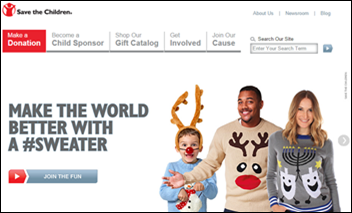 The folks behind National Ugly Christmas Sweater Day (December 12 this year) contacted me to let me know they have partnered with Save the Children for the Make the World Better with a Sweater campaign. The idea is to spread holiday cheer all in the name of a good cause. Money raised will go towards Save the Children's mission of "giving children in the United States and around the world a healthy start, the opportunity to learn, and protection from harm." Seems like a good excuse to get a few co-workers together and have some fun on a Friday. Send me pictures of you in your ugliest Christmas sweater, and I'll make a donation on behalf of HIStalk Practice readers.
HIStalk is offering 25-percent off webinars (promoted or produced) through the end of the year. Email Lorre for all the details. You can pretty much guarantee they'll be a hit, as we put your webinar content before several executive-level members of our review committee to ensure your presentation is engaging and educational (rather than a blatant sales pitch).
---
Webinars

December 17 (Wednesday) 1:00 ET. There Is A 90% Probability That Your Son Is Pregnant: Predicting the Future of Predictive Analytics in Healthcare. Sponsored by Health Catalyst. Presenter: Dale Sanders, SVP of strategy, Health Catalyst. Predictive analytics is more than simple risk stratification. Once you identify an individual's risk, what are the odds that you can change their behavior and what will it cost to do so? This presentation, geared towards managers and executives, addresses scenarios in which predictive models may or not be effective given that 80 percent of outcomes are driven by socioeconomic factors rather than healthcare delivery.
---
Acquisitions, Funding, Business, and Stock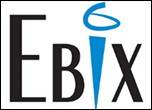 E-commerce services and on-demand software vendor Ebix acquires Oakstone Publishing, which develops continuing education and certification materials for physicians, dentists, and allied healthcare professionals. Ebix will integrate Oakstone into its A.D.A.M. Health Information Exchange Division.
---
Announcements and Implementations

CareSync launches its Chronic Care Management tool to better connect providers, patients, families, and caregivers. The new tool offers care plan development, appointment scheduling, medical records collection, and discrete data entry to create meaningful reports.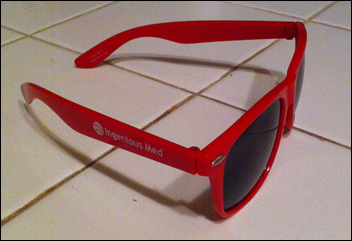 Ingenious Med joins athenahealth's More Disruption Please program. (I am kicking myself for picking up just one pair of shades at Ingenious Med's booth at the Health IT Leadership Summit a few weeks ago. The color screams "Digital Diva," don't you think?)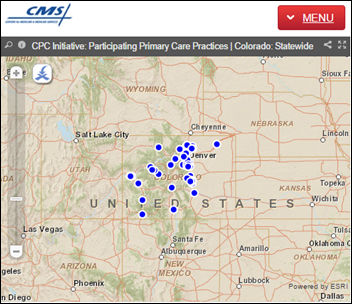 Seven health plans in Colorado – all part of the CMS Comprehensive Primary Care Initiative – are working to develop an online data-sharing tool that will offer physicians a single source for claims data from each health plan. Rise Health will partner with the state's Center for Improving Value in Health Care to build the tool, which will be available in early 2015.
Oscar Insurance Corp. selects NaviNet's Clinical Document Exchange and Open payer-provider collaboration platform to work more closely with its physician network in New York and New Jersey, and to support patient-centered clinical workflows and value-based reimbursement models. (You can read Lt. Dan's summary of Oscar's evolution here.)
EHR vendor CureMD chooses DrFirst's EPCS Gold to add e-prescribing of controlled substances (EPCS) to its system. DrFirst reports that EPCS volumes jumped by 200 percent in the most recent three-month period, likely boosted by New York's I-STOP mandatory e-prescribing requirement for all drugs beginning March 27, 2015.
---
Government and Politics
Several medical associations, including the National Physicians' Council for Healthcare Policy, push for Congress to further delay ICD-10, which is set to be implemented by October 1, 2015. Politico reports that a second delay could be attached to a continuing resolution on the $157 billion labor, education, and HHS funding bill, which expires December 11, or to a repeal of the sustainable growth rate, which physicians also are pressing for. Draft language on the continuing resolution is expected next week.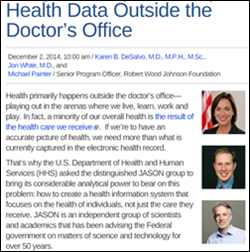 An ONC blog post by Karen DeSalvo, MD called "Health Data Outside the Doctor's Officer" references a new JASON report titled "Data for Individual Health." The report addresses the steps needed to move to "a system focused on health of individuals rather than care of individuals" in creating a learning health system. Some of its recommendations:
HHS: take action on previously created reports and measure progress.
HHS: adopt interoperability standards and incentives.
HHS: support open API standards and pay providers more (the report suggests a 0.25 percent bonus in CMS's Hospital Value-Based Purchasing Program) for using "ecosystem-friendly EHRs" that follow those standards.
HHS: encourage non-profits (such as disease-specific advocacy groups) to mark consumer apps with their stamp of approval to increase their adoption.
Joint Commission and professional schools: add informatics training requirements.
FDA: loosen control of product services that could be construed as practicing medicine, for example, allowing apps to report their information to both provider and consumer as a risk mitigation strategy.
---
Research and Innovation 

A HIPAA compliance survey of nearly 1,200 physician practices and billing companies finds that:
66 percent of respondents were unaware of HIPAA audits.
35 percent said their business has conducted a HIPAA-required risk analysis.
34 percent of owners, managers, and administrators were "very confident" that their electronic devices that contain PHI were HIPAA compliant.
24 percent of owners, managers, and administrators have evaluated all of their BAAs.
56 percent of office staff and (non-owner) care providers have received HIPAA training in the last year.
Coincidentally, a local business paper highlights what many of those survey takers already know: Physician practices aren't doing enough to protect patient information. Small practices need to "understand that just because they are small doesn't mean they aren't targets; in fact, they may just be easier targets."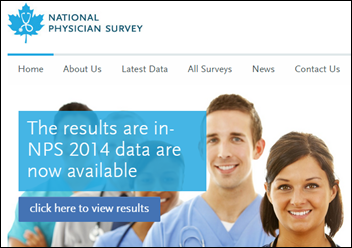 Canada's National Physician's Survey finds that 75 percent of MDs use EHRs to enter or retrieve clinical patient notes on a laptop or desktop. That number has tripled since the survey was given in 2007 by the College of Family Physicians of Canada, Canadian Medical Association, and Royal College of Physicians and Surgeons of Canada. The biggest physician challenges to accessing information include reporting technical glitches, compatibility issues with other systems, and firewall or security issues. The survey's upbeat findings contrast sharply with news out of Quebec that its $1.4 billion EHR project is an abysmal failure.

In case you were wondering, a Bankrate survey reveals that nearly two-thirds of respondents find selecting a new health insurance plan to be at least as bad as having a cavity filled, and over 70 percent say the process compares to the fun of doing their own taxes or sitting in the middle seat on an airplane. In other amusing, but barely relevant news, former CMS Administrator Kathleen Sebelius compares Healthcare.gov's first open enrollment to "buying an airline ticket using your fax machine."
---
People
Laurens Albada (Greenway Health) joins Vista Equity Partners (Greenway's owner) as managing director of financial services.
Anthelio Healthcare Solutions names Gary Trickett (Allscripts) SVP of IT services.

Glen Loomis, MD (St. Elizabeth Physicians) receives the Citizen Doctor of the Year Award from the Kentucky Academy of Family Physicians.

Kim Snare (Greenway Health) joins DocsInk as vice president of sales.

Navid Asgari is promoted to vice president of service and support for CompuGroup Medical's Ambulatory Information Services division.
Medecision expands its leadership team with the appointment of Jennifer Ponski (White Goose Innovations) to chief administrative officer; Augusta Kairys (Highmark) to senior vice president, market owner, health plans; Greg Leder (Elsevier) to senior vice president, sales and account management, health delivery solutions; and Mary Sirois (Divurgent) to senior vice president, consulting and professional services.
---
Other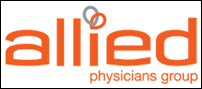 News of Allied Physicians Group (NY) acquiring three physician practices prompts one merging MD to comment that, "I have been in solo practice now for 25 years. Trying to keep pace with the technical requirements necessary to administrate a medical practice, as well as the increasing costs, had pushed my resources to the brink. Joining Allied will now liberate me from the onerous responsibilities of administration, and allow me to focus on patient care. This should make my practice financially stronger, and allow me to do what I wanted to do for years: hire additional pediatricians to help me shoulder the load."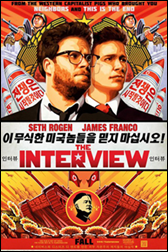 Sony Pictures Entertainment suffers a hack resulting in the theft of over 25 gigabytes of data on tens of thousands of company employees, including Social Security numbers, salary information, and health savings account data on over 700 staffers. The news comes nearly a week after another cyberattack took down the company's corporate email system, prompting the FBI to designate it the "first major destructive cyber attack waged against a company on U.S. soil." Fingers have been pointed at hackers in North Korea, whose government is not happy with SPE's latest film, "The Interview." North Korean officials have denounced it as "undisguised sponsoring of terrorism, as well as an act of war." Seems like a marketing gimmick to me.
---
Sponsor Updates
PerfectServe posts a blog entry titled "Evolving Healthcare: Six New Realities for the C-Suite."
NextGen connects its Share platform with Merge Healthcare's iConnect Network.
---
Contacts
Mr. H, Lorre, Jennifer, Dr. Jayne, Dr. Gregg, Lt. Dan, Dr. Travis
More news: HIStalk, HIStalk Connect.
Get HIStalk Practice  updates.
Contact us online.
Become a sponsor.