Top News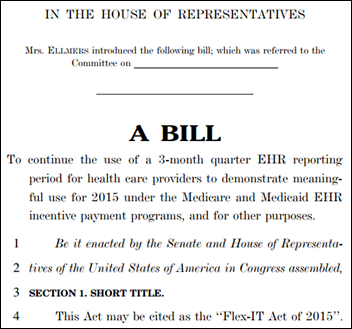 Congresswoman Renee Ellmers (R-NC) re-introduces H.R. 270 – The Flexibility in Health IT Reporting (Flex-IT) Act, which aims to lower the Meaningful Use reporting period this year from 365 days to 90. The original co-sponsor, Rep. Jim Matheson, has retired, leading Ellmers to team up with Congressman Ron Kind (D-WI) in her efforts to help the bill gain the momentum it lacked when initially introduced last year.
"There is a tremendous need for our healthcare providers to have flexibility in meeting HHS' stiff deadlines, and this is precisely why I am reintroducing the Flex-IT Act, " Ellmers explains. "The time constraints imposed on doctors and hospitals are inflexible and simply unmanageable — and this is evident by the dreadful Stage 2 Meaningful Use attestation numbers released by CMS late last year. It's hard to comprehend how HHS can move forward to full-year reporting when the numbers for 90-day reporting are so low — particularly when noting that half of the physicians in our country are now facing costly fines. Physicians, hospitals, and healthcare providers in our districts are eager for relief and are ready for this legislation to move forward. My colleague, Congressman Ron Kind, and I are committed to the passage of the Flex-IT Act."
---
HIStalk Practice Announcements and Requests
January means it's time for your HISsies nominations. Submit your choice for the worst vendor, the smartest vendor action taken in 2014, the industry figure of the year, and the all-important "Industry figure in whose face you'd most like to throw a pie." The final ballot will contain the most-nominated entries, so think of this as the primary election that precedes the general one by a couple of weeks. For any industry newbies out there, the HISsies will be presented at HIStalkapalooza, our annual networking bash at HIMSS. Though it does cater to hospital folks, I can't help but assume HIStalk Practice readers may also attend. This year's party will take place the evening of Monday, April 13, at the House of Blues in Chicago. Stay tuned for invitation details.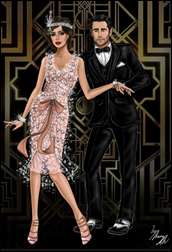 Speaking of HIMSS, Dr. Jayne kindly pointed out in a recent post that the opening reception will have a Speakeasy theme, so I've already begun hunting for Roaring 20s-inspired attire. Hopefully I won't look like the only attendee who just stepped out of the Great Gatsby. Gentlemen, it's time to dust off your spats. Ladies, let me know if you come across a wearable that counts dance steps, and looks good with diamonds and feathers.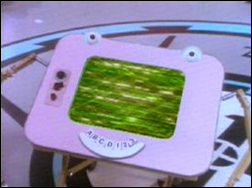 Watching: Pee-Wee's Playhouse, courtesy of five seasons now available on Netflix. Watching these episodes as an adult makes me wonder if Wayne White, creator of Magic Screen and much more, should be credited with thinking up the iPad. You can learn more about his distinctly unique body of work in the streaming documentary "Beauty is Embarrassing." 
---
Webinar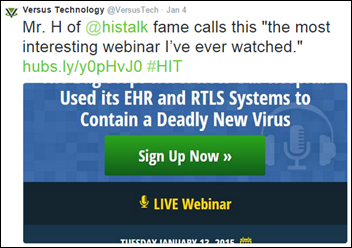 January 13 (Tuesday) 1:00 ET. "The Bug Stops Here: How Our Hospital Used its EHR and RTLS Systems to Contain a Deadly New Virus." Sponsored by Versus Technology. Presenter: John Olmstead, RN, MBA, FACHE, director of surgical and emergency services, The Community Hospital, Munster, Indiana. Community Hospital was the first US hospital to treat a patient with MERS (Middle East Respiratory Syndrome). It used clinical data from its EHR and staff contact information from a real-time locating system to provide on-site CDC staff with the information they needed to contain the virus and to study how it spreads. Employees who were identified as being exposed were quickly tested, avoiding a hospital shutdown. Mr. H keeps telling me what a great dry run Versus and John Olmstead have done, so I've signed up to listen in. The folks behind @VersusTech and I may do a bit of live tweeting, too.
---
Acquisitions, Funding, Business, and Stock

Digital health investments show no sign of slowing down. Behavioral health technology startup Ginger.io raises $20 million to speed up development of its mental health technology. Khosla Ventures, True Ventures, and several other investors contributed to the Series B fund. Total investment in the company now amounts to $28 million since it was founded in 2010.

Augmedix rounds up $16 million in Series A funding, led by Emergence Capital and DCM Ventures. The latest infusion of cash brings the San Francisco-based technology company's total investments to $23 million. The investment is yet another indication that Google Glass, which powers Augmedix's clinical documentation solution, may still have some life left in it.

Atlanta-based Ingenious Med adds Ascension Ventures, Heritage Group, and Kaiser Permanente Ventures to its roster of investors, which also includes North Bridge Growth Equity. The company anticipates working with the new investors will open up enterprise opportunities for its IM1 patient encounter platform.
The Camden Group, a Los Angeles-based healthcare business advisory firm, acquires consulting firm Health Directions LLC for an undisclosed sum. The businesses will operate under The Camden Group name.
Praesidian Capital invests for a third time in Troy, N.Y.-based Etransmedia Technology. The undisclosed amount will be used to support Etransmedia's merger with DoctorsXL, which offers RCM ad PM services.
---
Announcements and Implementations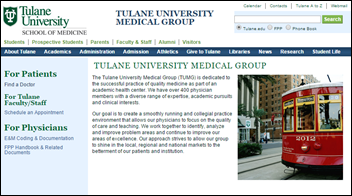 Tulane University Medical Group (LA) implements the eClinicalWorks Care Coordination Medical Record platform for population health management by its 350 physicians. TUMG has used eCW's EHR since 2009.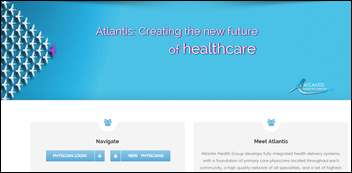 Atlantis Health Group chooses Influence Health's Navigate population health management solution for a defined network of 1,650 physicians. AHG manages and works with over 20 physician-owned ACOs across the country.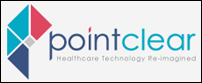 Software development firm Pointclear Solutions launches the Accelerated Solutions Center, a set of 14 services that will help healthcare IT vendors bring products to market faster. Pointclear customers include Emdeon, Greenway Health, and Walgreens.
Flatiron Health collaborates with the National Comprehensive Cancer Network to create the NCCN Outcomes Database. The cloud-based repository of NCCN member institution data, culled from their respective EHRs, will be aggregated to help identify care patterns and trends, and enable cancer quality and outcomes assessment. Member institutions will also be able to access Flatiron's OncoAnalytics tool via the new database.
RubiconMD and CredSimple join Athenahealth's More Disruption Please accelerator program. MDP is accepting applications from healthcare IT startups interested in sharing the company's new office space in San Francisco.
A DrFirst market share analysis of EHRs used in New York finds that 80 percent of the ambulatory EHRs and 85 percent of the hospital EHRs are ready for the state's I-STOP law that takes effect March 27, 2015. The law requires that all prescriptions be sent electronically from prescribers to pharmacies. New York pharmacies aren't as well prepared as prescribers, however, with only 58 percent of them ready to accept electronic prescriptions for controlled drugs.
---
Government and Politics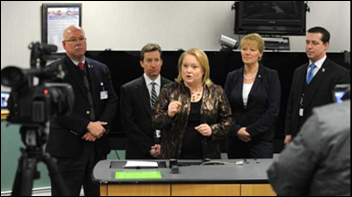 New York Governor Andrew Cuomo signs a telehealth bill into law that allows for health insurance reimbursement on a range of telehealth services. Assemblywoman Addie J. Russell sponsored the bill, which will go into effect in a few months. Fort Drum Regional Health Planning Organization Executive Director Denise Young explains that, "It's been about eight years in the making – right from putting the fiber in the ground, to putting equipment in offices, to getting protocols in place to make this work for the patients of our region."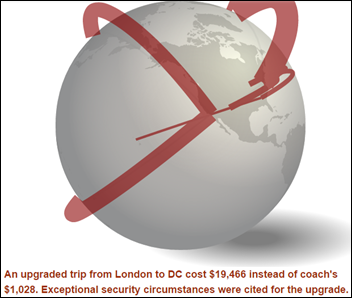 The Washington Examiner creates an interactive graphic showing the price tags of several flights taken by HHS personnel, and the reasons for the first- and business-class tickets. HHS executives spent $31 million taking 7,000 first-class and business-class flights between 2009 and 2013, including 253 trips for which a one-way ticket cost over $15,000.
The American College of Physicians urges Congress to: (a) repeal Medicare's SGR formula; (b) continue Medicare's 10-percent bonus for primary care; (c) restore the Medicaid program that pays primary care physicians no less than Medicare rates; and (d) provide relief from "burdensome and unrealistic" Meaningful Use requirements and "other excessive regulatory burdens."
CMS extends its deadline for volunteer ICD-10 end-to-end testing to January 21.
---
Research and Innovation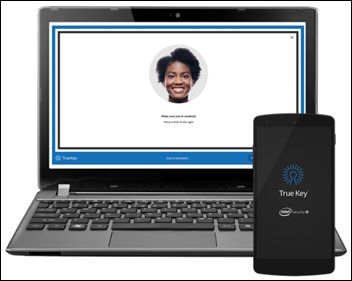 Intel develops the True Key password manager app, which replaces passwords with facial recognition. Unveiled last week at CES, the app works with webcams on Windows computers and Android phones, with an iOS release expected later this year. I asked Michael Trader, president of patient identity management company RightPatient, for his thoughts on the new technology: "Facial recognition is a good fit for Intel's application because the technology is generic and offers distinctive advantages, mostly because it can be utilized with any off-the-shelf camera embedded in a PC, tablet, or phone. Expect to see a continued increase in the application of biometric identification technology in the healthcare industry as discovery of its utility and ability to protect sensitive data grows."
---
People

Miles Romney (Radiate Media) joins eVisit as CTO.
---
Other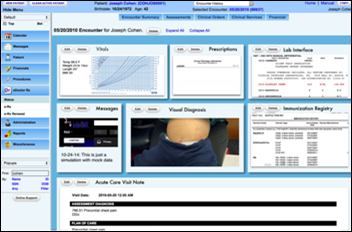 This article highlights the success of KiddoEMR, an app developed by Joseph "Joe" Cohen, MD and initially deployed at his Cedar Park Pediatrics (TX) practice. The homegrown technology is now in beta at 160 facilities nationwide, and houses data on 14 million children. Cohen seems to be a fan of all things Google, even Glass, but with a few caveats: "I could see Glass becoming even more useful when we can record more video without worrying about battery, but right now it's simply not good enough, especially while the device costs $1,500."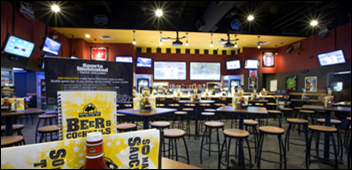 Uproar from customers over a 2-percent surcharge to help offset ACA-related healthcare expenses at a Buffalo Wild Wings restaurant in Texas has led the eatery to rescind it just 24 hours after instating it. One disgruntled patron fussed over an extra 40 cents, while another made it clear that, "I probably would think twice about going back to that place if they were adding a surcharge." Transparency about the surcharge is one thing, but an extra 2 percent at a wings joint to help your hardworking server see a physician when they need to is nothing to complain about. We should all be tipping just a bit more in these times of high premiums and even higher deductibles.
---
Sponsor Updates
---
Contacts
Jennifer,  Mr. H, Lorre, Dr. Jayne, Dr. Gregg, Lt. Dan, Dr. Travis
More news: HIStalk, HIStalk Connect.
Get HIStalk Practice  updates.
Contact us online.
Become a sponsor.